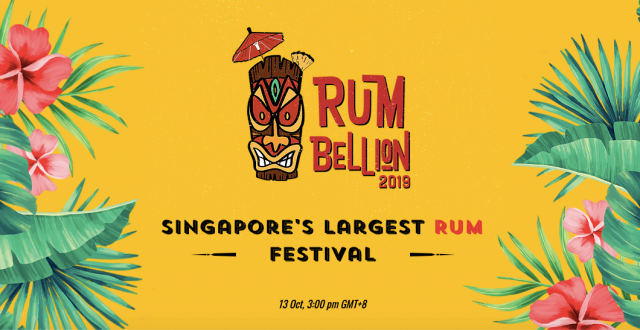 Singapore, 17 September 2019 – Drink coupons are now available for pre-sale for Rum Bellion, Singapore's newest spirited festival experience coming to Keong Saik Road next month. Set to take place on Sunday, 13 October 2019 from 3 PM onwards, Rum Bellion is an exciting initiative by Neon Pigeon and its neighbour venues Taki Taki, Limehouse and Bula Café & Bar, to explore the world of rum.
Throughout the afternoon, nearly 30 brands from all over the world will be taking over the four venues for a day of drinks and fun along the iconic Keong Saik Road (full list available in Appendix I). Entry into the festival will be free, with drink coupons available for purchase in advance online at discounted bundle pricing, or in person on the day of the event by cash or credit card. Rum enthusiasts can opt for the limited run Tiki Mug Bundle for a signature tiki mug and discounted drink coupons (12 coupons at S$115), the Pre-Purchase Bundle for two free drink coupons (12 coupons for S$120), or the Single drink coupons will be available at S$12 each, redeemable for one drink at brand booths on-site.
In addition to a walkaround tasting experience with leading and emerging brands, guests can also enjoy an exciting schedule of guest shifts from bars around the world with outstanding rum programmes. Taking place across Neon Pigeon, Limehouse and Taki Taki from 5 – 11 PM, the line-up features a rotating schedule of 90 minute guest shifts top venues such as The Sea by the Old Man from Hong Kong, Tropic City from Bangkok and Baba Au Rum from Athens (full schedule available in Appendix II). Cocktails from the guest shifts may be purchased separately on site by cash or credit card.
Commemorating the event, the first 200 guests to arrive will receive a limited-edition "Rum Bellion" tote bag filled with merchandise and keepsakes, including a Rum Bellion T-Shirt and giveaways from participating brands. Food will be available for purchase by cash on-site, with a diverse range of options such as kebabs from Fat Prince (S$10 for one / S$18 for two), hotdogs from Fung Kee Hotdogs (S$8 for one / S$15 for two), authentic Caribbean bites from Limehouse (S$10) rum-infused Jamaican curry from Taki Taki and Bula Café (S$18 per serving) and pizza from Bali's Flat Stanley (S$6 per vegetarian slice / S$8 per slice with meat). Other activations taking place along Keong Saik Road during Rum Bellion include a market selling gifts, an on-site tattoo artist and a Caribbean-style carnival complete with face painters for kids, making Rum Bellion a great day out for both families and friends.
For more information and advance ticket sales, please visit Rum Bellion's official website at www.rumbellionsg.com.