Singapore, 17 September 2019 – Junior, the rotating concept bar located in Tanjong Pagar, is bringing a taste of the Alps to Singapore. The bar has been transformed into its new concept, Petite Chalet, a ski lodge-inspired bar that features thoughtfully innovative cocktails and unique dishes that pay tribute to the 1970s après ski scene. Fully decked out with Alpine-themed décor such as vintage signage, skis and snowshoes, this hideout is the perfect place to relax, escape the tropical climate and knock back a festive cocktail or two.
Inside the chalet, the team provides drinks that are sure to evoke feelings of the alpine spirit. The menu features cocktails inspired by the region, complete with 1970s disco references. The new cocktail menu is divided into four seasons, with a unique collection of drinks (all priced at S$25++) showcasing an array of alpine liqueurs.
Spring
Celebrating the rites of spring, guests can enjoy the wine-based classic May Day punch, Waldmeister Punch,mixing dry Riesling, sweet woodruff, strawberry, Italian bitters and Champagne. Killer Queenis inspired by the Queen song and is concocted with Citadelle Original Gin, lemon, blueberry, rhubarb and elderflower, topped with gold stars for that extra pop.
Summer
The seasons continue with Summer cocktails, inviting guests to enjoy refreshing drinks such as the Ruby Radler – billed as the original "sports drink" of German cyclists –with German wheat beer, lemon, blood orange, Aperol and tequila. For the adventurous imbiber, the Garden Gnome is a tequila-based cocktail mixed with absinthe, gentian, cucumber, and lime, garnished with mint and dill.
Autumn
Imagining the weather getting colder, guests can cosy up with the Sweater Weather, a cognac-based cocktail combining Pierre Ferrand 1840, dark rum, spiced pear, bianco vermouth and honey. For an Oktoberfest celebration, Leather Shorts showcases rich flavour profiles of German dark lager, beetroot, genepi, cacao, cognac and lemon, garnished with an Alpine cheese crisp.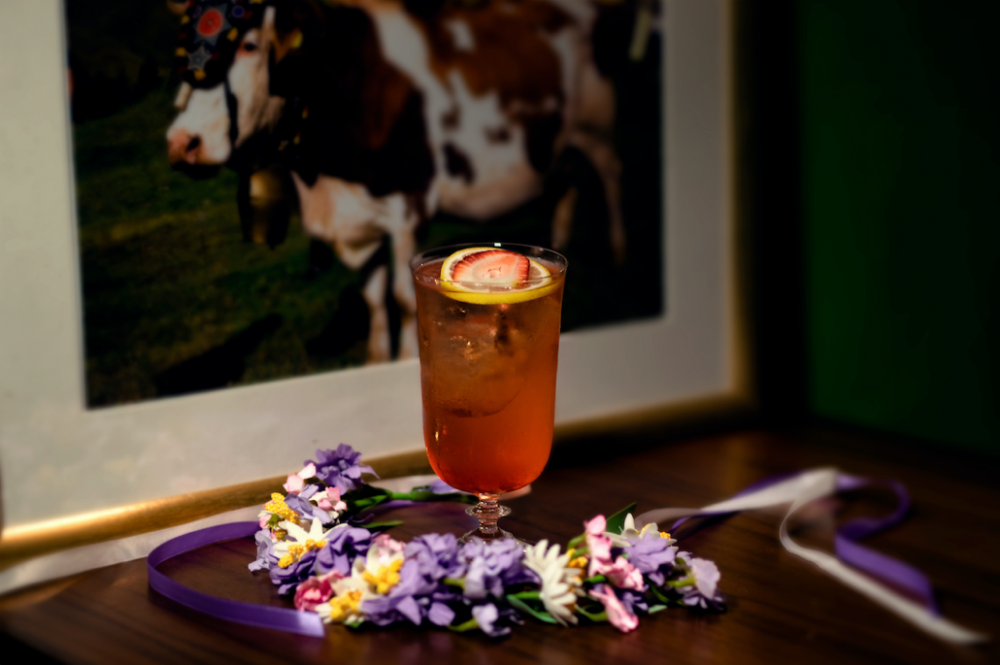 Winter
For the winter menu, guests can indulge in comforting cocktails such as the Swiss Miss, a hot chocolate concoction of Green Chartreuse, Swiss drinking chocolate, dark rum, whipped coconut cream, ending with torched cinnamon. Inspired by a wild man of the high Alps, Barbegazi's Beard is a mezcal-based cocktail consisting of Alipus San Juan Mezcal, gentian, lavender, almond, lime and orange oil, topped with soda.
For a quintessential après ski experience, the Minty Monk (two for S$30, and four for S$48)is served via a shot ski, with Green Chartreuse, crème de menthe and mezcal. In addition to the handcrafted cocktails, Petite Chalet also offers a small rotating selection of authentic German beers and Apline wines.
Guests can nibble on a menu of classic comfort food dishes, perfectly paired with the creative cocktail menu. Highlights include Tartiflette (S$18++) a traditional dish in the Alps made with scalloped potatoes, Brie and Gruyere cheese, lardons and onion, and Chicken Schnitzel (S$13++) accompanied with homemade spiced pear ketchup. Additionally, guests can also enjoy the house made Bavarian Pretzel (S$7++) complete with sweet onion mustard. 
JUNIOR
Junior's concepts reflect the creative spirit and personality of The Proof Collective and serve as a platform to showcase a diversity of curated artisanal spirits and delicious food through an intimate, authentic experience. As an art gallery would change exhibitions, Junior rotates and presents two original concepts each year. With only ten seats in a private space, Junior focuses on one core topic every six months.
Junior's concepts take guests through a high-touch, ultra-personalized experience, where they have an opportunity to explore hard-to-find spirits, drink carefully crafted cocktails and enjoy food that matches the concept. Guests have the opportunity to interact closely with the Junior team and fellow guests in a cozy setting.
Address & Contact Details:
43 Tanjong Pagar Road, Singapore 088464
Direct entrance in the alley on Cook Street
+65 8121 1462
Junior Opening Hours
Mon – Sat: 7.00pm to midnight