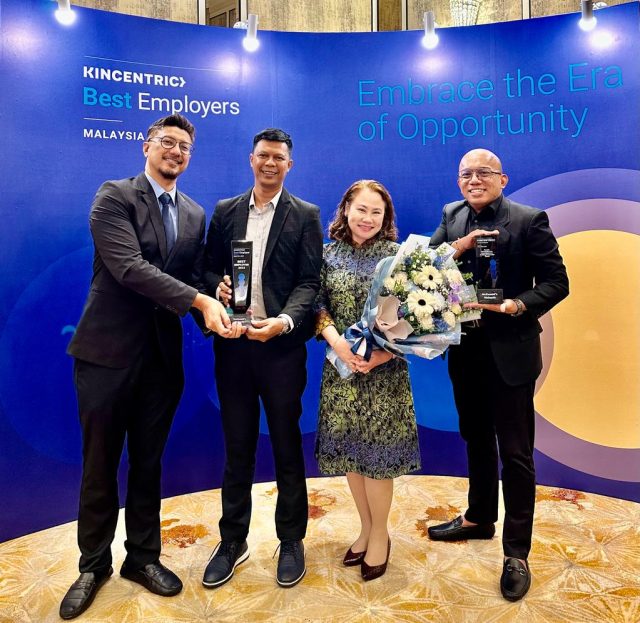 The leading quick service restaurant also received Special Recognition for its commitment to Building Purposeful Talent
KUALA LUMPUR, 22 February 2023 – McDonald's Malaysia was recently awarded two prestigious Human Resource awards, including the Best Employer Award 2022 and the Building Purposeful Talent Award 2022 by Kincentric. This marks the eighth time the quick service restaurant received Kincentric's Best Employer Award, as a recognition of McDonald's continuous commitment to human resources management and talent development. At the same time, it also marks the first time McDonald's was given Special Recognition for its commitment to Building Purposeful Talent.
"We are honoured with the recognition given by Kincentric and certainly it would not have been possible without the commitment of our employees for making McDonald's such a great place to work at.  An organisation is only as good as its people, and McDonald's biggest assets are our employees who have time after time, shown dedication to our customers and the communities that we serve," said Managing Director and Local Operating Partner, McDonald's Malaysia, Dato' Azmir Jaafar.
Kincentric's Best Employer Award is awarded to organisations that have showcased competence and compassion as well as organisational agility in terms of their people practices as well as continuous business growth. "The award is indeed a reflection of McDonald's Malaysia's ongoing commitment and efforts in cultivating talents, providing necessary training as well as skill development programmes to support the national agenda of producing a highly skilled workforce," added Dato' Azmir.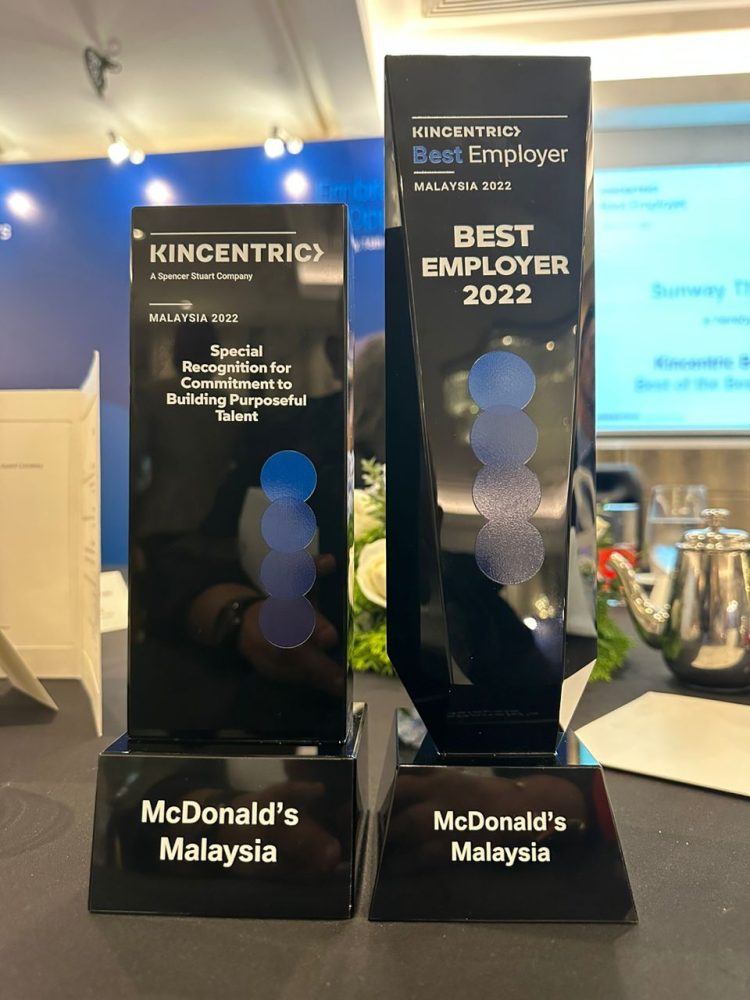 At McDonald's, employees are continuously engaged through the company's Employee Value Proposition (EVP), which focuses on treating employees as an extended family and the company helps them to be on the path to exceptional careers. It focuses on the three core values of EVP, which includes family and friends, flexibility, and their future. This is strongly supported by its strategic career planning initiatives and programmes to assist each individual to grow and fulfil a satisfying, lifelong career for themselves.
Among the training and skills development programmes that the company offers is McDonald's Vocational Apprentice Program under the National Dual Training System (SLDN), in collaboration with the Department of Skills Development and Ministry of Human Resources (MoHR), which helps youths to build a meaningful career beyond an "over-the-counter" job.
This 18-month industry-oriented training programme comprises of 70 percent practical training and 30 percent theoretical lessons. Participants are fully sponsored to be part of the programme, and to date McDonald's Malaysia has trained more than 3,500 youths. A majority of the youth that have completed the programme are now employed by McDonald's as Crew Trainers, with some already moving up the career ladder to become Crew Leaders and Restaurant Managers.
To further reach out to youths, McDonald's Malaysia recently released an original drama series on Instagram Reels to capture the attention of those actively seeking employment. As part of its digital recruitment campaign, the company released the nine-episode mini drama series entitled "Kau Sundaeku" on Instagram Reels in December 2022, with each episode being one-minute long. The slice of life drama series revolves around a restaurant manager and three crew members from diverse backgrounds who find a home and the sense of belonging working at McDonald's.