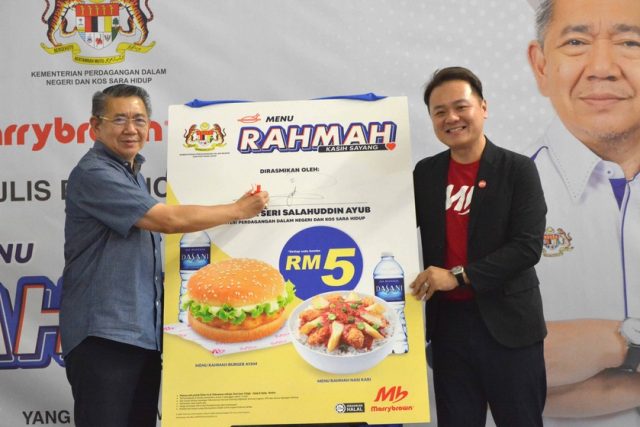 The largest homegrown Halal QSR chain launches affordable meals as a way of giving back to the community and in appreciation of Malaysians' continuous support. 
JOHOR BAHRU, 27 FEBRUARY 2023 – Largest homegrown Halal Quick Service Restaurant (QSR) chain, Marrybrown has officially announced its participation in the Menu Rahmah programme initiated by the Domestic Trade and Cost of Living Ministry (KPDN). The initiative was kick-started with a launch ceremony officiated by Yang Berhormat Datuk Seri Salahuddin Ayub, Minister of Domestic Trade and Cost of Living at Marrybrown Paradigm Mall JB.
Marrybrown's Menu Rahmah's single meal is priced at RM5.00, where fans can choose between Menu Rahmah Burger Ayam or Menu Rahmah Nasi Kari with a bottle of Dasani Drinking Water. Customers can enjoy these fan-favourites at an affordable price starting today while stocks last. Available for dine-in or takeaway, the Menu Rahmah meals can be purchased at 12.00pm to 2.00pm and 6.00pm to 8.00pm daily at Marrybrown's outlets nationwide.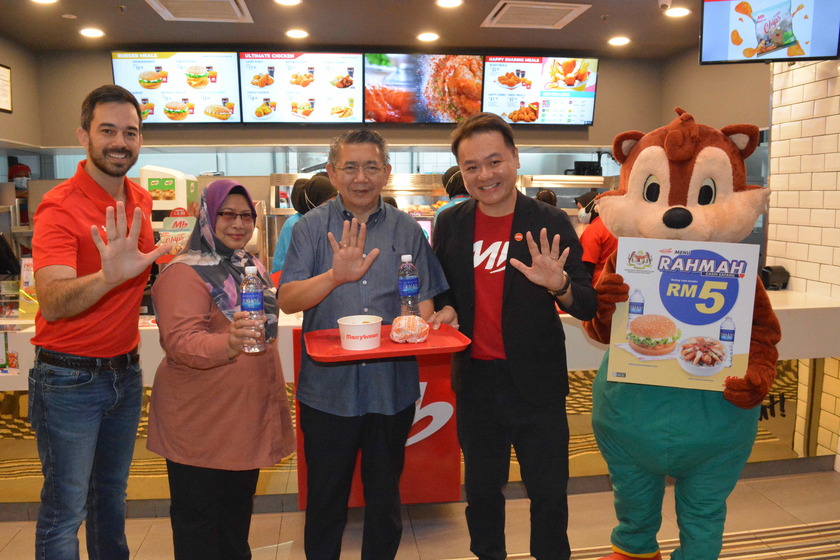 YB Datuk Seri Salahuddin Ayub commented that as the initiative is a privately driven effort, the importance of the participation from industry players is undeniable to make affordable meals available to more people within the low-income group.
"Since the launch of Menu Rahmah in January 2023, we have received positive feedback from the public and various industry players. Participation from industry players is vital for us to make this initiative more impactful, and collaborations with major brands such as Marrybrown is a great force to reach out to more people in need. We are pleased to join forces with Marrybrown as they hold the same beliefs which is to uplift communities in need as best they can," said YB Datuk Seri Salahuddin.
Dato' Joshua Liew, Chief Executive Officer of Marrybrown shared that as a brand that strives to provide "something different" to customers, they believe that all Malaysians regardless of income background should have the opportunity to indulge in good food as well.
"As a homegrown brand, we always do our part to reach out to the community in need and this time, we are pleased to work closely with the government to be a part of this meaningful initiative. This came at a timely opportunity for us to reach out to those in need while making our delicious goodness available to more people. Marrybrown is always happy to serve our customers regardless of background, and through our effort in launching Menu Rahmah meals, we hope our presence nationwide can allow more people to indulge in simple yet satisfying meals without breaking the bank," said Dato' Joshua.
In addition to the launch, Marrybrown Charities Association handed over 2,000 pieces of Menu Rahmah vouchers to Encik Mohamad bin Hapil, Director of Social Welfare Department Johor (JKM), which will be distributed to underprivileged groups for them to enjoy the meals. To provide more customers access to Menu Rahmah, Marrybrown will be opening three outlets in Tanah Merah, Kelantan; Bukit Tiram, Johor and Malaysia Heritage Studios, Melaka.
Marrybrown currently serves millions of customers in more than 500 restaurants across 16 countries with the objective of delivering the highest standard of quality, service, cleanliness and value for the perfect dining experience.
For more information on Marrybrown, MB App, promotions and delivery services, please visit:
Website: https://marrybrown.com/
MB App: https://mbapp.marrybrown.com/
Facebook: Marrybrown Malaysia
Instagram: Marrybrownmy
YouTube: Marrybrown TV