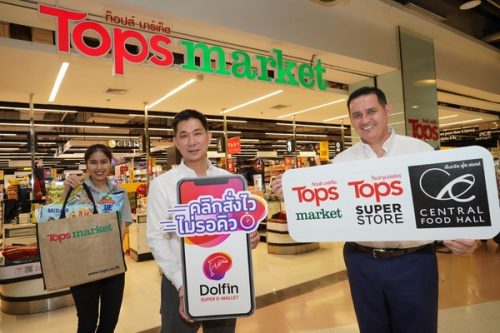 Bangkok, 15 May 2020 – Dolfin application, as part of Central JD Fintech Group have announced a new 'Order & Collect' service on its interactive Dolfin application, in collaboration with Tops. The new feature will allow customers to browse, order and pay order for essential items online at the comfort and safety of their homes, with easy, fast and secure order and pick-up service that will help to reduce shopping time and prevent the spread of Covid-19.
To use, simply download the Dolfin app, select the 'Tops' tab to browse for items and pay directly through the Dolfin e-Wallet within the app. Orders can be made every day from 08.00 – 18.00 hrs. and can be picked up within 2 hours at 10 participating Tops branches near you.
"With over 1,000 curated items to select from, customer can easily shop for essential items online through the Dolfin app, just like shopping at Tops, which will help to reduce their commute time as orders can be made from anywhere," said Stephane Coum, Chief Executive Officer of Central Food Retail Group, a part of Central Retail that oversees both Tops and Central Food Hall.
Customers can now experience the new Order & Collect service with no queues through the Dolfin application. Orders made between 8.00 – 18.00 hrs. can be collected within two hours at "Customer Service" points across 10 selected Tops branches including: Tops Market Rama 9, Tops Market Chaeng Watthana, Tops Market Ladprao, Tops Market Rama 2, Tops Market Rama 3, Tops Market Pinklao, Tops Market Sukhaphiban 3, Tops Market Seacon Bangkae, Tops Superstore West Gate and Central Food Hall Bangna, with on-going plans to extend the service across all branches of Tops and Central Food Retail Hall throughout Bangkok in the near future.
In addition, this May 2020, Dolfin will be extending its Order & Collect service to other participating stores in the Central Restaurant Group, along with plan to launch Thailand's premier "Dine-In-Zero-Touch" service, that will allow customers to order, pay and dine-in without contact, all through the Dolfin application.