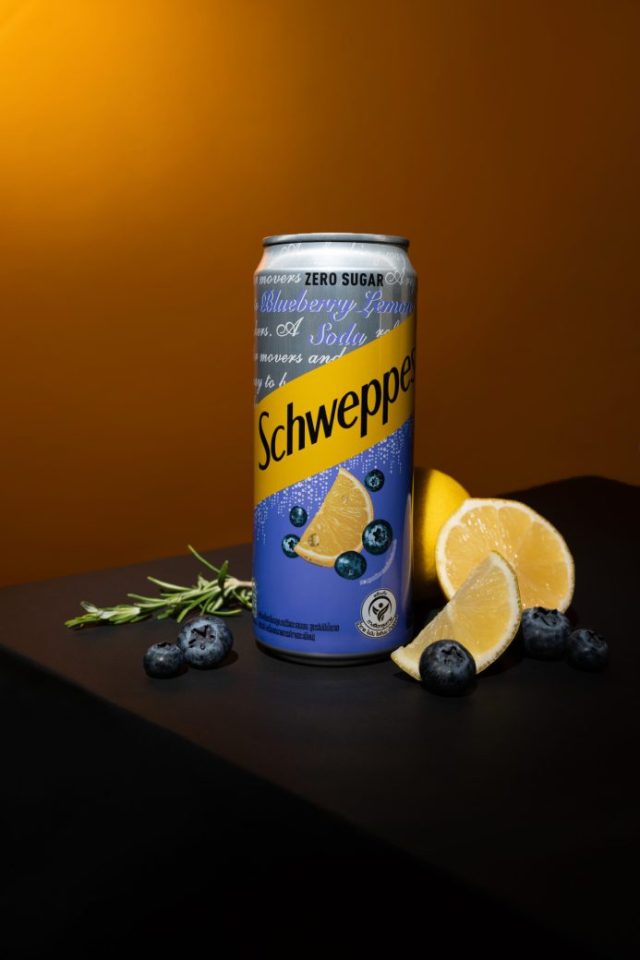 Embrace the unusual into your social moments
03 July 2023 – Coca-Cola Thailand has introduced the newest innovation from 'Schweppes' – Blueberry Lemon Soda Zero Sugar – a truly exquisite beverage that elevates the typical socializing experience to a new level. Catering to the trend of socializing after hours, the newly launched 'Schweppes' Blueberry Lemon Soda Zero Sugar is shaking up the flavored soda market in Thailand as it is perfect for young Thai socializers and professionals who are passionate about seeking new experiences and flavors, without sugar or calories.
Reiterating one of the brand's strengths of delivering versatile ways of indulgence and enjoyment, the new 'Schweppes' is perfect to drink straight, as well as being a great mixer for various recipes. Embarking on another memorable journey full of laughter and good times with friends, whether you are enjoying in-meeting refreshments, after-work happy hours, Friday night parties, game nights with friends, Sunday brunches, or weekend getaways, 'Schweppes' Blueberry Lemon Soda Zero Sugar is the ideal companion for any socializing moment.
With the perfect balance of sweet and zesty flavors of blueberries and lemons, yet with no sugar and calorie-free, you can indulgently stay true to yourself. Say no to the everyday; embrace consumer sophistication and say yes to the thrill of breaking the mundane.
To maintain excitement to 'Schweppes' brand, Ananda Everingham, an all-time popular actor celebrity with extreme-to-the-max active lifestyle, as 'Schweppes' 's first brand presenter within ten years, will continue to endorse the brand to help bringing the unusual, unexpected experiences to consumers, turning the ordinary into a savory bite of life, and towards another level of sophistication in consumers' social moments.
Mrs. Richa Singh, Marketing Director, Coca-Cola Thailand, Myanmar, and Laos insightfully explains: "As the leader of carbonated drink in Thailand, Coca-Cola always responds to consumer's preference through innovation. We have continuously expanded to a wider range of portfolio though a variety of products offerings. From the consumer insights, the flavored soda category still takes lead in its position, as the preferred product category amongst the consumers. To uplift the experience to another level, Coca-Cola offers an ultimate partygoer choice, with the new 'Schweppes' pushing the new bar of mixology to another level. As a trendy mixer, the new 'Schweppes' will wow the consumers with diverse recipes, amplifying the opportunities for flavored soda in the market."
Keep an eye out for the most exiting launch of 'Schweppes' – Blueberry Lemon Soda Zero Sugar, that is soon to come. Also, stay tuned for integrated marketing communications campaigns, both offline and online, including online activities with KOLs and Television Commercial (TVC), activation events, kickstarting with the mind-blowing 'Schweppes Bar' – the first-time ever collaboration of restaurants, beverage stalls, and cafes around Thailand that serve the new 'Schweppes' – Blueberry Lemon Soda Zero Sugar that is infused with the perfect balance of sweet and zesty flavors. The new 'Schweppes' takeovers nationwide will start from July 1 to July 31, 2023.
Coming in a 330 ml zero-sugar variant, the new 'Schweppes' Blueberry Lemon Soda Zero Sugar is available at convenience stores, supermarkets, department stores, and on e-commerce channel. Check out the latest campaigns both offline and online of the new 'Schweppes' Blueberry Lemon Soda Zero Sugar at [https://www.facebook.com/SchweppesTH].