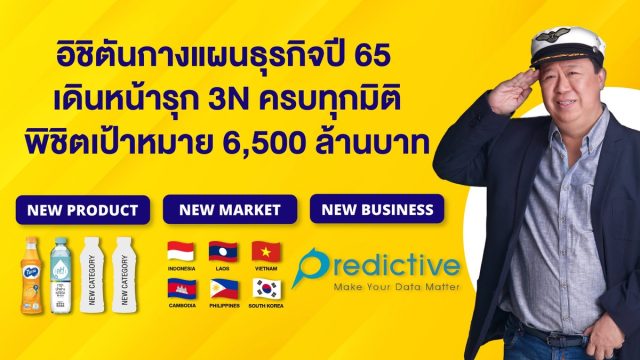 Friday 18 March 2022 – Ichitan (ICHI) unveils the 2022 plan with a sales target of 6,500 million Baht from the overview of the strong growth of the ready-to-drink green tea market and the readiness to penetrate the non-tea market with hemp beverages (CBD) and carbonated beverages (CSD) to support sales in response to the new consumer trends. For the OEM business, it is close to signing contracts with 2 more giant customers rooting for the recovery of the foreign market. Meanwhile, Ichitan Indonesia continues its sales peak with the New High.
Mr. Tan Passakornnatee, CEO of Ichitan Group Public Company Limited, or ICHI, reveals that "Overall, 2022 will be a year that ICHI penetrates the market in all channels with a focus on expanding the growth of the company's main ready-to-drink green tea market, especially the traditional trade channel, more new product launches in the non-tea beverage category, and 2022 business expansion under the 3N strategy. Therefore, we set a target for this year's revenue growth to reach 6,500 million Baht or more than 24% growth from the previous year.
The outlook trend of Q1/2022 shows good growth from the advantage of government measures to stimulate domestic consumption, while the data from Nielsen reveals that the overall ready-to-drink tea market in January grew 28.65% from the same period last year and continued in February, which is a continued good trend from 2021, with a market value of ready-to-drink tea at 11,213 million Baht, a growth of 3.96%, which is better than the overall beverage market that contracted. Consequently, a strategy is laid down to create awareness and expand the market for Ichitan ready-to-drink green tea with honey-lemon flavor, the number one consumer response, with campaigns to continuously penetrate the traditional trade market.
In Q2/2022, there will be a collaboration with a world-class food company to launch a product in May to create a unique experience for Ichitan's customers. Meanwhile, to support sales growth in the second half of the year, more new products will be launched for the non-tea beverage category, including hemp-containing beverages (CBD) and carbonated beverages (CSD) to capture the GenZ customers, and a full-fledged marketing plan will be started for the return of Bireley's products and Ichitan alkaline drinks.
Regarding OEM business, contracts with 2 new customers will be signed in addition to the current 2 main customers, namely, Thai Coconut and King Power, which support a higher capacity utilization rate, resulting in greater economies of scale. The revenue will begin to be recognized in Q2 of this year.
The overall export market to foreign countries has begun to recover, especially in the CLMV, with plans to further penetrate the Middle East market. Meanwhile, the success of the joint venture, Ichitan Indonesia, with a new sales record in 2021 of approximately 1,080 million Baht and 59 million Baht realized profit sharing for Ichitan Group, which is 111% growth from the previous year, is a positive signal. It is expected that this year's performance will grow every quarter, aiming for realized profit sharing with Ichitan Group at a minimum of around 75 million Baht in 2022 from the Thai tea category as the key success.
In terms of new business, ICHI acquires 25% shares in Predictive Co., Ltd. (Predictive) to strengthen the use of big data as a key factor in driving the business and marketing to the right target group, and prepares to list Predictive on the SET in 2024 if the operating performance is in line with the goals. New businesses are continuously being studied.
Ichitan is determined to continue to grow in 2022 under the 3N strategy (New Product, New Market, and New Business), believing that it will be an important factor to support a leapfrog of the operating results in the future after the operating results of 2021 show a net profit of 546.8 million Baht with 6.1% growth, gross profit margin of 19.3%, net profit margin of 10.5%, and sales revenue of 5,228.3 million Baht, a growth of 2.5% from the previous year.