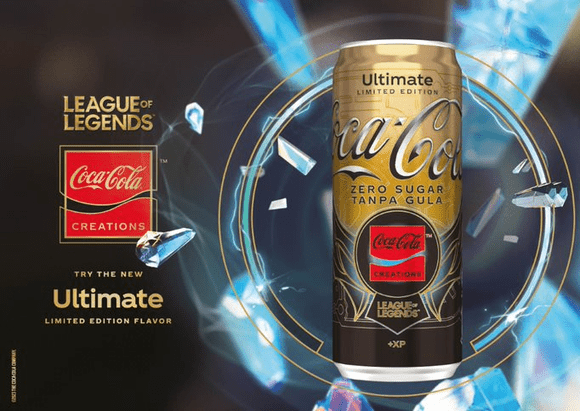 First Gaming Company Collaboration for Coca-Cola® flavour released in Malaysia alongside League of Legends In-Game Missions and Emotes
MALAYSIA, 3 JULY 2023 – Coca-Cola® has launched a new limited-edition flavour from Coca-Cola Creations in collaboration with Riot Games, the publisher and developer of League of Legends. Coca-Cola Ultimate Zero Sugar will provide fans and players the taste of experience points (+XP) and celebrate every player's journey – whether it's their first time on the Summoner's Rift or in the finals stage at Worlds in pursuit of the Summoner's Cup.
The collaboration between Coca-Cola Ultimate Zero Sugar and Riot Games is the first time Coca-Cola® has partnered with a gaming company on a flavour, bringing teams together to co-create a flavour that will give players an exhilarating taste as they queue up for a game. Accompanying the product's release, in-game and digital experiences will bring the excitement of the Coca-Cola Ultimate Zero Sugar collaboration to players across the globe.
"We're excited for players to taste the new +XP flavour, a unique and bespoke collaboration with Coca-Cola, a globally recognized brand loved by millions," said David Mulhall, Head of Business Development and Partnerships, Riot Games. "Coca-Cola shares many of the player-focused values we have at Riot, and we are honoured to be the first gaming collaboration for Coca-Cola Creations."
League of Legends players can unlock limited edition Ultimate emotes in-game through a series of missions, activated in order, as they're completed:
Get 7 assists in a single game to earn the Ultimate Teamplay emote.
Earn 12,000 gold in a single game to earn the Ultimate Gains emote.
Win a game in under 20 minutes to earn the Ultimate Tempo emote.
The Ultimate emotes will be available to unlock until July 18 at 11:59 p.m. PT.
Players will be transported to the Coca-Cola Creations Hub, the home for unique Coca-Cola Creations digital experiences, by scanning the QR code on a Coca-Cola® Ultimate Zero Sugar can. One offer available on the Creations Hub is the Ultimate Emote Generator, an Instagram filter allowing players to view themselves in the style of League of Legends emotes for social sharing.
"Partnering with Riot Games enables us to enhance the Coca-Cola Creations experience by introducing a fresh flavour that represents our shared commitment to putting fans and players at the forefront of everything we do," stated Rina Surya, Frontline Marketing Director at Coca-Cola ASEAN & South Pacific – Singapore & Malaysia. "Coca-Cola® Ultimate, the seventh innovative addition to our Coca-Cola Creations portfolio, features a captivating design, offers a distinctive taste of +XP to refresh gamers during their quests, and lift their gaming experience to new heights."
Coca-Cola Ultimate Zero Sugar fuses the two iconic brands with a striking packaging design that features black and various shades of gold. The familiar Coca-Cola Creations logo is also complemented by a bespoke 'Ultimate' crest and energized with a magical blue Hextech glow. The design showcases a unique expression of the recognizable Coca-Cola® Spencerian Script font, inspired by the Nexus Crystals in League of Legends.
Throughout 2023, Coca-Cola will unveil additional limited-edition Coca-Cola® Creations featuring unique innovations and unexpected collaborations. For more information about Coca-Cola Creations, visit www.coca-cola.com/creations.