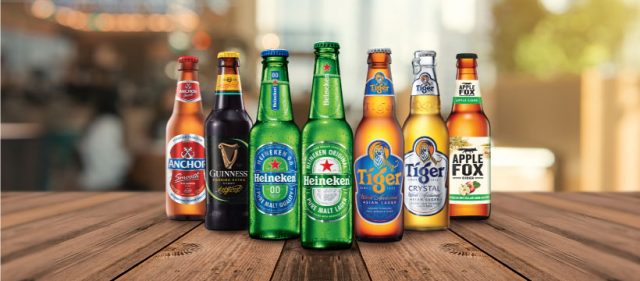 An article by Heineken Malaysia
Many may believe that the beer industry is a man's world, but this couldn't be further away from the truth – at least not in HEINEKEN Malaysia where women play various important roles across the organisation. At HEINEKEN Malaysia, women make up 49% of middle- to senior-management positions and 43% of the Company's Board of Directors. Guided by a purpose to "Brew a Sustainable Future for our People, Business and Planet", HEINEKEN Malaysia celebrates this International Women's Day by sharing with the world a glimpse into what our women think about growing with the world's most international brewer.
We asked our colleagues: "What do you think makes a fulfilling career for you?"
Joyce Lim, Senior Brand Manager (Tiger Beer) – Marketing, 13 years at HEINEKEN Malaysia:
I first started my career at HEINEKEN Malaysia as a Management Trainee 13 years ago and I'd say that the opportunity to work here is the best thing that has happened to me (career wise). I really love what I do and I have had so many opportunities to grow professionally and personally. To me, whatever a man can do, a woman can do too, and the company also sees us this way. I never faced any challenges because of my gender.
If you ask me what my most fulfilling achievement is, I'd say it's seeing the brands that we are working on grow not only in terms of numbers, but also its visibility among our consumers. All our hard work throughout the years have driven Tiger Beer as Malaysia's No. 1 Beer, and that is honestly really satisfying.
Violet Chan, HR Services Manager – Human Resources, 9 years at HEINEKEN Malaysia:
I have been with the company for close to a decade now and I have gone through several major life milestones while working here – from a single woman who started back then, I have since gotten married and given birth to two daughters. The Company has supported me through each of these life stages. I particularly appreciate the maternity benefits because we have the option of taking up to 4 months of maternity leave, which gave me the opportunity to spend more time with my children. The Company also incorporates women-friendly features in its facility such as a breastfeeding room for mothers. In terms of work, I am proud of how my team and I have successfully digitise and automate HR-related services to provide our employees with more convenience.
Prithi Sharma, Corporate Responsibility Manager – Corporate Affairs & Legal, 8 years at HEINEKEN Malaysia:
The strength of a woman is beyond description. As you grow older, you begin to appreciate and understand how strong women are – rising up to new challenges at every phase of their lives as a daughter, sister, wife, or mother. I'm fortunate that at HEINEKEN Malaysia, there are always opportunities to share your ideas. As long as you can add value and shape the future of our business, there's absolutely no preference to genders and stereotypes. Women play various roles across the business from Supply Chain to Sales! We have great synergy regardless of gender, as respecting each other is a key value at HEINEKEN Malaysia.
I have always been passionate about the environment and I take pride in driving our CSR initiative and sustainability efforts across our operations. Loving this job has allowed me to come up with fresh ideas and identify new opportunities. So when you bring that love, your focus on fulfilling the purpose of your role is stronger, and you're inspired to create a ripple effect with your team and the people you work with. To me, I feel encouraged because we get to work closely with the Management Team who are supportive and ever willing to help you grow and see your projects succeed.
Brenda Yee, BI Solutions Manager – Transformation & Technology, 3 years at HEINEKEN Malaysia:
Speaking of equal treatment in the workplace, HEINEKEN Malaysia is definitely a good place for women to grow. Just last year, I was given the opportunity to participate in HEINEKEN's Short-Term Assignment (STA) Programme. This programme allows us to work in a different HEINEKEN Operating Company to help us grow our career. I was delighted at the opportunity to work at our Head Office in Amsterdam for three months on a Data Driven Sales project. I believe this clearly shows that the Company values individual capabilities above all and I'm proud to tell people that I'm a mother and still able to go places in my career. It's commendable that HEINEKEN is an organisation that respects women and provides equal opportunities.
Sharveena Kaur, Recruiter – Human Resources, 7 years at HEINEKEN Malaysia:
To me, women are as capable as men and I can see that HEINEKEN Malaysia sees us the same way too. There has never been any instance where I felt disadvantaged at work because I am a woman. Everyone is treated equally. As a woman and a mother, I have to say that I appreciate the time off flexibility that the Company provides because when the needs arise, I am able to take time off to take care of my family. Our medical benefits also cover our spouse and children, which is great.
My passion is in recruiting and in my seven years of recruiting for HEINEKEN Malaysia, I have come across so many women who are equally capable of taking up technical jobs and roles that require physical strength. It's my hope that more women should be encouraged to seize these opportunities. We can do anything that men can!
Choong Mun Yee, Quality & Process Assurance Manager – Supply Chain, 7 years at HEINEKEN Malaysia:
In my line of work, passion for quality is of utmost importance as we're tasked with ensuring we produce the best quality beers and cider. It fulfils me to know that I get to play a part in this, as well as be able to work alongside colleagues who are equally passionate. I also consider it a privilege to have had the chance to work with many iron ladies at HEINEKEN Malaysia. My line manager is a woman, so is my Supply Chain Director, and what's more exciting is that our Head of Brewing is also a woman. This shows that the Company is a great place to grow your career because, regardless of your gender or age, it's always about your capabilities. So long as you strive for it, the Company will give you the opportunity for career advancement. From starting out as a junior executive, I have climbed up the ranks to a managerial role so anything is possible if you put your mind to it. I am also grateful that the Company cares for women's wellbeing, for example we're covered for HPV vaccinations.
Josephine Tang, Channel Marketing Manager – Sales, 2 years at HEINEKEN Malaysia:
"Since I joined HEINEKEN Malaysia two years ago, I have had the opportunity to learn and achieve so much in this short period of time, especially in enhancing my skill sets and growing with my team. It's great to see how much emphasis the Company is putting into its people by investing in employees' career – all of which gender does not come into question because there are equal opportunities for everyone. Trainings are always available and support is always given, you just need to be hungry for it. I also really love the fact that the Company places safety as a priority and it's a large part of our culture."
Ginix Khor, Head of Supply Finance – Finance, 2+ years at HEINEKEN Malaysia:
I really appreciate the culture at HEINEKEN Malaysia. The Company practices diversity and inclusion, as well as promote safety for all. In fact, the working culture here is very open and flexible. I personally experienced this myself when I first joined the Company. I had a family emergency, which required me to dial back on my working hours. I felt bad and wanted to resign in order to deal with this situation. Fortunately, I have a very understanding manager who designed a more flexible working schedule for me so that I'd be able to cater to my family's needs – I truly appreciate this gesture because it allowed me to balance both work and family.
Thong Phooi San, National Modern Off-Trade Manager – Sales, 2+ years at HEINEKEN Malaysia:
Contrary to popular belief that a career in sales is more suited for men in this industry, the Sales function is actually broad enough with a range of roles, so I don't see gender as a barrier to growing a successful sales career at HEINEKEN Malaysia. In fact, women are able to progress their careers here because there are meaningful roles that fit different individual needs at every life stage. What is fulfilling for me is the empowerment given to us to initiate, lead change, and shape the organisation, especially in grooming young talents. There is a high level of trust and respect because our leaders are open to listening and taking our recommendations in decision making.