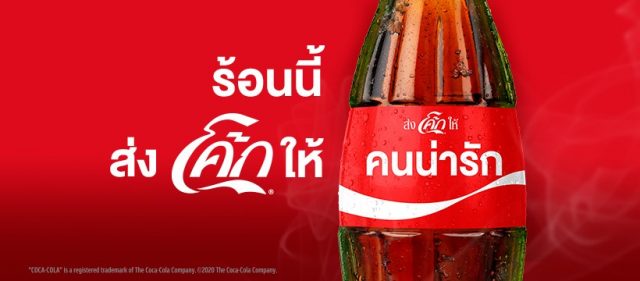 The Coca-Cola system in Thailand has brought back the 'Share A Coke' campaign, inviting Thai consumers to share 'Coke' products and enrich relationships among friends, family and loved ones throughout the summer. According to the press release, "summer is always special for Thai people – especially during the Songkran holidays, which is an occasion for everyone to share good times and good feelings with each other."
There will be a 'Share A Coke Challenge' to be launched in partnership with the TikTok application on 14 March 2020. 'Coca-Cola' has also released a special theme song called 'Where is My Name?', performed by the well-known teen hip-hop artist UrboyTJ. The campaign also includes state-of-the-art out-of-home media in the heart of Bangkok along with a daily 'Light and Sound Show' at CentralWorld Connect.
Coca-Cola is also working with a number of leading retailers across the country to arrange 'Share A Coke' roaming booth activities in which consumers can design and customize 'Coke' cans in their own unique ways. In addition, consumers can also order a set of three Coke' cans printed with their chosen names and personalized messages that come in a limited edition retro 'Coke' refrigerator boxset and will be available only through leading e-commerce operators i.e. Lazada, JD, Tops Online and Shopee from 18 March 2020 onwards.
Nielsen Thailand's Retail Index shows the total value of sparkling soft drink category in Thailand in 2019 was valued at over THB 56 billion, up 11.7% from the previous year. Within this category, the cola segment was the largest with estimated value of around THB 40 billion and a growth rate of 12.9%. Coca-Cola is the leading brand in the cola segment within the sparkling soft drink category share of 35.7%.
The Coca-Cola system in Thailand consists of Coca-Cola (Thailand) Limited as the brand proprietor responsible for marketing activities, and its two local bottling partners – ThaiNamthip Ltd responsible for 63 provinces around Thailand and HaadThip Public Company Ltd serving 14 southern provinces.