Doi Kham, founded 40 years ago by the Crown Property Bureau of Thailand, has unveiled High Pressure Processing (HPP) juice offering various health benefits. The price is THB 9 per 250ml bottle. There are five variants to choose from.
These HPP juices help to strengthen the immune system, enhance skin complexion, improve the digestive system and slow down cell degeneration thanks to the use of fruits and vegetables containing chlorophyll, fiber, beta carotene, vitamin C , anthocyanin, gingerol and catechin. Among the ingredients are beetroot, mulberry, lychee, celery, pineapple, pomegranate, pumpkin and ginger.
The HPP technology preserves the vitamins and nutrients in the vegetables and fruits. Doi Kham developed the HPP juice in collaboration with the Department of Nutrition Faculty of Public Health Mahidol University.
The HPP juice comes at an opportune time as consumers are increasingly looking at ways to improve their immunity as the spread of COVID-19 remains unabated.
According to TSUS Febix Foodtech Co., Ltd., the number of HPP machines installed in Thailand has risen from just 2 in 2004 to more than 16 today with most of them concentrating in the Bangkok region and in the coconut district. BEEP is a successful HPP player from Thailand that has found fame in overseas market including in Singapore. Apart from having a standard size drink, BEEP also released a range of nutri-shots in 2019.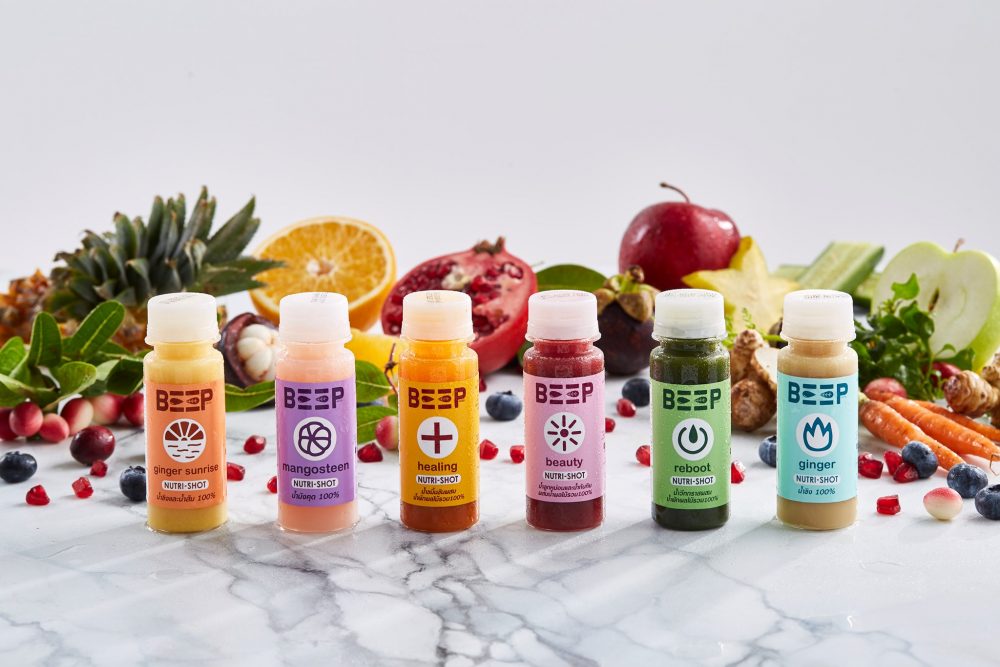 Microplus is another player that has recently introduced a shot drink made from sprouted broccoli, wheat grass, red amaranth and sunflower.