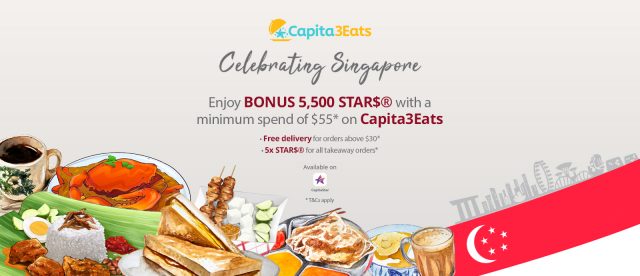 Wah shiok, more deals coming your way! In this month of August, we have some exclusive lobang for you and your readers! All good things must be shared, don't say we bojio!
Starting from 7 August till 31 August, you can receive 5,500 STAR$ with a minimum spend of $55 in single transaction on Capita3Eats. This is the perfect time to treat your family to a feast this long weekend and enjoy bonus STAR$ on CapitaStar! You may also enjoy free delivery for orders above $30 for selected tenants as well as 5X STAR$ on takeaways. It's discounts on top of discounts, what are you waiting for!! Tag your kiasu buddies now!
There is no better way to celebrate Singapore's 55th birthday by eating like a true Singaporean. Here are some local delights you can order this long weekend for you and your family!
L-R: Xing Ji Signature Prawn Noodle Large Soup ($13.30), CRAVE Nasi Lemak with Chicken Wing ($6.50), Hawker Man Hokkien Chick ($8.90)
Shrimply the best Hae Mee
Sip into a bowl of hearty prawn noodles from Xing Ji Big Prawn Noodle that is full of umami goodness. Complete your meal with some of our favourite side dishes – Har Cheong Gai and Ngoh Hiang.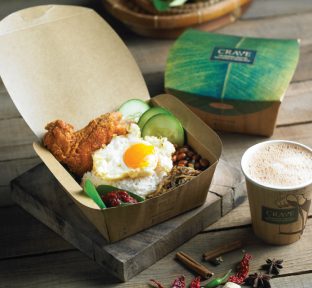 Satisfy your CRAVE-ing
What rice is cooked in coconut milk and served with a dollop of spicy sambal? Of course, it's Nasi Lemak! Indulge in the savoury goodness from CRAVE. Choose between multiple sets such as Nasi Lemak Royale, Nasi Lemak with Chicken wing and Nasi Lemak with Selar Fish.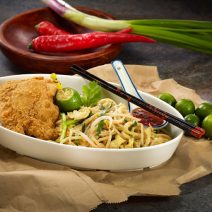 Hooked on Hok-Kien Mee
Easily one of the dishes in the hall-of-fame of all hawker foods. Slurp onto silky smooth Hokkien Mee coated evenly in a stock reduction from Hawker Man. Enhance the wok hei in this plate of goodness with Lala, Chicken Chop, or Spicy X.O sauce. End your TEH-riffic meal with a cup of Teh or Kopi to keep it to the National Day theme.