In conjunction with the launch of RAGE's coffee ordering app, we had the opportunity to chat with Jevin Singh, the founder of RAGE about its new app and its speciality drinks.
RAGE created the app DrinkRage to allow customers to pre-order their drinks and even get it delivered. Using its own app instead of third-party delivery platform ensures RAGE has full control of the quality and the entire ordering process from accepting the order to delivering it to the consumer.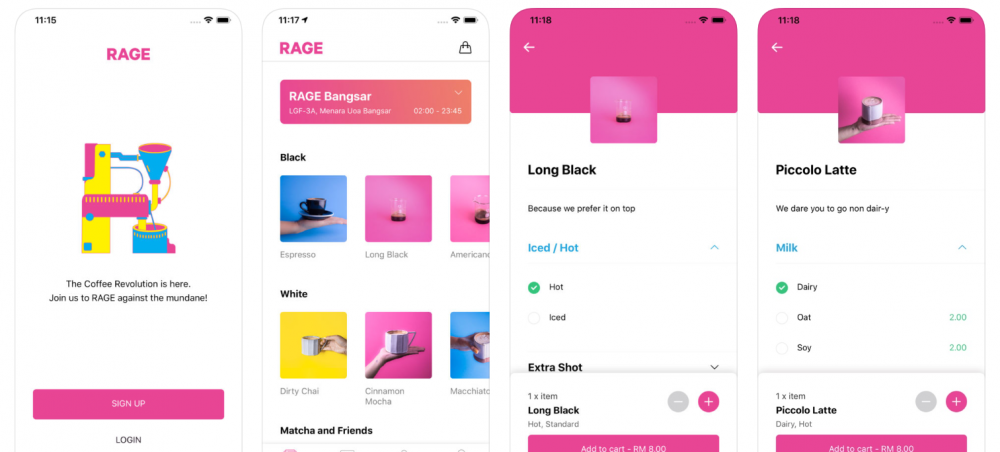 RAGE operates on a micro-delivery model, meaning it does only walking delivery within a limited radius within a geofence from each RAGE outlet. RAGE works with a third-party, which provides the staff that does the delivery. The maximum waiting time from ordering to receiving the drink is 25 minutes. RAGE is committed to deliver the coffee as much as they can "even though rain or shine," said Jevin. Using walking delivery allows RAGE to ensure the coffee stays fresh.
RAGE has plans to open up its ordering platform to other entities who "believe in the same value" as RAGE, said Jevin.
The inspiration for new drinks comes from within the team or from going out trying new things, added Jevin. RAGE does a lot of research and development (R&D) within the team to come up with new recipes.
RAGE wants to educate consumers about the benefits of matcha, which apart from coffee, is also a drink that it specialises in. The matcha comes from Niko Neko.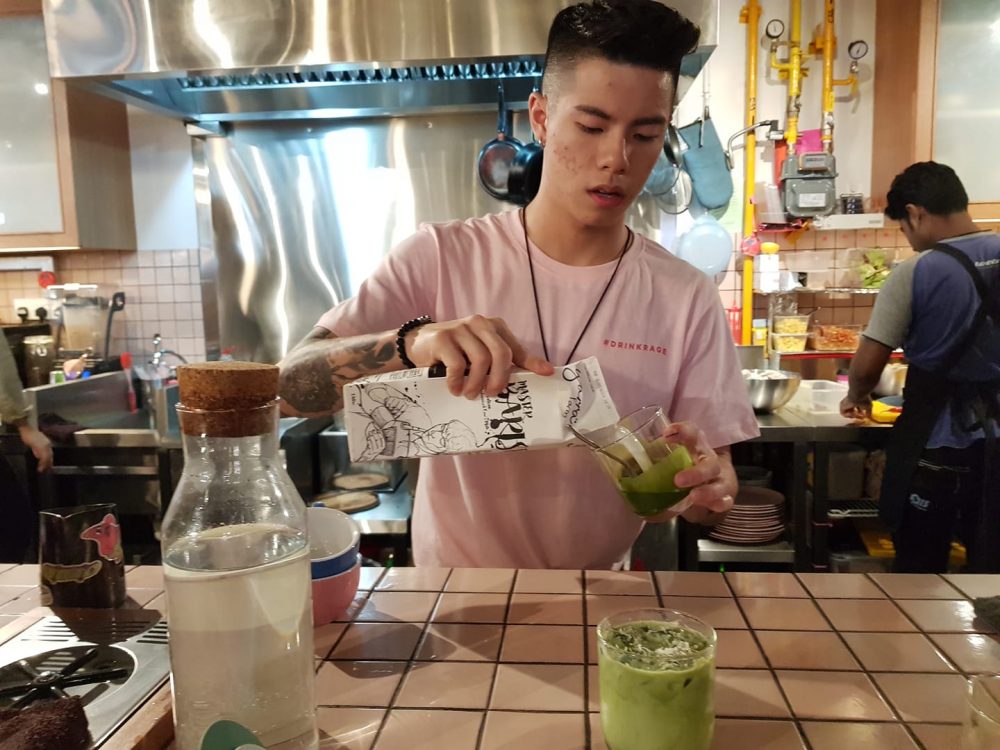 The speciality matcha-based drinks include Matcha My Asam and Matcha Gula Melaka. Matcha My Asam is the fusion of the zesty citrus lime and slightly salty asam boi as the front notes to a bold, lingering matcha flavour. It is served with ice and topped with mint leaves for that extra cooling kick.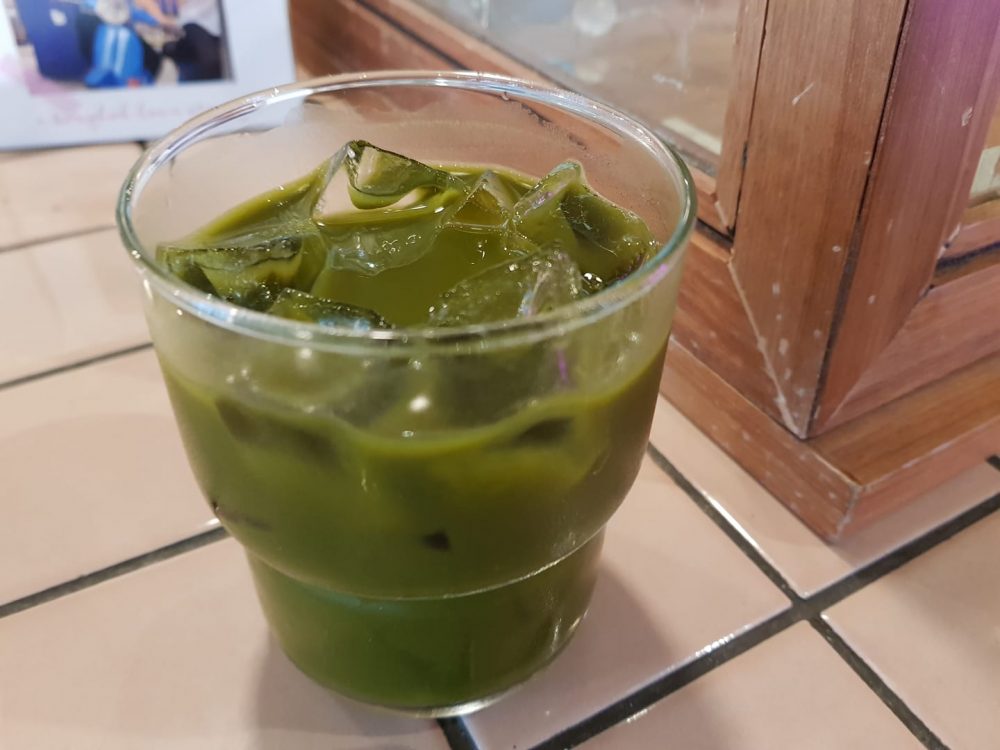 Matcha Gula Melaka is packed with Gula Melaka and garnished with macerated coconut. Consumers can choose to have the milky blend of either soy, coconut or oat milk with the earthy matcha.
Consumers can add plant-based goodness – soy, oat and coconut into their drinks. Coconut milk goes nice with Matcha Gula Melaka. Some people like their latte with oat milk, while some prefer their cappuccino with soy milk. RAGE uses the Barista series of coconut non-dairy beverage from US-based Pacific Foods and oat milk from Australia's Minor Figures.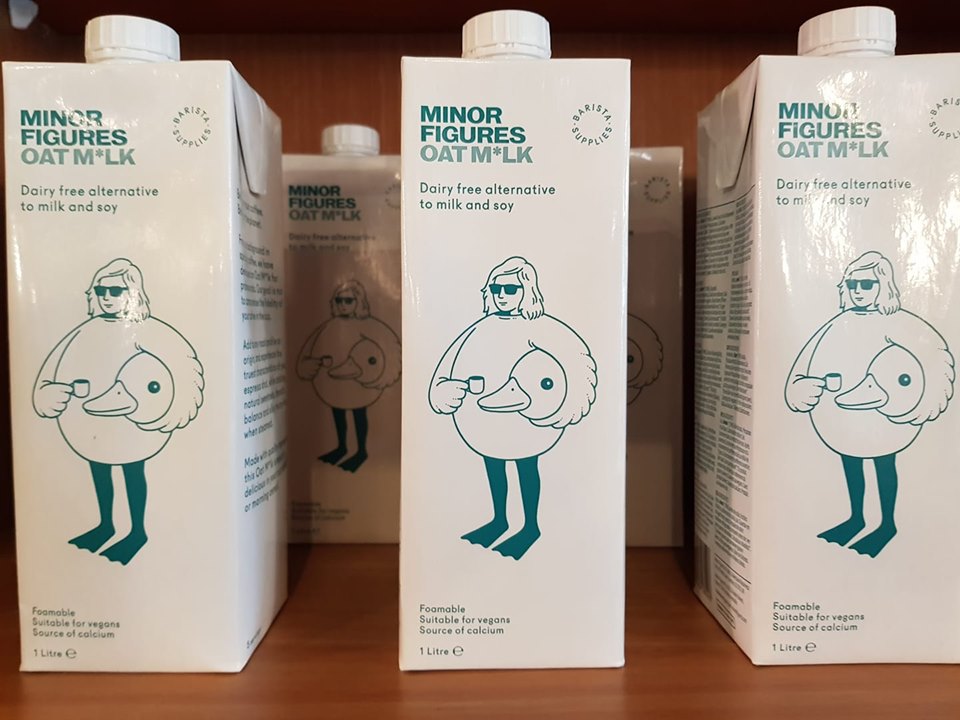 Other specialty drinks include:
Espresso Cado Shake – An ice blend of avocado with double shot espresso, this fun and light way of getting your caffeine charge is perfected with the addition of creamy milk and a dose of hazelnut syrup.
Milo Espresso "Dino" – The Asian-inspired beverage is shaken and served with condensed milk and generous amounts of undissolved milo powder sprinkled on top. Can be served hot or iced. Milo Espresso "Dino".
Passionfruit Espresso Soda – This combination of double shot espresso mixed with soda and a splash of Passionfruit syrup served over ice.
Bangkok Love Story – This decadent blend of beverage is a harmonious clash that infuses the milkiness of Thai Tea and the ever so powerful shot of Espresso.
RAGE currently has 5 outlets in Malaysia
Menara UOA Bangsar – Unit LGF-3A
Damansara Heights (Kiosk) – Level 1-1, Wisma Uoa Damansara II
Menara KLK (Kiosk) – 1, Jalan PJU 7/6, Mutiara Damansara, 4
Menara UEM Tower 1 (Kiosk) – 8, Jalan Kerinchi & Avenue 7
Nu Sentral – Level 5, Nu Sentral Shopping Centre