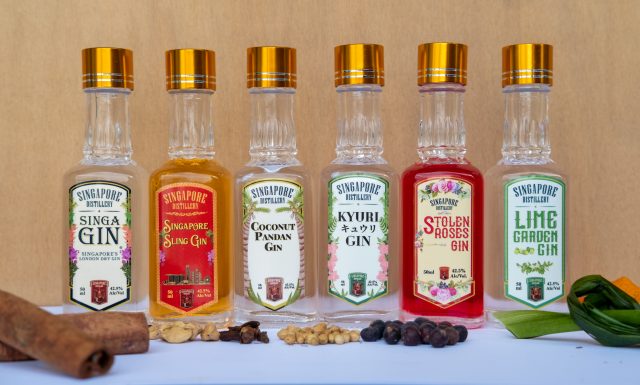 Singapore, 19 October 2020 – Singapore Distillery announces its line-up of six unique gins, joining the booming craft spirits scene in the Lion City.
Beginning their gin-making journey in 2017, the local team has spent the last three years building their Ang Mo Kio-based distillery and developing their perfectly balanced gins. The distillery was born out of an idea to make great spirits using Asia's greatest resource – its diverse array of herbs and spices.
"Singapore has always been a melting pot of different cultures, each with their own cuisines, and we thought these unique flavours and ingredients would be perfect for  incorporating into gins and other spirits," says Head Distiller Ashwin Sekaran.
There's more to gin production than botanical selection, however, and Ashwin and his team place similar emphasis on the importance of their distillation process. Singapore Distillery's old-fashioned 500-litre copper still was custom designed for the brand. Made the whisky way, the bulbous head of the copper still helps create the smooth, balanced finish found in each of the gins.
With its launch into the market, Singapore Distillery's portfolio is currently made up of six signature gins, with another new gin variant and two different vodkas in the works.
Singa Gin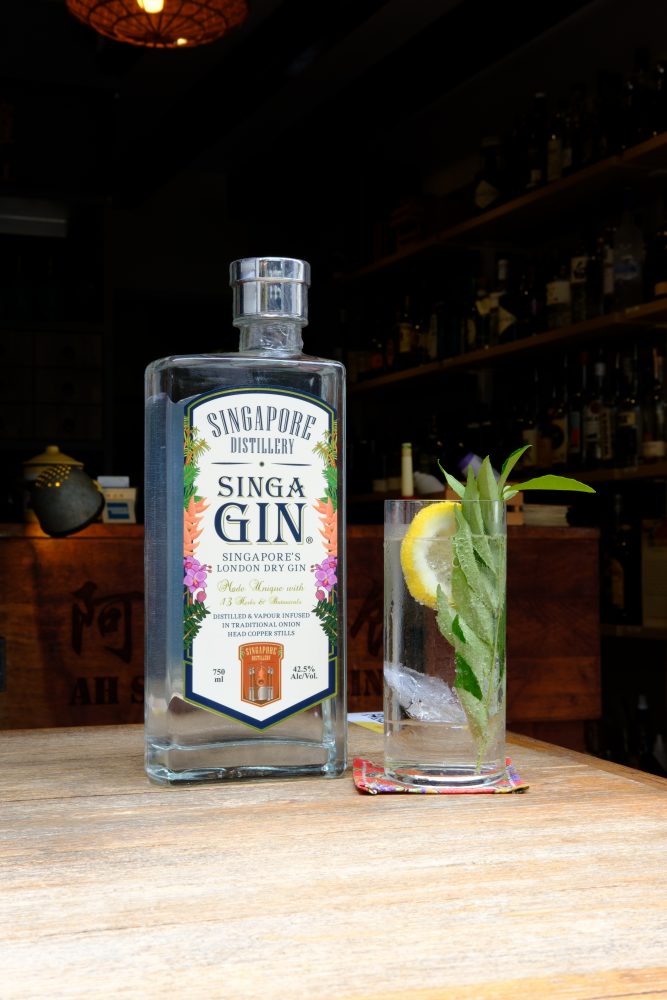 The distillery's classic London Dry Gin features a botanical blend of 13 herbs and spices including juniper, cloves, mandarin orange, Ceylon cinnamon, Cassia cinnamon grains of paradise, angelica root, key lime, coriander, orris, cardamom, liquorice, and Sarawak pepper. Distilled using a mixture of vapour infusion and maceration, the resulting gin boasts layers of flavours, balanced and smooth enough to enjoy neat yet bold enough to serve with tonic or in a cocktail.
 Coconut Pandan Gin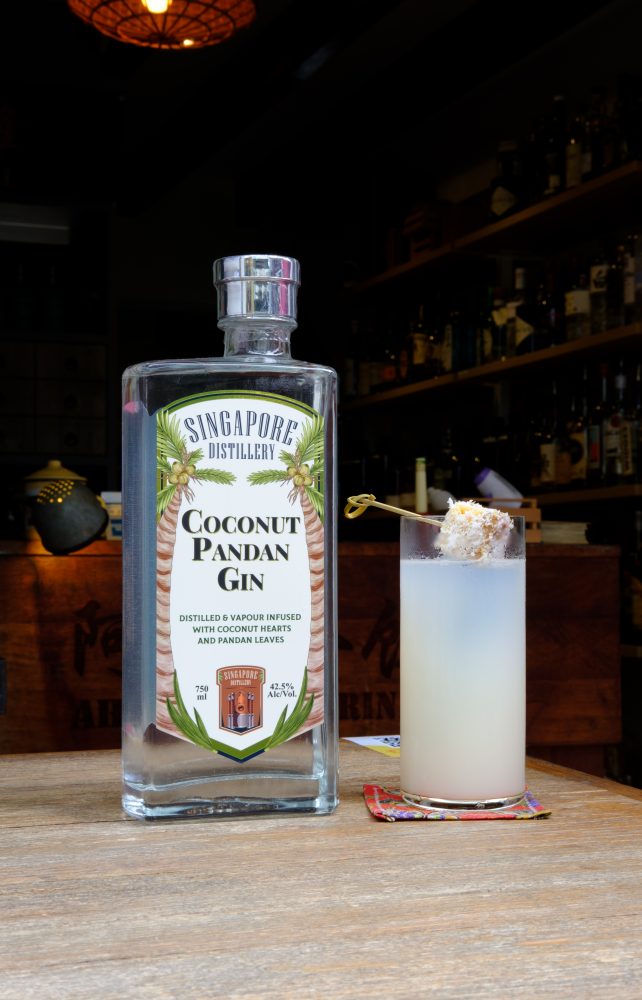 This uniquely Southeast Asian gin is distilled and vapour infused with fresh coconut hearts, freshly grated coconut and pandan leaves. Distilling these three ingredients together with the standard gin botanicals gives the gin a fragrant, creamy character that makes it the perfect tropical spirit.
Lime Garden Gin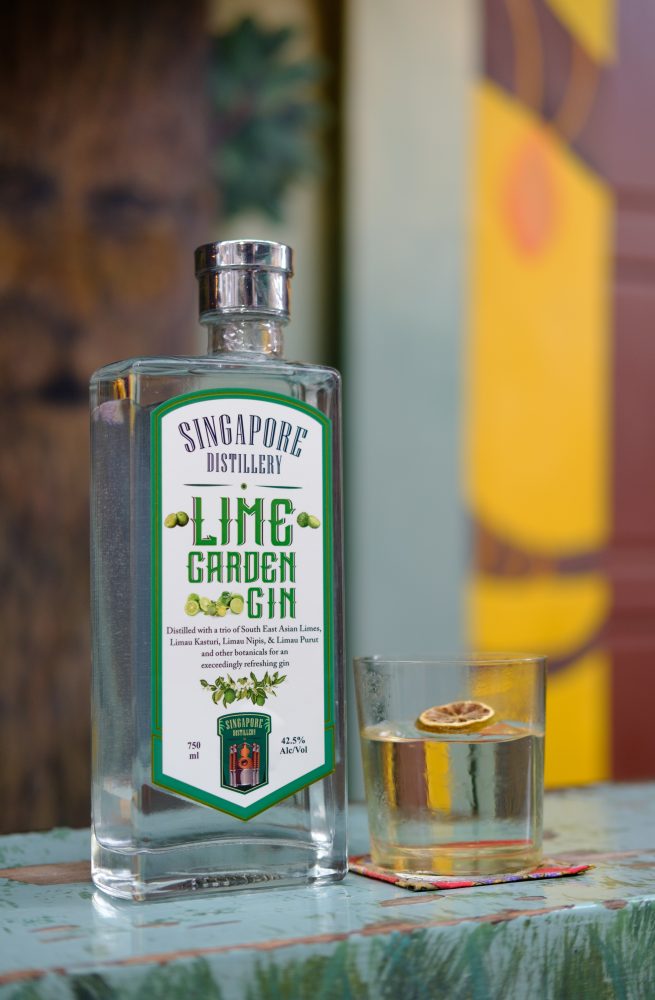 This variant is distilled with a trio of Southeast Asian limes for a bright citrus-forward profile. The gin features calamansi (Limau Kasturi, a small, sweet green lime with a delightfully bright orange interior), key lime (Limau Nipis, boasting a bold herbal-floral aroma and stronger lime flavour than most varietals) and kaffir lime (Limau Purut, a lime with a rough exterior and intense citrus fragrance).
 Singapore Sling Gin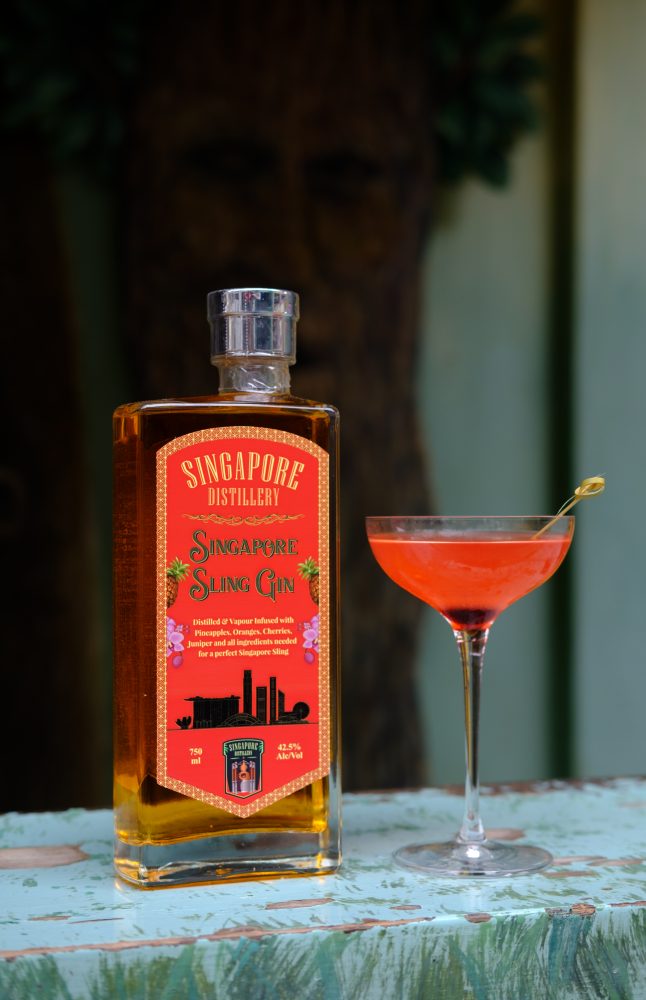 Created to be the perfect base to make a Singapore Sling, this gin is distilled with each of the ingredients found in the iconic cocktail. The blend of oranges, cherries, angelica, pineapple and limes is vapour distilled to infuse bright flavours and a herbal, floral bouquet into the spirit.
Stolen Roses Gin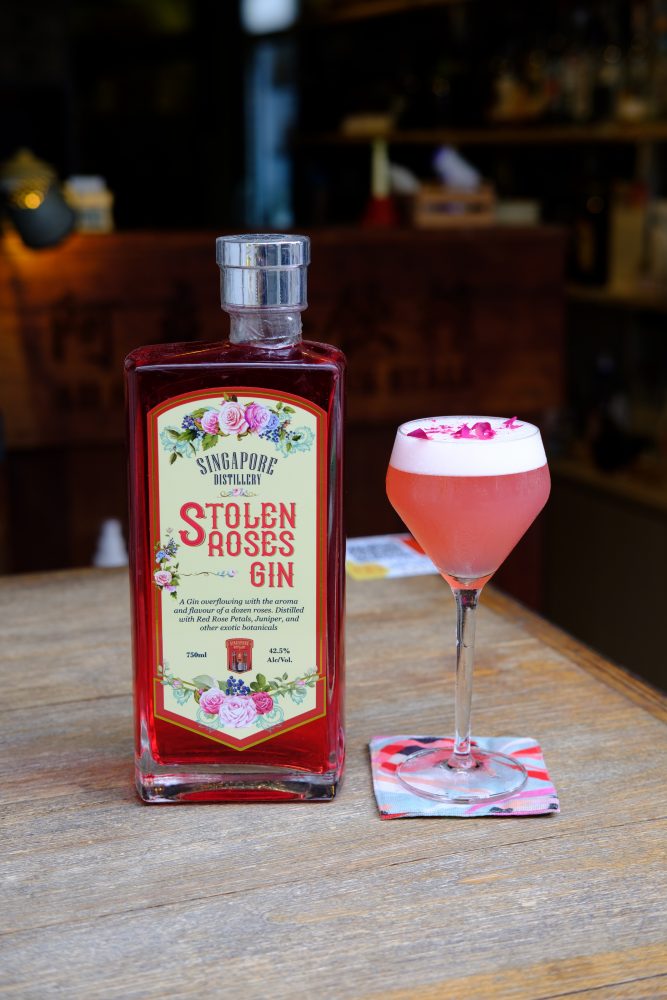 A take on Southeast Asia's beloved Badung, this gin gently distils a blend of roses with traditional gin botanicals to impart a delicious aroma. The gin is then rested with roses to pick up another layer of flavour as well as its lovely red colour. The finished product is lightly sweetened with natural cane sugar to round off the finish and create a smooth, satisfying gin.
 Kyuri Gin
This gin is distilled with fresh Japanese cucumbers and sakura flowers, creating a refreshingly floral profile. Fresh Japanese cucumbers are rested in the base spirit for 24 hours before being distilled, with additional cucumber vapour infused along with Sakura flowers to preserve their fresh, bright flavours.
Each of the six gins is bottled at 42.5% ABV, resulting in a spirit that brings out the best flavour of the botanicals. The gins are each smooth enough to be enjoyed neat, with flavours strong enough to stand up to tonic water or other ingredients in a cocktail.
Singapore Distillery's gins are available for purchase at singaporedistillery.com, with each variant available in a 50 ml sample (S$6.90) or full-sized 750 ml bottle (S$69.90). A sample pack is also available with a 50-ml bottle of each of the six gins (S$35.90). The gins are also available in bars and restaurants across Singapore including Ah Sam Cold Drink Stall, IBHQ, Flying Monkey and Open Farm Community.