SHAH ALAM, April 14, 2021– Coconut milk is a staple of Malaysian cuisine, more so during Ramadan and Raya for the nostalgic taste, creaminess and health benefits it adds to any dish.
Ayam Brand™ understands the fine balance between the longing for the taste of kuihs from our childhood with our busy lifestyles, health related dietary concerns, and the limited time we have to prepare for Iftar and Sahur. Fresh coconut is wonderful but finding it in stores, and extracting coconut milk can take time – time that we do not have!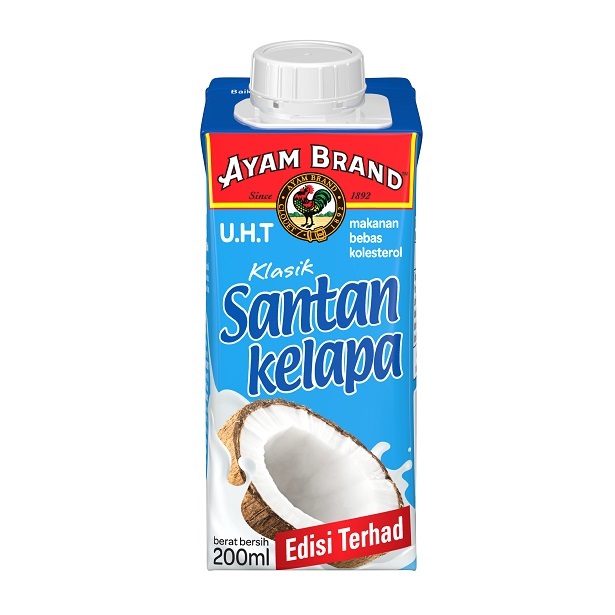 Ayam Brand has been providing the great taste and health benefits of coconut milk, in convenient packs for decades. Ayam Brand™ Coconut Milk is hygienically squeezed from selected ripe coconuts, then sealed in convenient tetra packs using Ultra High Temperature (UHT) technology.  It is as good as squeezing by hand but without the hassle of cleaning up after.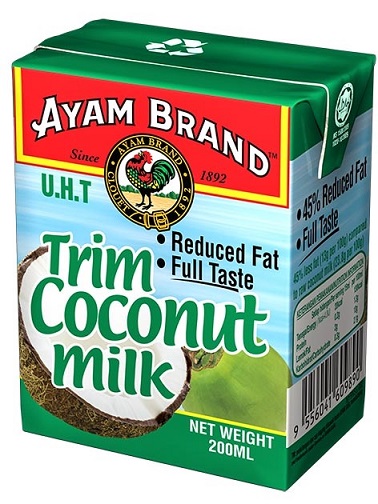 You can use Ayam Brand Santan, Ayam Brand Santan Trim (45% reduced in fat) or Ayam Brand Santan Super Light (only 5% of fat!) depending on your preference.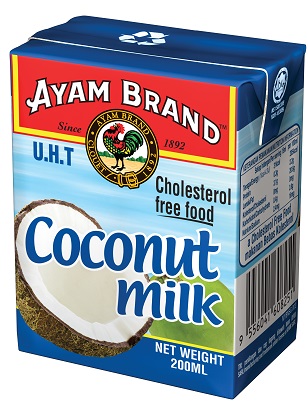 Just in time for Ramadan and Raya, Ayam Brand has introduced its limited edition Ayam Brand Santan 200ml with easy open cap – so you can use what you need, seal the cap and refrigerate the rest for later. A new pack but the same great recipe.
If you are a regular Ramadan bazaar goer like us, you would notice that nostalgic regional delights are always unavailable. Ayam Brand's recipe developers have created five recipes for traditional delights using santan that you can make at home. They have thoughtfully simplified the recipes to suit regular kitchen equipment, and worked with nutritionists to cut down the sugar and fat content with an eye on health.
The rare kuih Akok from the East Coast, kuih Tako also known as kuih limas from the South, bubur pulut hitam from the North, kuih seri muka labu kuning from Kelantan and the ever popular sago gula Melaka will take you back to childhood in your hometown or kampung. All of these kuihs have the nostalgic creamy nutty goodness of Ayam Brand Coconut Milk.
Try out the convenience of the new easy open Ayam Brand Santan 200ml this Ramadan and Raya, and participate in the Ayam Brand Masak dan Menang contest. Simply whip up a dish using Ayam Brand Coconut milk, take a pix and upload to your Facebook or Instagram account and use the hashtag #santanayambrand to be in the running for all-in-one cooker prizes worth up to RM17,300 from innochef! For details visit https://www.ayambrand.com.my/masakdanmenang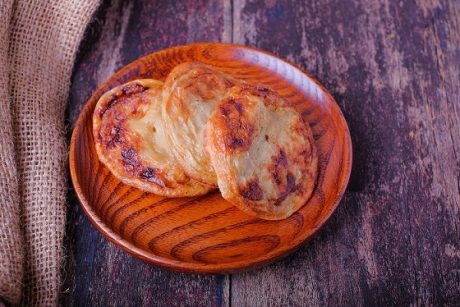 1. Quick and Easy Kuih Akok
No mould and charcoal fire required here, just a muffin pan and your oven! Boil Gula Melaka and thinly sliced pandan leaves, until the sugar is dissolved and the mixture is fragrant. Remove from stove, and slowly pour in the Ayam Brand Coconut Milk. Let it cool. In the meantime heat the oven, and oil your muffin pans. Add egg and sieved flour to the coconut mixture, and stir well. Divide the kuih batter evenly among the 12 muffin tins. Bake for 25 minutes or until the top is browned.
Healthy tips:
You can reduce the gula melaka, but it will lose some of the caramelised taste; and an important note do not substitute with white sugar as it will not taste as good. For a lower fat option use Ayam Brand Super Light santan that has only 5% of fat.
2. Kuih Tako (also known as Kuih Limas)
Kuih tako or kuih limas is similar to kuih tepung pelita but usually has a sweet or crunchy surprise hidden inside that made it a favorite with kids. The additional step of adding the surprise inside could be why it isn't commonly found at Ramadan bazaars. Here's a simplified version from Ayam Brand that has sweet corn and water chestnuts as the secret filling for texture and fibre!
The first step is to make 30 pandan cases – this is a fun activity that children can help with. Next, prepare the base by combining green bean flour, sugar, salt and water. Cook on low heat until thickened, then turn off the heat. Add some water chestnuts in each pandan case, then pour in the base mixture and allow it to cool and set.
In another pot, make the topping by combining coconut milk, green bean flour and water until thickened. Adding the topping to the set base and decorate with a teaspoon of corn in each pandan case. Allow to set in the fridge – perfect for Sahur!
Healthy tips:
The sugar content of this recipe has been reduced so it is less sweet, the green bean flour, Ayam Brand Sweet Corn and water chestnuts add fibre and vitamins. Cold out of the fridge for Sahur, this will give you sustained energy.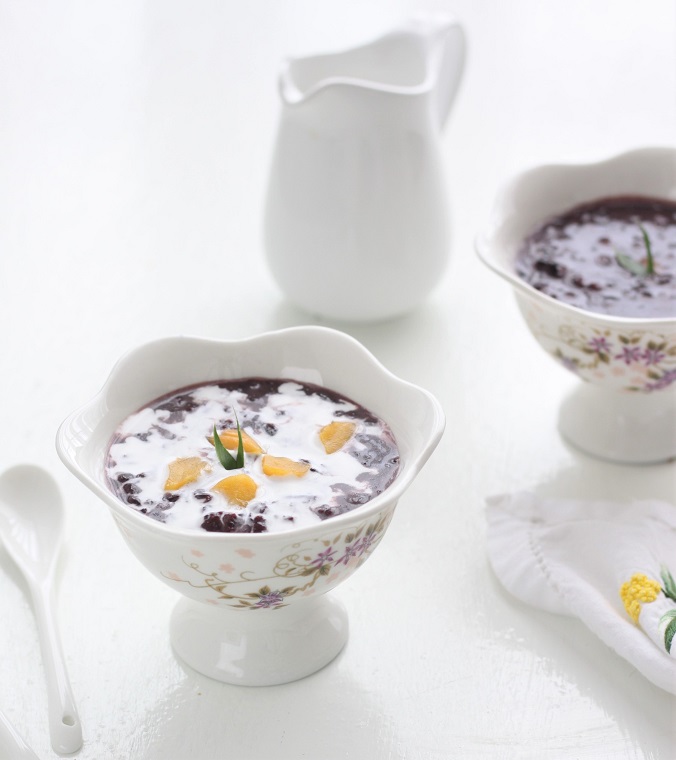 3. Bubur Pulut Hitam
Bubur pulut hitam or black glutinous rice porridge is a hearty, healthy and surprisingly easy to prepare treat. Make it at home to have just the right amount of creamy santan for your taste.
Cook the black glutinous rice, pandan leaves and water in low heat with the lid on. Simmer for an hour or until the rice has softened. Simultaneously heat the coconut milk, salth and sugar to taste.  To serve, scoop the lusciously gooey rice into a bowl and add the coconut milk mixture.
Quick tips:
If you have a pressure cooker, the time for this recipe can be reduced significantly. You can also heat the coconut milk mixture in the microwave instead of on the stove. We try to use all kitchen appliances, too! Make a double batch, that can be refrigerated and heated for another day's Iftar or Sahur.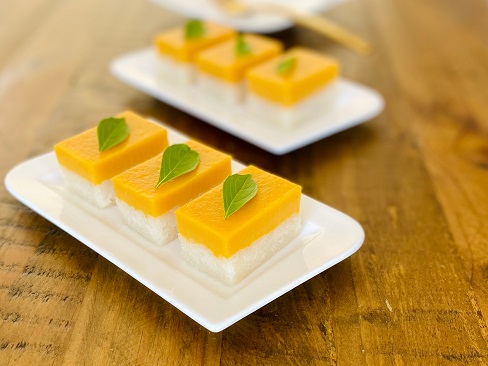 4. Kuih Seri Muka Labu
The regular seri muka with its creamy glutinous rice base and pandan green custardy topping is widely available, but the kuih seri muka labu or pumpkin seri muka is a rarity at any bazaar as it is a labour of love.
Make the glutinous rice base according to the Ayam Brand website recipe. For pumpkin custard topping mix eggs, coconut milk, mashed pumpkin, sugar and flour until smooth, and double boil for a creamy, smooth custard.
Compact the glutinous rice mixture into a pan, so it can hold its shape when cut. Then use a sieve to pour over the pumpkin custard topping. Steam on medium heat. Allow to cool before cutting into the traditional diamond shapes.
Quick and healthy tips:
Use a rice cooker to get the base mixture done. Ripe pumpkin is naturally sweet, so you can reduce the sugar further. The eggs provide protein, while the pumpkin and coconut milk add fiber, vitamins and flavour for an excellent buka puasa treat.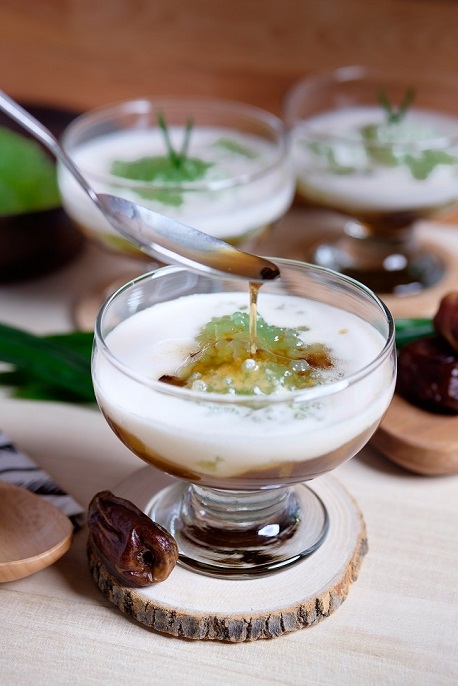 5. Sago Gula Melaka
This is a popular favorite, but too often commercial versions are short on the sago and coconut milk , while the gula melaka (palm sugar) is not fragrant and caramelized. Try this simple recipe and you will never go back to bazaar sago gula melaka again.
Simmer the sago in a pot of hot water for 30 mins, stir frequently to keep from sticking. While the sago cooks, boil the coconut milk with water and salt. Allow to cool. Dice the palm sugar, and heat until fragrant.
To serve, mound the sago, pour on the coconut milk and add the palm sugar mixture to taste.
Healthy tips:
You can reduce the palm sugar and brown sugar. For a more intense flavour, heat the palm sugar until it caramelises.
And that's how we do nostalgia, right! Ramadan Kareem.
Find all these recipes and more at www.ayambrand.com.my .