Aromatic and decadent recipes take centre-stage for Ramadan and Syawal
Kuala Lumpur, 15 April 2021 – During this month of Ramadan, in preparation for Hari Raya Aidilfitri, The Coffee Bean & Tea Leaf® (CB&TL) serves up a tantalising array of sweet and spicy treats, from the aromatic Turkish Mocha to the mouth-watering Per-chick Sandwich and Opah Rendang Pie!
"This is a very meaningful time of year and, in the midst of all the changes we have faced in the past months, The Coffee Bean & Tea Leaf® hopes to provide our customers with comforting flavours that remind us of home and family. No matter where you are or how long it has been, this is the time to reconnect with our loved ones, by having long conversations over a great cup of tea or coffee, and celebrating all the small blessings we enjoy," said Fiona Rodrigues, Director of Marketing & Development, The Coffee Bean & Tea Leaf® Malaysia. "As we look forward to better days, let us appreciate what we have today, while enjoying the flavours of traditional Malaysian food, fused with aromatic spices, that provide the perfect counterpoint to decadent chocolate and sweet notes of pandan and Gula Melaka."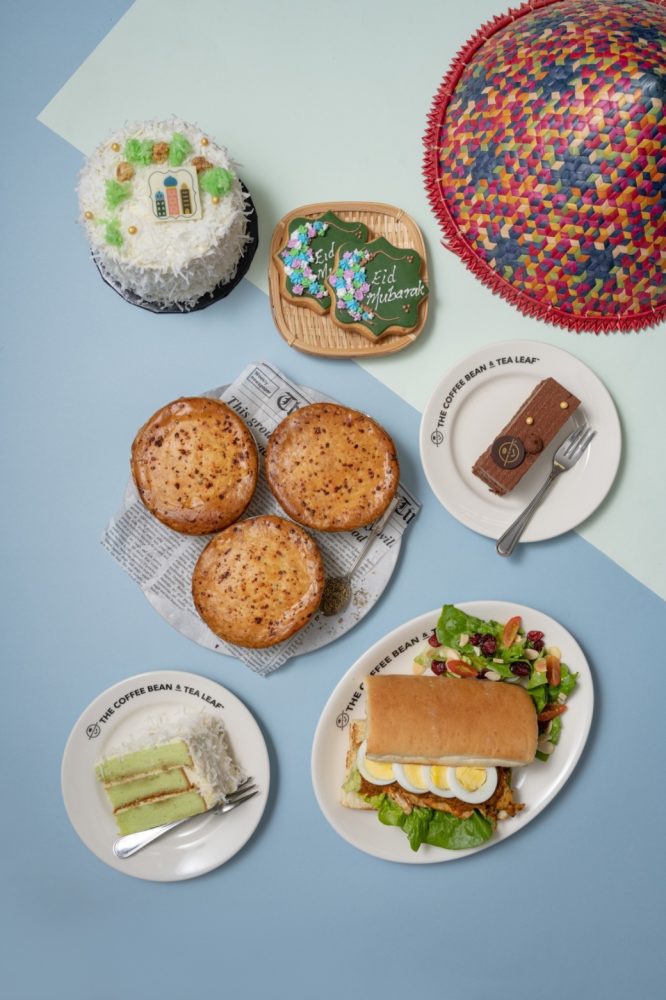 Start off with the Opah Rendang Pie (RM14.80), with traditional chicken rendang baked into a yummy crust, or the smoky, chargrilled Per-chick Sandwich (RM20.50), oozing with creamy percik sauce and layered with slices of hard-boiled eggs for a truly hearty meal.
To wash it down, savour the exotic Turkish Mocha as an Ice Blended® drink (small RM16.50, regular RM18), hot or iced latte (small RM16, regular RM17.50), or cold-brewed (small RM12.80, regular RM13.80), for a more intense caffeine kick. For a light, clean finish, try whole-leaf Wakoucha Mariko tea (RM9.60 per cup, RM12.50 per pot) with its smooth, woody notes.
Finally, what's a meal without dessert? Fans of The Straits cake will rejoice as this all-time favourite makes a comeback – don't miss the chance to enjoy this fluffy pandan cake laced with Gula Melaka, cream and mascarpone cheese (RM12.95 per slice, RM55 for petite, RM129.30 for a whole cake). For chocolate lovers, it can only be The 72%, a luscious 72% dark chocolate cake with layers of almonds and pralines (RM15.95 per slice, RM159 for a whole cake).
For more petite bites, try The Sea Salt Mac (RM10), a chunky soft cookie stuffed with dark chocolate and macadamia nuts, Sour Cherry Muffin (RM7.50 or RM13 with a small cup of Today's Brew/Hot Tea), full of tart, luscious cherries, or the yummy The Raya Cookie (RM10).
Last but not least, check out the elegant new Tétouan tumblers in black or white (RM78) – the perfect accessory to carry along!
Ramadan & Raya Specials
Ramadan Late Night Dessert Special (in-store)
Purchase 2 handcrafted beverages* and get a free dessert between 13 April and 12 May, from 8pm until closing time. (* excludes ristretto, espresso and espresso macchiato).
Raya Single Serve Machine Promotion (in-store and online)
Get 30% off any CB&TL Single Serve Machines from 13-27 April.
Raya Capsule Promotion (in-store and online)
With every in-store purchase of 2 capsule boxes, get 1 box of Italian capsules for free, and get 30% off any online purchases of Italian capsules on the CB&TL website or official Shopee store, until 12 May.
CB&TL Member Loyalty Special (in-store)
With every RM100 top-up of the TCB card, receive a free 12oz Turkish Mocha beverage, until 19 April.
Don't miss these delicious treats, available for dine-in and delivery, plus four outlets with a drive-through, allowing convenient grab-and-go service from the safety and convenience of your own car – try it at Setia Tropika, Johor Bahru; Shell Kepong on the MRR2; Bagan Ajam in Butterworth, Pulau Pinang; and Centerpoint Seremban.
Find out more about CB&TL's latest offerings, news and promotions on the CB&TL Facebook page, www.facebook.com/CBTLMalaysiaPage or the CB&TL Instagram account @coffeebeanMY, or visit their website www.coffeebean.com.my.