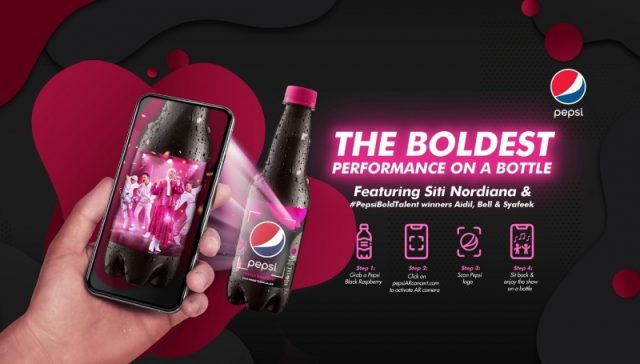 KUALA LUMPUR, MALAYSIA — Celebrating the launch of its latest addition to the Pepsi Black family, PepsiCo and Entropia announced their collaboration to bring fans an exciting first for Malaysia – an Augmented Reality Concert On a Bottle, featuring popular Malaysian singer and actress, Siti Nordiana (Nana), together with the winners of its #PepsiBoldTalent TikTok challenge.
Brought to life by Entropia's Extended Reality arm, EXR, the exclusive content collaboration with one of Malaysia's most beloved songstresses, Siti Nordiana (Nana), has culminated in a Concert On a Bottle with the winners of the #PepsiBoldTalent TikTok challenge, held at the end of 2020. Contest winners, Bell – a dancer, Syafeek – a singer, and Aidil – a freestyle footballer, captured the attention of Malaysian fans, with their audition videos amassing close to 1.4 million views each.
Jennifer Lee, Beverage Marketing Lead at PepsiCo Malaysia, commented, "Pepsi has always been a champion of the bold and brave, and this AR concert is a testament to our renewed, innovative approach to engaging with Pepsi fans. Today's consumers want to connect with brands in an instant and feel an immediate impact, so, together with Entropia, we shifted our focus and unlocked unfamiliar yet entertaining territory with this campaign. Most brands in Malaysia have yet to tap into Augmented Reality, the new exciting channel of marketing and communications. Pepsi decided to take the tech to the next level, by bringing a concert right to the homes of our most loyal fans."
Ramakrishnan CN, partner at Entropia and Head of EXR, added, "In the throes of the pandemic we had to consistently reinvent the ways we strategise our communications and more so for an experiential bold brand like Pepsi, we had to push the limits. We believe the future of brand experiences is fluid and atemporal where all touchpoints should have a branded extended reality layer over them. The iconic Pepsi bottle was the best place to provide the experience like no other, using AR tech and deliver Malaysia's first augmented reality concert in a bottle".
Here's how to view the AR concert:
Click on the Pepsi AR link at PepsiARConcert.com – available from 16 April 2021
Pick up a bottle of Pepsi Black Raspberry
When prompted on your phone screen, scan the bottle
An AR Pepsi bottle will load and the concert will play – on the bottle itself!
This exclusive content and experience is only accessible to Pepsi customers
The #PepsiBoldTalent contest was open to residents of Malaysia (13 years old or above) with a valid identification number (NRIC). Entrants had to submit a 15-second video on TikTok showing their best talent, with the hashtag #PepsiBoldTalent, tagging @PepsiMalaysia. The three selected winners had the most creative videos, and gained the highest numbers of likes, comments and shares.
View their profiles here:
Bell: https://www.tiktok.com/@bubellbuu
Syafeek: https://www.tiktok.com/@syafeek_ikhwan
Aidil: https://www.tiktok.com/@aidilaminuddin