Malaysia's favourite soft and fluffy white bread, Gardenia Original Classic, gets a brand-new look!
KUALA LUMPUR, 15 April 2021 – Having been the favourite of many Malaysian families for over 35 years with the memorable tagline and jingle, 'So good, you can even eat it on its own', Gardenia Original Classic White Bread is now refreshed with a new look that is both, eye-catching and contemporary. Gardenia Original Classic has been the unequivocal choice of Malaysians resulting in an average of 11 million loaves distributed monthly, Peninsular Malaysia. And with the addition of Nutrinegy™, Gardenia Bakeries (KL) anticipates a larger growth for 2021.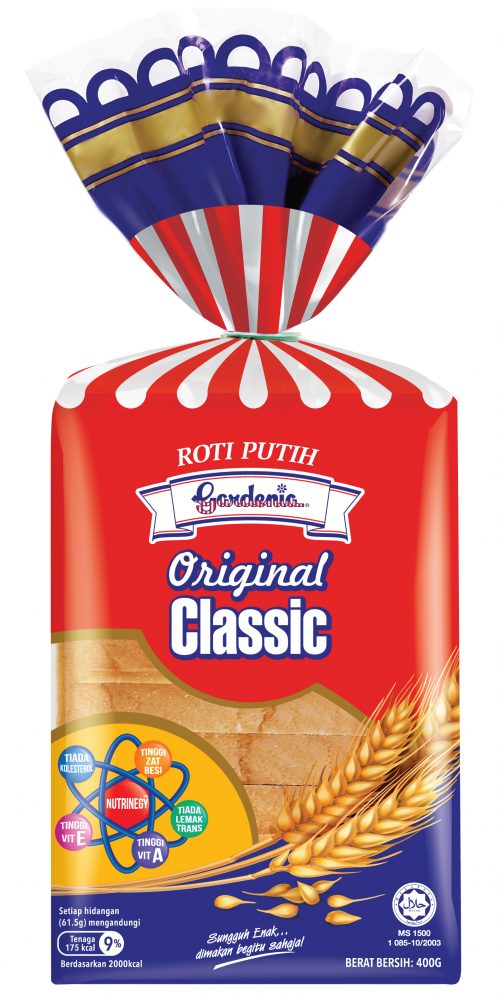 The iconic best-seller will have more to offer Malaysians in April 2021. The Gardenia Original Classic White Bread will now come with the goodness of Nutrinegy™. Each slice contains Vitamin A that's vital for good vision, Vitamin E, Iron and other essential nutrients. This provides an easy way for everyone to ensure that their families enjoy the benefits of high-quality ingredients. These factors were clearly evident, particularly with mothers of all ages, during several market research groups that covered all the major ethnic groups of Malaysia. Gardenia Original Classic White Bread clearly came with all the ingredients that made it the undisputed winner.
"Gardenia Original Classic White Bread is freshly made every day and contains vitamins and minerals. It's our way of reassuring concerned mothers that each slice is filled with the goodness of Nutrinegy™ necessary for daily consumption. Many Malaysians look to our product to deliver not just white bread, but a satisfying meal that's ideal any time of the day" said Ena Suhaila Abas, Marketing Manager of Gardenia Bakeries (KL).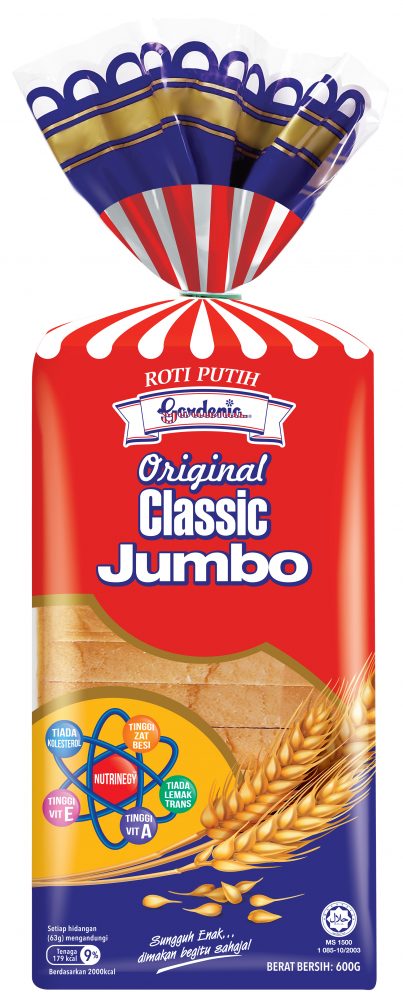 During Ramadan, many mothers will be looking for quick and easy ways to prepare meals for the entire family. Understanding this challenge, Gardenia Bakeries (KL) will be sharing Resipi Sahur Kilat on their social media platforms – recipes that use Gardenia Original Classic as the main ingredient which can be easily whipped up in less than 10 minutes.  What's more, in line with the Government's ruling of allowing selected Mosques to re-open during the month of Ramadan, Gardenia Bakeries (KL) will be giving away 10,000 loaves of Gardenia Original Classic in areas around Kuala Lumpur and Selangor. This will be done with strict adherence to the rules of the 'New Norm' and relevant SOPs.
Ena also added "We, at Gardenia Bakeries (KL) wish all Muslims a blessed Ramadan and Selamat Berpuasa and hope that these recipes can give families a tasty and filling first meal to help sustain them throughout the day".
To learn more about the Resipi Sahur Kilat and other helpful recipes, please follow Gardenia Bakeries (KL)'s Instagram page at @gardenia_kl and Facebook at GardeniaKL.
Gardenia Bakeries (KL) has always strived to provide the best to all Malaysians, drawing on innovative preparation, baking, packing and delivery processes. The results of their efforts will be seen on 13 April 2021 when the new look of Gardenia Original Classic White Bread with Nutrinegy™ is officially launched and becomes the daily constant in the life of every Malaysian.