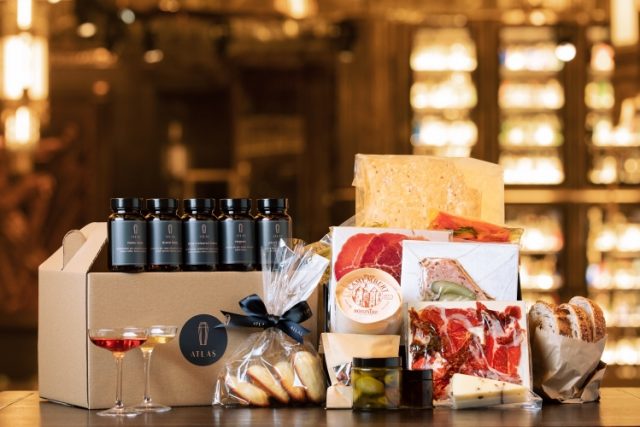 Singapore, 25 May 2021 –  Guests can continue to indulge in the very best of ATLAS while away from the grand Art Deco interior of Parkview Square. With delicious new additions to 'The ATLAS Shop', its online retail store, as well as an updated takeaway menu, ATLAS provides a curated selection of elegant offerings to enjoy in the comfort of your own home.
One of ATLAS guest's favourite offerings – the much-loved Afternoon Tea makes its debut on the 'The ATLAS Shop' for a limited time only. Featuring a thoughtful curation of sweet and savoury items, this delectable selection includes the exclusive ATLAS Art Deco Tea Blend – a perfect array of treats for a sophisticated afternoon at home. Guest will have the option of adding a decadent cocktail pairing featuring the signature ATLAS Martini & Espresso Martini (100ml each, for an additional SGD 40). ATLAS Afternoon Tea offers options for guests looking to indulge solo or with a partner, starting from SGD 48 nett. The sumptuous Afternoon Tea is delivered between 2 – 4 PM daily, and if guests order before midnight, they can enjoy next-day delivery.
ATLAS Essentials – A Care Package is the perfect dine-at-home ATLAS experience, with everything you need to whet your appetite. The curated care package includes a Cocktail Flight, which features the ATLAS Martini, Negroni, and Grand Palais – expertly crafted and bottled by the ATLAS Bar Team. With options for one or two people, the ATLAS Essentials comes complete with a lavish collection of nibbles to savour like Jamon, bresaola, house-made pork terrine, fresh artisan bread and other accompaniments. ATLAS Essentials is a perfect gift for someone special or simply an indulgent treat for yourself (SGD 128 with free delivery).
'The ATLAS Shop' also houses a variety of home cocktail sets, handcrafted bottled cocktails, and a mouthwatering range of gin, including the exclusive St. George ATLAS Orange Gin. Guests can choose from curated cocktail sets or individually bottled cocktails, such as their new Pêche Milk Punch. For those with a passion for crafting their own cocktails (as well as imbibing), there is also a range of premium bar tools. All orders above $100 placed on 'The ATLAS Shop', by WhatsApp, or via email will enjoy free delivery.
ATLAS continues to offer its classic dining takeaway menu featuring many ATLAS favourites. Much-loved dishes such as the arancini, chicken sandwich, steak frites and madeleines, are available for pickup curbside or delivery through Oddle. Takeaway hours are from 12 – 9 PM daily. No dining experience with ATLAS is complete without a classic cocktail, guests are invited to choose from five bottled cocktail options, including the ATLAS Martini, all of which come in 100ml, 250ml and 500ml options.
'The ATLAS Shop' Delivery: https://shopatlasbar.sg/
Monday – Sunday
Free home delivery for all orders above $100
ATLAS Takeaway: https://atlasbar.oddle.me/en_SG
12 PM – 9 PM Daily, orders can be placed via WhatsApp at +65 9739 5591 or via email at [email protected]