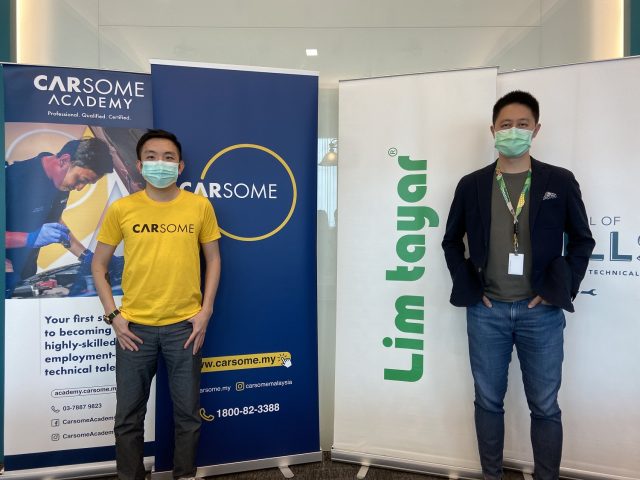 Championing wider technical education capabilities and holistic after-sales offerings
KUALA LUMPUR, 27 April 2021: Southeast Asia's largest integrated car e-commerce platform, Carsome is partnering with CKL Group to broaden technical education capabilities for students, and provide a holistic offering to car owners and buyers.
In Carsome's effort of building an all-rounded used car ecosystem, the collaboration includes providing after-sales service to Carsome car buyers, free car inspection to Lim Tayar's customers, and a three-year technical education program to Malaysian youths through Carsome Academy and School of Skills. Lim Tayar and School of Skills are the respective retail and vocational education arms under CKL Group.
According to Carsome Co-founder and Group CEO Eric Cheng, this cooperation enables the company to continue championing industry standards in after-sales service and technical education. "We are always excited about working together with leading industry players, because collaborating with like minded partners allows us to scale greater heights with less effort. Having CKL Group onboard is a great complement to the holistic, end-to-end used car ecosystem that Carsome is building," said Cheng.
The three-year technical education program consists of three months theoretical lessons at School of Skills, nine months internship at Carsome Academy, followed by a guaranteed two-year stint with Carsome upon completion of studies. Graduates will then be awarded the Malaysian Skills Certificate (SKM[1]) Level 3 in Motor Vehicle Inspection, with the cost sponsored by Carsome.
The tie-up is also a part of Carsome's effort in transforming consumers' perception of the used car industry by helping them move forward with peace of mind, assurance and convenience. Carsome will offer car maintenance packages[2] redeemable at all Lim Tayar outlets to its customers, and free 175-point car inspection and valuation to Lim Tayar customers at their Subang Jaya, TTDI and Shah Alam Section 26 outlets.
"CKL Group embraces the opportunity of bringing in industry experts to form partnerships that help us get to our destinations quicker. We are thrilled to be working with an industry leader like Carsome, and are confident that this meaningful partnership will bring more value to our customers," said Joint Managing Director of CKL Group, Clement Lim.
Carsome will continuously work on creating a differentiated consumer experience, not just by offering better value propositions during used car buying or selling experience, but also through strategic partnerships. Its tie-up with CKL Group is the first of several to come, as these collaborations are win-win methods that allow Carsome to expand its customer base, on top of sharing best practices to effectively plug the gaps within the used car ecosystem.