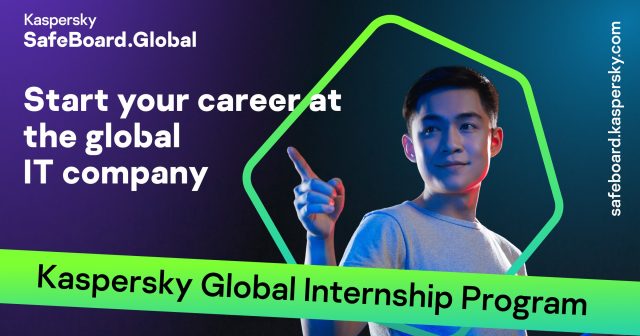 Global security company Kaspersky today announces that it has expanded its popular SafeBoard internships program, to include multiple roles across Europe and the Asia Pacific, with Singapore chosen to pilot this program in the region. The internships are fully paid and last for six to twelve months.
Creating the right environment for young people's talent development and providing them with various opportunities for career growth has always been a priority for Kaspersky. With the world growing increasingly digitalised, Asia Pacific has been grappling with a cybersecurity workforce gap estimated to be about 2.6 million large since 2020. Singapore, in particular, sees about 1,110 cybersecurity-related job vacancies.
Set against this growing demand, Kaspersky hopes to plug the gap with the expansion of its SafeBoard internship program to upskill and elevate the workforce and to contribute to increasing the pool of IT professionals in the field of cybersecurity.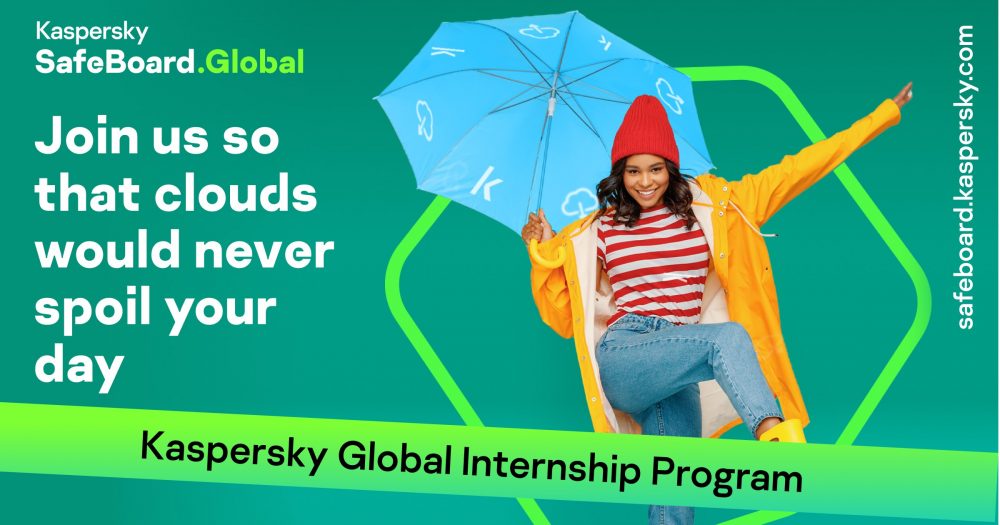 Kaspersky has been offering the SafeBoard program in its HQ office, along with internships to students in other regions for the past six years. However, this is the first time that the SafeBoard internships program has been fully expanded to Kaspersky's offices in Singapore, London, Milan, Paris, Prague, and Utrecht. By working closely with local teams, interns will be able to learn and develop both personally and professionally.
"A SafeBoard internship provides knowledge and skills that simply cannot be learnt from a book. Interns receive both on-the-job learning and constant feedback from a mentor; plus, speakers' nights and workshops with global high-performers," shares Denis Barinov, Head of Kaspersky Academy. "An internship with Kaspersky is an opportunity to kick-start your career in the exciting world of cybersecurity, through working for the world's largest privately-held global cybersecurity company before graduation."
In APAC, Kaspersky will be introducing its SafeBoard internship program to the region, with Singapore selected as the only country for this pilot program. Eleven positions are currently available for application, with roles spread across Kaspersky's marketing, presales, channel sales and tech support functions.
While the ideal candidate should have a passion for technology, the SafeBoard program is open to all current students of Bachelor's or Master's degrees, or recent graduates – no matter their background or gender.
"With a well-documented skills shortage, there has never been a better time to start a career in cybersecurity. Kaspersky is well placed to provide the brightest young minds across Europe and APAC with valuable experience in an industry that is constantly evolving and is a crucial part of helping businesses and individuals continue to reap the benefits of technology," says Anastasia Shamgunova, HR Director for Asia Pacific at Kaspersky.
"Singapore is the central business hub for many organisations in the region which is why it is essential that we contribute to building a workforce with the knowledge and expertise in the ongoing fight against cybercrime. As telecommuting remains to be the norm and our digital footprint only looks to go wider, we hope that expanding the program to candidates in the APAC region will build a more resilient local workforce for a safer today and tomorrow," adds Shamgunova.
Applications for SafeBoard internships are now open. Following a short pre-selection process, potential candidates will be invited to Kaspersky's online hackathon event in at the end of June, where they will be tested for teamwork and social skills, and also demonstrate their knowledge while working on specific cases. Successful interns will then be announced on July 16th.
Current undergraduate and postgraduate students interested in an internship role at Kaspersky can apply at safeboard.kaspersky.com.
About Kaspersky
Kaspersky is a global cybersecurity and digital privacy company founded in 1997. Kaspersky's deep threat intelligence and security expertise is constantly transforming into innovative security solutions and services to protect businesses, critical infrastructure, governments and consumers around the globe. The company's comprehensive security portfolio includes leading endpoint protection and a number of specialized security solutions and services to fight sophisticated and evolving digital threats. Over 400 million users are protected by Kaspersky technologies and we help 240,000 corporate clients protect what matters most to them. Learn more at www.kaspersky.com.