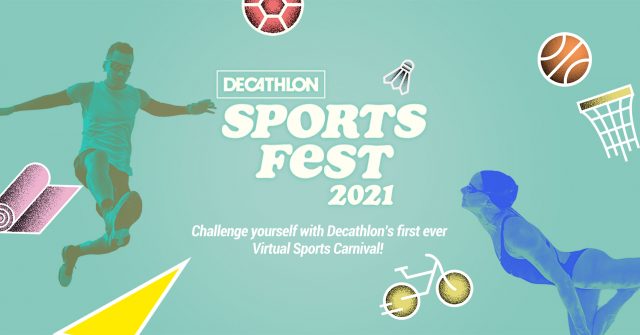 The long anticipated Olympics is just around the corner and sporting fever is in the air. The Decathlon Sports Fest is here to scratch your sporting itch! Taking place from 24 July to 8 August, the first nationwide non-competitive sporting event organised in collaboration with Sport Singapore was designed for everyone of any fitness level to participate.
In commemoration of Singapore's 56th birthday, the team at Decathlon has also created challenges inspired by Singaporeans' favourite sports, Swimming, Basketball, Soccer and even trendy wheeled sports like Cycling and Skating challenges. For more information and to register, visit the website.
Here are some of our favourite challenges:
1. Embody the Joseph Schooling spirit with the SG56 Swimming Challenge
Haven't gone swimming in a while? It's time to hit the pool and re-familiarise yourself with the watery world. These challenges are perfect for a weekend de-stress activity!
Swim 5 laps consecutively and hold your breath for 6 seconds.
Complete 56 cumulative laps with a friend.
Tread water 56 times at one go.
2. Pretend you're in the NBA with the SG56 Basketball Challenge
Been watching the NBA and can't wait to see the pro-ballers dunk some shots in Tokyo? Be your very own star by joining us in our SG56 Basketball Challenge. There is little more satisfying than seeing a basketball slip perfectly through the net without a single touch of the rim. Here are some challenges we have planned out for you to try:
Shoot a basketball into a hoop from 5 metres away (or just behind the freethrow line). Score 6 times to complete.
Take alternate turns to bounce a basketball with a friend. Bounce 56 consecutive times to complete.
Dribble a basketball through your legs. Dribble 56 times at one go to complete.
For extra fun, grab a friend (or a partner *wink*) for a showdown at the court!
3. Go for a Tour de Singapore with the 6-Landmark Virtual Cycling Challenge
If you love night cycling along East Coast Park to Gardens By The Bay, this challenge will be right up your alley! Up your game by biking around these 6 landmarks: Decathlon Singapore Lab, Decathlon Bedok, Bedok Jetty, Singapore Flyer, Decathlon Tiong Bahru and Botanic Gardens. Grab a friend if you'd like! To take it a step further, plan the shortest route between these 6 locations and stand a chance to win a $200 Decathlon gift card!
4.  Embrace the sk8er in you with the 5-Landmark Wheeled Sports Challenge!
If bikes aren't quite your thing, embrace your inner skater girl or skater boy by going for a ride around these 5 landmarks: Decathlon Orchard, National Museum of Singapore, Fort Canning Lighthouse, Merlion and Fountain of Wealth. Feel free to choose the wheeled equipment of your choice — skateboard, inline skates or scooter. Similar to the cycling challenge, you may just be the lucky winner of a $200 Decathlon gift card when you design the shortest possible route around the landmarks! Give it your best shot.
Register to participate and receive an event pack that includes a vibrant event T-shirt and a duffel bag to assist in your sporty endeavours!
Enjoy these sports and more at Decathlon Sports Fest 2021. Early bird registration closes 11 July, while regular sign ups close 23 July.
For more information on Decathlon Sports Fest 2021, visit the website.