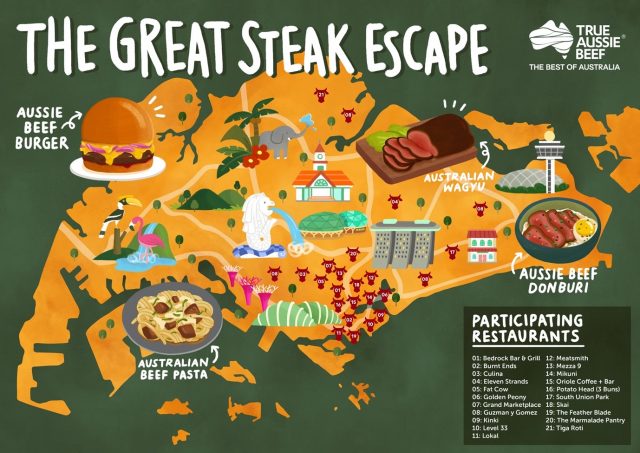 Meat & Livestock Australia extends The Great Steak Escape to the end of August in continued support of Singapore restaurants and retailers
SINGAPORE, 2 August 2021 – Following the successful launch of The Great Steak Escape, Meat & Livestock Australia (MLA)has now extended the campaign until the end of August 2021. The extension sees the addition of 11 more partners and aims to continue its support for Singapore's F&B, encouraging Singapore to order delivery items from the participating partners.
The Great Steak Escape brings a piece of Australia to Singapore with a gastronomic "escape" down under to discover and indulge in Aussie beef's natural goodness. Home to healthy cattle that are naturally raised in Australia's vast backyard, Australian beef is both nutritious and offers a delectable taste profile that is perfect for many international cuisines. 
With dining out on pause, there is no reason to miss out on trying some of Singapore's very best restaurants and their offerings. With takeaway and delivery options now available at various participating venues, at-home diners can enjoy a little piece of Australia with a bit of extra love from Australia's farmers delivered straight to their doorstep.  
Whether diners are looking for a quick bite to eat or to celebrate a special occasion with food from one of the island's best restaurants, The Great Steak Escape's partners offer a variety of cuisines from around the globe, showcasing delicious and enticing Australian beef creations. Some of the new venues that have joined The Great Steak Escape include Bistecca Tuscan Steakhouse, Gemma Steakhouse, Heart of Darkness, CARNE, Jimmy Monkey, Wooloomooloo Steakhouse, to name a few. The campaign will also continue to feature its other partners such as Burnt Ends, Culina, Mikuni, Three Buns, SKAI, Meatsmith and more.
"This campaign started as a way to let consumers indulge in True Aussie beef despite the current travel restrictions but, the challenges that our partners were going through became more apparent," said Valeska, Regional Manager, Southeast Asia for MLA. We decided to pivot this campaign and push all of our support to these venues and retailers, and we hope to continue encouraging Singapore to order more delivery options and in-dining once allowed from our fantastic partners," 
The Great Steak Escape has been extended to 31 August 2021, with additional partners offering takeaway or delivery. Visit True Aussie Singapore on Instagram and Facebook to learn more about the restaurant and retail partners, or visit the campaign site here for more information. 
MLA will also be hosting a social media contest where participants can enter into a lucky draw, with the opportunity to with a grand prize of a two-day, one night stay at the Grand Hyatt with S$300 dining credit at MEZZA9 for the complete Australian dining experience.
Website: https://thegreatsteakescape.com/  
Instagram: instagram.com/trueaussiesg
Facebook: facebook.com/TrueAussieSG