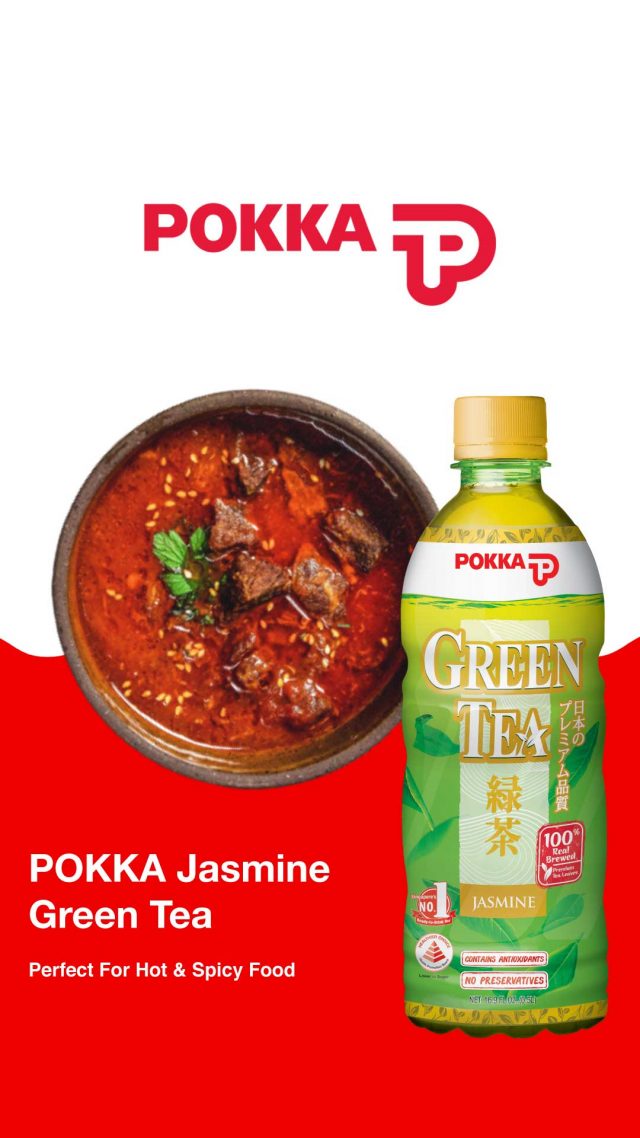 As we celebrate our nation's 56th birthday this month, order in some of your favorite local delicacies and share them with your loved ones! Pair your meals with the familiar flavours of POKKA Green Tea. All four drinks in the Green Tea range are Healthier Choice certified, with less sugar or no sugar — so you can sip away without worrying about blowing your calorie goal!
Here are some of our favourite food-beverage pairings.
Hot and Spicy
Whether you're enjoying a bowl of Laksa, curry stew or some Tikka Masala, eating spicy food definitely hits all the right fiery notes! To soothe the burning sensations, reach out for a refreshing beverage, like POKKA Jasmine Green Tea. Developed specifically for Southeast Asian taste buds right in Singapore, this rejuvenating blend of aromatic jasmine with the highest quality green tea also promises antioxidant goodness from tea polyphenols. In Singapore's sweltering heat, POKKA Jasmine Green Tea is the ideal thirst quencher and mouth-cooling remedy!
Salty and Savoury 

For dishes like carrot cake and noodles which are more salty and savoury, matching it with a sweet beverage like POKKA Honey Green Tea can help balance out the palate from high salt levels. Infused with real honey with no added preservatives and colouring, this naturally healthy green tea promises an endearing refreshment that lingers on your lips and counterbalances the feeling of thirst you'll always feel when eating high-sodium foods.  
Aromatic Dishes 
When diving into dishes with strong spices and herbs like Nasi Briyani, cooling tea drinks such as POKKA Peppermint Green Tea can provide a simple, yet cooling match to complement the complex fragrant herbs found in these dishes. Did you know? Peppermint tea can also aid digestion and soothe an upset stomach, making it an excellent beverage to consume.
Sweet Desserts 
Craving for some cake, mango sago or local sweet treats like Ondeh Ondeh? Pair them with a contrasting drink to bring out the flavours in the dessert. Choose POKKA Jasmine Green Tea (No Sugar), which is authentically brewed from selected premium green leaves. With no sugar,  the bitterness of the tea will cut through to neutralise the sweetness. Not to mention, this also means it has zero calories. Similar to its counterpart POKKA Jasmine Green Tea, this beverage can also be enjoyed hot as it is 100% real brewed with no added preservatives. Whether chilled or heated in a teapot, enjoy it your way!
Spend Just $5 for a Chance to Win a Samsung Galaxy Tab A7 or Samsung Galaxy Z Fold2 5G
From now until September 26th, simply spend $5 on POKKA Green Tea products in a single receipt to enter POKKA's nationwide lucky draw. Participate now and increase your likelihood of winning Samsung gadgets worth up to a total of $18,000!
For those who'd like to relax after a hearty meal, redeem an exclusive POKKA Jasmine Green Tea cushion to lie on with every purchase of 3 cartons of 24 x 250ml of POKKA Jasmine Green Tea, Houjicha Japanese Roasted Tea and/or Oolong Tea on RedMart.
For more information, visit https://www.pokka.co/ or refer to this Annex for the terms and conditions and details for all promotions.