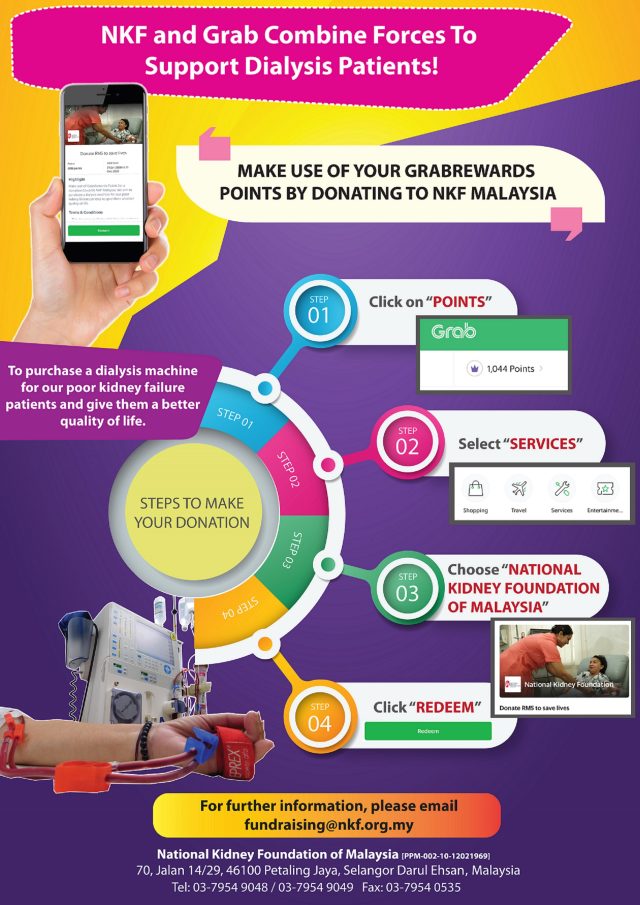 In conjunction with World Poverty Day in October, the National Kidney Foundation (NKF) of Malaysia is teaming up with Grab Malaysia to raise funds in efforts to purchase a new dialysis machine that will provide NKF's underprivileged kidney failure patients with a higher quality of life.
From now until 31 December 2021, Grab users in Malaysia can make a difference by visiting the GrabRewards catalogue in their Grab app and converting their points into donations. Every 800 GrabRewards points used will translate to a RM5 donation towards NKF.
Those who are interested in contributing towards the organisation's efforts for dialysis patients can follow these simple steps:
Click on the "Points" function in the Grab app
Select "Services"
Select "National Kidney Foundation of Malaysia"
Click "Redeem"
Malaysia has amongst the highest rates of kidney disease in the world, with over 7000 people diagnosed with kidney failure every year and NKF needs to raise approximately RM25 million each year to subsidise the cost of dialysis treatments for its patients at NKF's 28 dialysis centres nationwide.
Members of the public can also find out more through NKF's website at nkf.org.my/support-us/project-campaign/grabrewards/  or call 03-7954 9048.