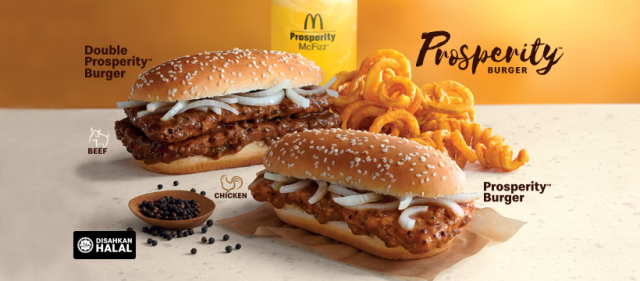 McDonald's Malaysia encourages Malaysians to gather with their loved ones over its Prosperity Burger, as we prosper ahead into the new year
Kuala Lumpur, 2 December 2021 – It's that time of the year again! No matter the many changes life brings, you can always count on the Prosperity Burger to be back in time to celebrate the new year with you and your loved ones. This year, McDonald's Malaysia is bringing the theme of "Prosperity, No Matter What", to encourage Malaysians to come together with their loved ones and create precious moments over this much beloved meal.
The Prosperity Burger is a 28-year-old heritage for McDonald's Malaysia, steeped in strong tradition and has been a staple and a constant in Malaysians' lives since its introduction in 1994. The burger is a favourite among locals who have long enjoyed its signature peppery taste with the selection of chicken or beef patties topped with fresh onions, all between a classic sesame seed bun.
As one of the country's homegrown menu items and a Malaysian legacy, the Prosperity Burger continues to be one McDonald's Malaysia's proudest creations, that is not only enjoyed by Malaysians across the country every year, but also has a strong fan base in other parts of the world including Taiwan, Korea and Hong Kong.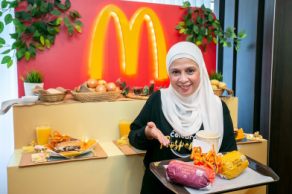 "McDonald's Malaysia is always excited with the return of Prosperity Burger every year-end and at the beginning of the new year. This year, we ask ourselves and you, what is the True Meaning of Prosperity? To us at McDonald's, it is not about what you have but who you have," said Melati Abdul Hai, Vice President and Chief Marketing Officer, McDonald's Malaysia.
To add more excitement to the return of Prosperity Burger this year, McDonald's Malaysia will be activating the Scan & Win Gifts of Prosperity Contest, happening from 2 December 2021 to 5 January 2022. With every purchase of the Prosperity Burger, customers are able to participate in the contest by scanning the QR code on their Prosperity Burger wrapper and be eligible to win something! Prizes include a free Sundae Cone, Apple Pie, McChicken or McCafé Iced Latte. To be eligible for the Grand Prize, customers need to buy more Prosperity Burgers to stand a higher chance of winning.
The Grand Prizes to be won are one (1) Proton X-70, three (3) Samsung 55" TVs, three (3) Samsung S21+, five (5) Dyson Purifiers, five (5) Samsung Galaxy Tab S7, five (5) Garmin Venu S2 Watches, five (5) Bose Soundlink Micro Bluetooth Speakers.
The Prosperity Burger set meal is priced from RM14.99 and is best enjoyed with perfectly seasoned Twister Fries and a refreshing Prosperity McFizz. It will be available for a limited time only at all McDonald's restaurants nationwide.
McDonald's burgers are made with the best quality ingredients that include 100% halal, juicy meat patties, fluffy buns delivered directly from a halal-certified bakery and locally sourced fresh vegetables.
Order in-store, via contactless McDelivery or a Drive-Thru near you. For more information on McDonald's Malaysia exciting menu offerings, visit www.mcdonalds.com.my.