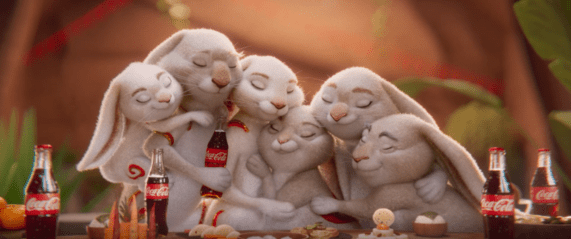 Kuala Lumpur, 19 January 2023 – Chinese New Year is a time for families and friends to gather and be reunited to celebrate traditions while creating magical memories that will be cherished for years. In celebrating this Chinese New Year, Coca-Cola Malaysia is inviting Malaysians to embrace the true spirit of family togetherness and find common ground through shared experiences.
"At Coca-Cola, we believe that real magic is everywhere. And that magic can be brought to life when we embrace each other's differences and celebrate the commonality that binds all of us. Our Chinese New Year campaign hopes to bring this message to everyone, and we encourage all Malaysians to come together to celebrate the magic while enjoying a refreshing can of Coke," said Rina Surya, Frontline Marketing Director, Coca-Cola Malaysia.
Echoing the sentiments of family togetherness and embracing differences in all of us is further amplified through a short video from Coca-Cola that can be accessed here –
The video tells the story of an older rabbit planning to visit her children and grandchildren who live in the city but is wary of the extended family's difference in lifestyle and Chinese New Year customs. Nevertheless, upon arrival and feeling unsure about sharing a meal prepared by herself, the other family members immediately embrace her lovingly to remind the older rabbit that celebrating differences is the true magic of family togetherness. At the end, they enjoy the festivities through a meal with a bottle of Coca-Cola.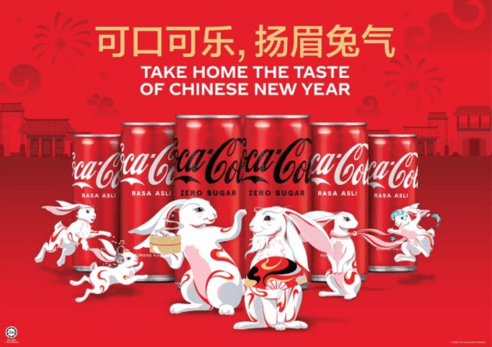 To welcome the Year of the Rabbit, Coca-Cola Malaysia has also released six new limited-edition can designs that are available across both its Coke Rasa Asli and Zero Sugar range.
Additionally, Coca-Cola Malaysia is elevating the magic of Chinese New Year throughout the country via several experiential activations which includes on-ground activities, social media outreach through KOLs, TV commercials and out-of-home displays. More than 60 out-of-home display sites nationwide will carry Coca-Cola's message that celebrating together is magic – the most iconic one being the larger-than-life 3D screen at Pavilion Bukit Bintang.
Let's celebrate the magic of family togetherness and true spirit of Chinese New Year with us at Coca-Cola Malaysia. To find out more, connect with Coca-Cola through our socials: Facebook, Instagram, and website.