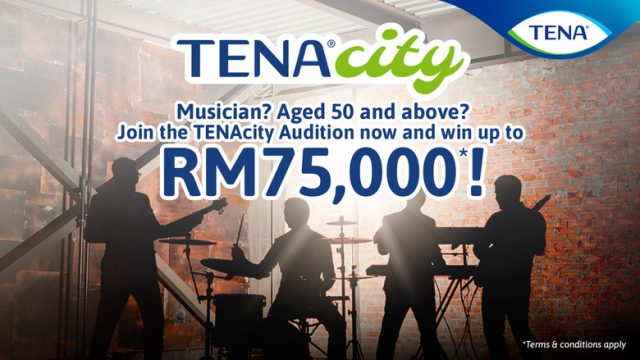 As champions of active ageing, TENA wants to inspire and empower Malaysians above the age of 50 to lead healthy lives by staying active physically and mentally.
14th March 2023, KUALA LUMPUR – In their efforts to champion active ageing, TENA, worldwide leader in incontinence care, launched TENAcity; aimed at empowering and inspiring Malaysians aged 50 and above to lead healthy lives by staying active both physically and mentally. To spread the message and reach a wider audience, TENA announced a nationwide talent search for anyone aged 50 and above with a penchant for music to form TENAcity, a band with the purpose of inspiring active ageing.
Spots for a vocalist, guitarist, keyboardist, bassist and drummer are up for grabs with an eye watering cash prize of RM75,000 to be split equally among the winners. TENAcity will tour Malaysia, spreading the positive message of active ageing and inspire Malaysians to continue living their lives tenaciously.
Su Ting Nee, President of Vinda Group SEA said, "With over 7.3% of Malaysia's population over the age of 65*, the United Nations now classifies Malaysia as an ageing nation. With that number expected to reach 15% by the year 2050, we want to lead the conversation on active ageing and step up our efforts in supporting the local community. We strongly believe that age is not a barrier in the pursuit of an active lifestyle and mindset. TENA will also be collaborating with Malaysian NGOs and organisations currently working with the community to support active ageing."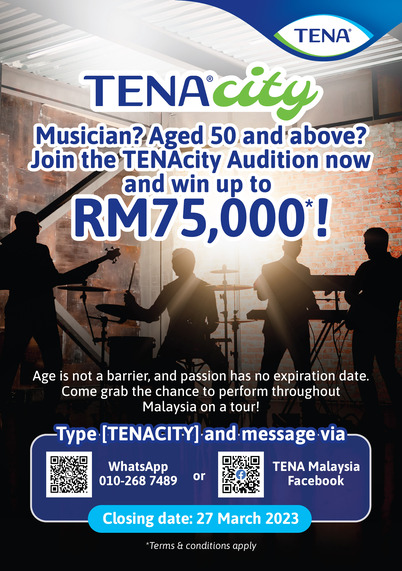 "With the TENAcity band search, we want Malaysians to know that we are always here to support you as you continue your legacy. We hope that the stories and experiences that come out of this campaign will inspire and empower them to remain active in different ways and to live life to the fullest." she added.
Interested parties are encouraged to register for audition by sending a DM to TENA's Facebook page or a Whatsapp message to +6010-268 7489 with the message TENAcity. The auditions will take place in Klang Valley, week commencing 27th March 2023.
Su adds, "We know music flows in the veins of many Malaysians. We'd also like to urge the children to encourage their parents to take part in the TENAcity band search. Their stories will go a long way in demonstrating to the public that age is just a number, and you can lead an active, healthy lifestyle."
For more information on TENAcity, head over to the TENA Facebook page at www.facebook.com/TENA.Malaysia or TENA website at www.TENA.com.my
*Source: Department of Statistics Malaysia (DoSM)