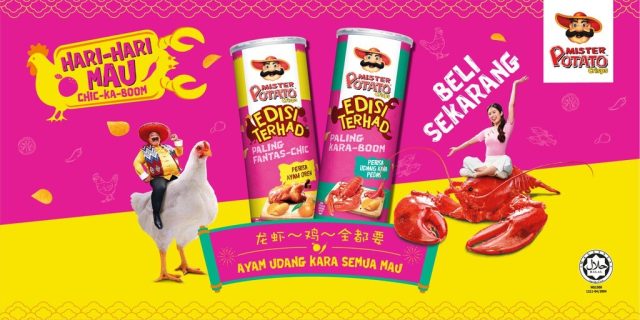 Mamee-Double Decker (M) Berhad is back with its very own limited edition Mister Potato Chinese New Year edition. This year, Mister Potato has two festive flavours – Orange Chicken (Ayam Oren) and Spicy Lobster (Udang Kari Pedas) to celebrate the auspicious year of the tiger.
Sometimes, Mamee will launch a flavour based on the zodiac sign like what it did during 2017 (year of the rooster) with fiery fried chicken but this is usually not the case as you can see from past launches.
Here's a recap of the previous Mister Potato CNY limited edition flavours:
CNY 2020: Chicken Jerky and Spicy Buttermilk Prawn (year of the mouse)
CNY 2019: Chili Crab (year of the pig)
CNY 2018: Spicy Prawn (year of the dog)
CNY 2017: Fiery Fried Chicken (year of the rooster)
Click here to purchase Mister Potato's limited edition CNY flavoured potato chips on Shopee.