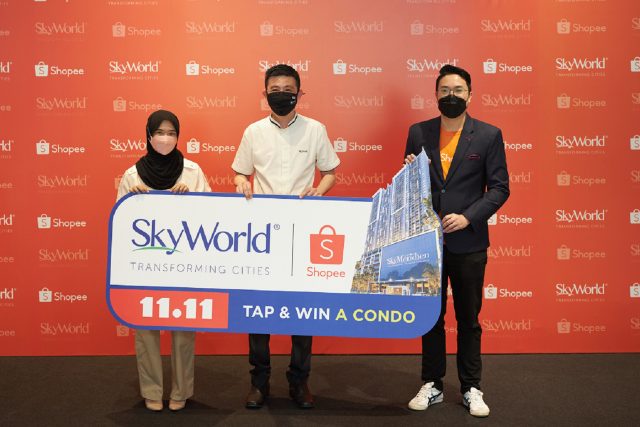 KUALA LUMPUR, 4 JANUARY 2022 – Owning a home has always been a dream for Hafizah Abidin, 23, from the northernmost state of Perlis. As with most fresh graduates, her plans include working and saving up for the down payment of her first home.
However, as fate would have it, the aspiring engineer's dream manifested for her when she became the owner of a luxury condominium unit worth over half a million Ringgit at the multi award-winning SkyMeridien Residences, strategically located in the heart of Kuala Lumpur through the Tap & Win A Condo game during Shopee's 11.11 Big Sale.
Hafizah, who received her keys at SkyWorld Gallery in Sentul, said, "Home ownership is one of the things that I have always dreamed of and planned on fulfilling once I have gotten myself a job and saved enough money for the down payment.
However, I never expected my first home to be a luxury condominium unit at SkyMeridien Residences! I was just trying my luck by collecting as many golden tickets to stand a better chance at winning but I did not get my hopes up as I am aware that there were millions of other Shopee users taking part as well. I was stunned when the Shopee Live host announced my ticket number as the winning Golden Ticket during the Shopee Live session on 16 November."
She added that her parents initially didn't believe the news, and even warned her that it may have been a scam. But upon confirming the good news as it was announced on Shopee Live, they were also overjoyed as well.
"The good news spread quickly among my family members via WhatsApp and my sisters traveled back to my parent's home from Kuala Lumpur over the weekend to have a small celebration," Hafizah said.
The third among four siblings, Hafizah graduated from Universiti Teknikal Malaysia Melaka (UTeM) with a Mechanical Engineering degree in September 2021. Currently, she is spending time with her retired parents in their home located in Kampung Longboh, Perlis while waiting for her convocation ceremony to commence in March next year.
Lee Chee Seng, Deputy Chief Executive Officer at SkyWorld Development Group said, "Our heartiest congratulations to Hafizah who has won the Grand Prize! We believe winning a unit of SkyMeridien Residences is her best gift ever and we are excited to have her as part of our SkyWorld Community. SkyMeridien Residences will be completed early next year and the timing is just right as Hafizah will also be embarking on an exciting new journey. We wish her the best in her future endeavours and a pleasant stay as she will experience the best of sky living in this new home!"
Kenneth Soh, Senior Manager (Marketing) at Shopee Malaysia said, "Congratulations to Hafizah for being the new owner of the condominium unit at the SkyMeridien Residences and also as the Grand Prize winner of the Shopee 11.11 Big Sale. We are thrilled to bring a positive change and fulfill Hafizah's dream to own a home. We also wish Hafizah all the best as she moves into her new place and embark on a new chapter in her life as she begins her career."
After Hafizah moves into her new place, she will begin her job hunt. With the SkyMeridien Residences strategically located in the city centre and just 300 metres to the Sentul Timur LRT station, Hafizah hopes to secure a job whereby the office is nearby her home for an easier commute to and from work.