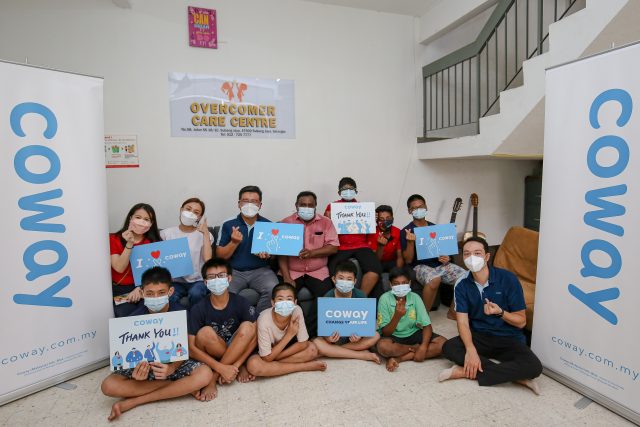 Coway spreads its CSR wings and actively changes the lives of various communities
through its upstanding initiatives
KUALA LUMPUR, 13 January 2022 – As Malaysia continues in its battle against the unprecedented Covid-19 pandemic, Coway took it upon themselves to step up and 'Stand Together as One' with everyone in Malaysia during this challenging period − rolling out a slew of corporate social responsibility (CSR) initiatives over the past year.
In line with its We Stand as One (WSAO) campaign, which has made waves on social media since its first debut in September, Coway has been extending a helping hand to various non-profit organisations. This CSR initiative is part of the company's commitment to unite with Malaysians in the fight against challenges brought on by the pandemic.
As the Best Life Solution Company, Coway Malaysia strives to actively change lives and directly impact communities in need. One of the ways to make an impact is through the WSAO campaign, that seeks to highlight the power of coming together as a community to overcome the challenges during these trying times for a better Malaysia. This campaign also builds on Coway's ongoing CSR efforts, in a bid to demonstrate its commitment to the health and well-being of every Malaysian.
"This is our 'Cowayian' spirit and our way to show kindness and care. As the saying goes – when the going gets tough, the tough gets going. So, no matter how tough the situation is, we can overcome it if 'We Stand As One'.  Now more than ever in these difficult times, our team is always on the lookout for every possible opportunity to reach out and extend help to those in need. This campaign is just one part of Coway's long-term CSR framework in Malaysia and we have plans to continue introducing more far-reaching initiatives to strengthen the health of the nation as a whole," said Kyle Choi Ki Ryong, Managing Director of Coway Malaysia.
Among some of the recent CSR initiatives included working with Key Opinion Leaders (KOLs) in aid of orphanages in Klang Valley, collaborating with the Food Aid Foundation (FAF), Ronald McDonald Sensory Room (RMSR) and Yayasan Chow Kit (YCK).
By uniting with KOLs, namely – Dr Say Shazril, Imran Aqil, Santhi Raj, Gan Mei Yan and Emily Chan, amongst others, Coway Malaysia helped five orphanage homes with a range of donations that included a total monetary contribution of RM100,000 and product sponsorship comprising of air and water purifiers along with complimentary service. Besides that, basic necessities like food supplies and other items that the homes need were donated.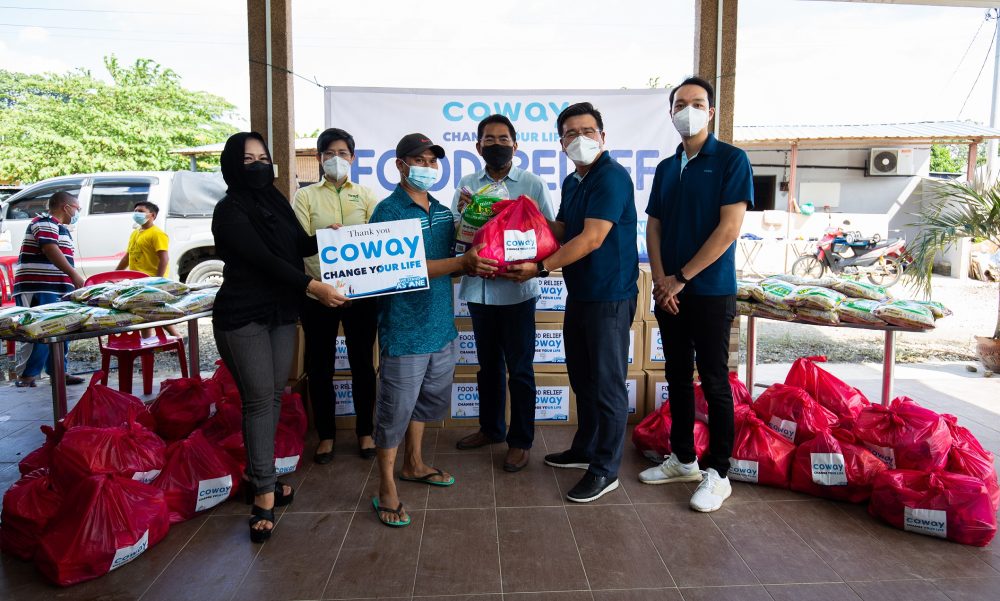 Coway Malaysia is also working with FAF to supply groceries and cooked meals to vulnerable communities including disabled homes, the homeless, urban and rural B40 families and recent flood victims. This on-going programme started since December 2021 and aims to feed 7,600 families.
To ensure the children in Malaysia are taken care of, Coway Malaysia helped about 100 children through YCK by providing basic necessities for school and life care. YCK is a non-profit organisation that caters to the needs of children and teenagers in and around Chow Kit. It has children's centre and safe home for children who are in need of a temporary place to call home.
Meanwhile, Coway Malaysia made a monetary contribution to Ronald McDonald House Sensory Room programme in support of 35 sensory rooms at different special education centres nationwide. This contribution will help to provide sensory equipment − needed to stimulate senses in children with autism as well as trainings for trainers at the centres.
Coway Malaysia was humbled by the recognition it received for its CSR efforts by CSR Malaysia. More than a year's worth of planning and detailed execution, the company's CSR efforts to spread kindness were recognised by the wider community where they received the Company of the Year Award – Overall Excellence in Community and Public Health Initiatives under Home Appliances category by the Sustainability & CSR Malaysia Awards 2021.
"At Coway, we prioritise our CSR efforts in a bid to provide a healthier and happier life to all Malaysians. We put our heart and soul into piecing together advanced technological innovations and we strive to be a prominent mainstay in the CSR landscape by carrying out more charitable initiatives in the future," said Choi.
To further highlight its upstanding efforts and encourage greater community participation, Coway has released part two of its WSAO campaign video to showcase its initiatives and the spirit of togetherness as it stands hand in hand with Malaysians to overcome life challenges.
To watch this uplifting and inspiring WSAO video, go to Coway Malaysia YouTube or visit www.coway.com.my/westandasone for more information on Coway's CSR initiatives.