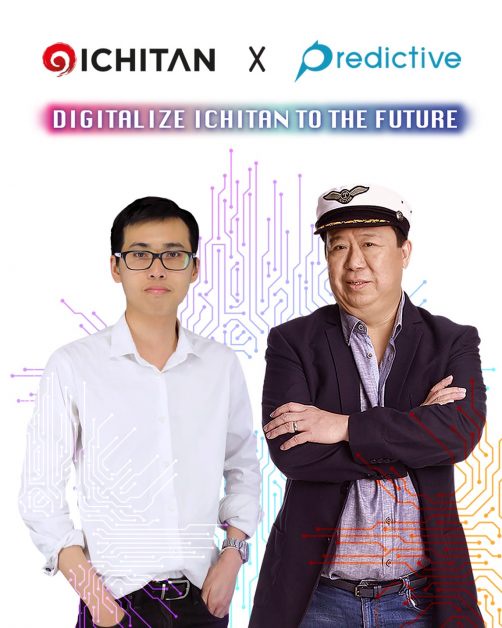 Monday 17 January 2022 – Ichitan prepares to transform its beverage business into a data-driven company using Data Technology to support new marketing strategies to be ready for the full marketing technology world by acquiring shares of "Predictive", a Data Intelligent service provider with a plan to establish a joint venture company in the future, enhancing data analysis capabilities and studying the needs of customers for use in marketing planning for understanding response according to the 3N strategy. It is expected to be completed in Q1/22.
It was announced in Ichitan Group Public Company Limited (ICHI) Board of Directors' meeting that the company will invest in Predictive Company Limited (Predictive) by holding 25% shares worth 122.6 million Baht to support marketing in the digital era using Big Data as the key factor to drive business through marketing in terms of consumer data analytics through AI.
"Predictive" is a leading company specializing in data technology that has good performance with a 3-year CAGR of approximately 30% (2019-2021) and a proven track record as the number one in providing data analytics services of the technology industry in Thailand. The goal of this joint venture with Ichitan is to extend for new opportunities in creating Data Solution that responds to the potential growing digital trends with a plan to be listed on the Stock Exchange of Thailand in the next 3 years.
Mr. Tan Passakornnatee, President & CEO of Ichitan Group Public Company Limited revealed that "This year is another important big move of Ichitan in transforming its business into the digital world. We are moving forward by using technology to support both the beverage business and the new business in providing digital data services. Since data is regarded as gold in today's world and the future, as such those having a lot of data will create an advantage in getting into the mind of the consumers. However, data alone is not sufficient. Data application proficiency is required. Predictive will fulfill this need by collecting data – acquiring new data needed – analyzing – and then creating the right campaign (Collect Data – Acquire – Analyze – Activate).In addition to enabling Ichitan to build a direct relationship with customers more effectively the use of direct information from customers and consumers to develop products that better respond to the new needs, design a marketing strategy that responds more accurately to consumers, and most importantly, manage marketing and advertising budgets more efficiently will benefit the operations and increase the competitive advantage of Ichitan.
We believe in the arrival of Data Intelligent business that can grow in the business world of digital era. The more data, the more stable AI. When AI becomes more stable, the expertise of Predictive in data analytics will continue to develop. This will create an advantage for the joint venture business of data providing services that are useful to other companies."
Presently personalization marketing is replacing mass marketing because consumer lifestyles are diverse and more unique with a need for more individualization. Ichitan Group hopes that this investment in the data business will be an opportunity to deeply understand the needs of each consumer group and enable the use of information obtained for analysis to offer products and services that precisely meet those needs.
The arrival of Predictive will create for Ichitan Group its own first-party data collection strategy, thus reducing the reliance on third-party data from various social media platforms. This will ensure that the data acquired is more accurate, effective, and specific to the needs of each customer group.
This transformation is driven by 3N strategy (N1 : New product, N2 : New market, and N3 : New business). Combining the strengths of 2 companies; namely Ichitan Group, a beverage company that can reach a wide range of customer groups across the country, and Predictive who has expertise in information technology will truly enhance the capability of Ichitan's core business to truly enter Digital Intelligent Marketing while also enable Ichitan's data management to be value-added benefit for the joint venture company that provides data services. All of that is for long term strengthened and stable performances of Ichitan group.