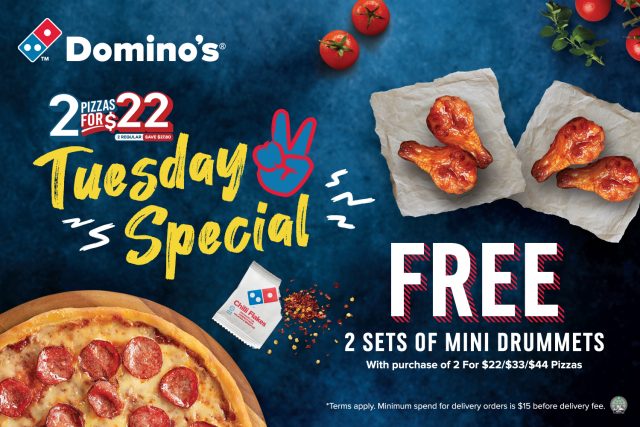 March into the new month with Domino's Pizza Singapore as Domino's Pizza introduces Twos-day, 2 for $22 promotion for all pizza lovers! Domino's Pizza is here to elevate our Tuesdays with a lip-smacking deal you cannot miss. Order any regular 9-inch pizzas  for just $22 (regular) and enjoy two complementary sets of mini gold roasted dummets (worth $5.80). Double happiness is coming your way!
To celebrate the launch of Twos-day deal, we'd like to share two more reasons to love Domino's Pizza.
Domino's Pizza has maintained the price of their pizzas for 10 years and running. The 2 for $22 deal has also been running for over the last 8 years. , indulge in all-time favourites such as Classic Pepperoni and Classified Chicken, alongside newly added sides to the deal – mini gold roasted dummets.
Domino's Pizza makes pizzas for all, anyone, anywhere and anytime. Delivering all year round from 1030am to 1130pm, whether you are planning for a gathering, need a quick fix or simply craving a slice of pizza, Domino's Pizza has got you covered. What's more, with the extensive selection of flavours, there will always be a flavour for you and your loved ones to dig into.
Move over Friday, Tuesdays will be the best day of the week with Domino's Twos-day special. As part of this ongoing deal, diners can save up to 50% and enjoy two 9-inch Regular sized pizzas at just $22, two 12-inch Large pizzas at $33 or two 15-inch Xtra Large pizzas at only $44. On top of that, each Twos-day order includes two sets of Golden Roasted Wings, Domino's Pizza's oven-baked, tender roasted mini-drumlets marinated in their signature blend of spices. What a way to spice up your pizza treat!
Enjoy your Twos-days with Domino's Pizzas fresh off the pan at your nearest Domino's Pizza outlet or place your orders via https://www.dominos.com.sg for click & collect orders or a guaranteed 30-minute fast delivery. You can also drop us a line at 6222 6333. Dig into a winsome combination of great taste and amazing prices today!
For Twos-days online orders, simply choose delivery, click on coupons and key in the code WD22, WD33 or WD44, depending on how hungry you are feeling.