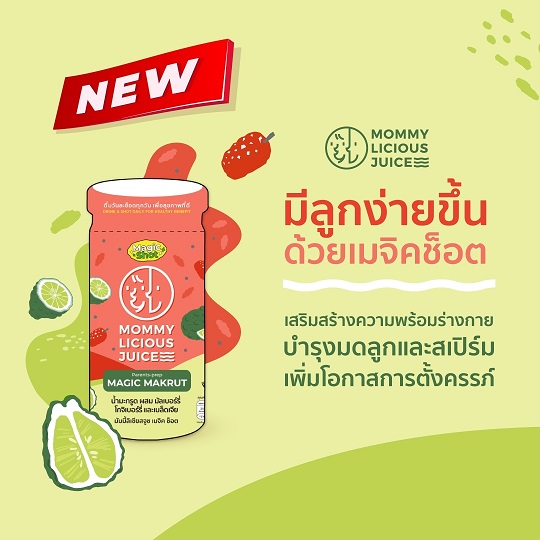 Mommylicious 24 Co., Ltd. which is known for its lactation boosting drinks from Thai local wisdom, has recently launched the new Magic MAKRUT shot. The new pre-pregnancy supplementary drink helps couples to prepare to conceive with ingredients that nourish both the uterus and the sperm.
The active ingredients include makrut lime (45%), goji berry (20%), mulberry (25%) and chia seeds (2%). The drink is free from added sugar and is naturally sweetened with monk fruit (6%).
Makrut lime: high in bioflavanoids, support blood circulation
Goji berry: high in anti-oxidant and increase sperm quality and quantity
Mulberry: rich in anthocyanin, antioxidant and phenolic acids
Chia seeds: full of protein, calcium and fibre.
Fertility rates are falling in Thailand, dropping to just 1.51 children per woman or below 600,000 newborns per year. Women in Thailand usually wait until they are after the age of 38 before they seek treatment for infertility compared to the average age of 32 in Japan and Europe. Moreover, the cost of IVF and other ART is usually high, making these treatments beyond the reach of most parents.
Therefore, there is an opportunity for solutions such as Mommylicious Magic Makrut shot to help prepare the body for conception at a relatively cheaper cost.
Mommylicious reported a 301% year-on-year growth in revenue in 2020 to THB 17 million, according to data from the Department of Business Development Ministry of Commerce.