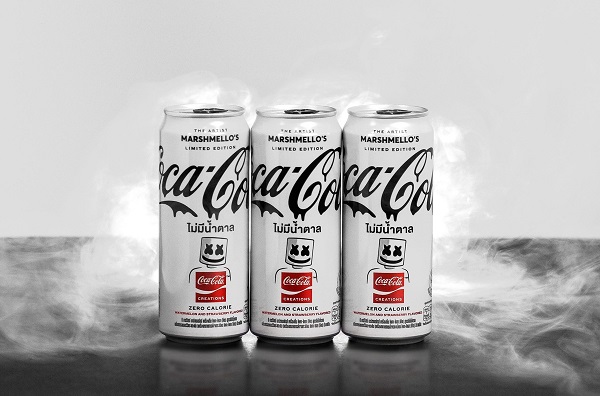 Monday 15 August 2022 – Coca-Cola Creations is dropping a remix for its newest limited-edition flavor – a collab with GRAMMY-nominated artist Marshmello. The brand's first-ever beverage co-created with an artist, Marshmello's Limited Edition Coca-Cola bottles the feeling of mixing chart-topping beats in a limited edition drop.
Marshmello said that "It was great to collaborate with Coca-Cola on this limited-edition drop. We created a vibey blend of my favorite flavors in this all-new mix. I think it tastes amazing and I hope fans love it too."
One might think Marshmello's Limited Edition Coca-Cola would be marshmallow-flavored, but as with the epic drops that fill his sets, the magic here is in the unexpected. Marshmello's Limited Edition Coca-Cola is a refreshing fusion of the artist's favorite flavors, strawberry and watermelon, mixed with a great Coca-Cola taste.
Richa Singh, Marketing Director of Coca-Cola Thailand added, "Music – just like Coca-Cola – has such an amazing power in connecting communities and creating opportunities for shared experiences. For this second Coca-Cola Creations drop we are doing here in Thailand, we sought to add an unexpected remix of flavors to a great Coca-Cola taste, and Marshmello is the perfect collaborator. It is an exciting step for our brand to introduce Marshmello's Limited Edition Coca-Cola and invite Thai fans to immerse themselves in Mello's world."
Known for his desire to positively impact culture with his music, Marshmello's collaboration with Coca-Cola invites fans to experience the Melloverse for themselves. Fans can also scan the QR code on the can to be transported to the Coca-Cola Creations online hub where you can watch your emotions transform into a unique digital art while listening to Marchmello's new song "Numb" which you can download and share on your social media.
Marshmello's Limited Edition Coca-Cola will also be available to purchase in 325 ml. can in a Zero Sugar version. Collectible slim cans with striking black and white visuals pay homage to the artist's signature aesthetic, as well as dripped Spencerian script, melding the brands together into a smooth and satisfying vibe. Coca-Cola partnered with Forpeople on the packaging design.
Taste the mix for yourself as Marshmello's Limited Edition Coca-Cola Zero Sugar variant drops in convenience stores, and e-commerce channels across Thailand this August 2022.
Coca-Cola continues to explore unique innovations and unexpected collaborations driven by creativity and cultural connections. Follow Coca-Cola on facebook, Instagram, and Twitter to know the latest stories.