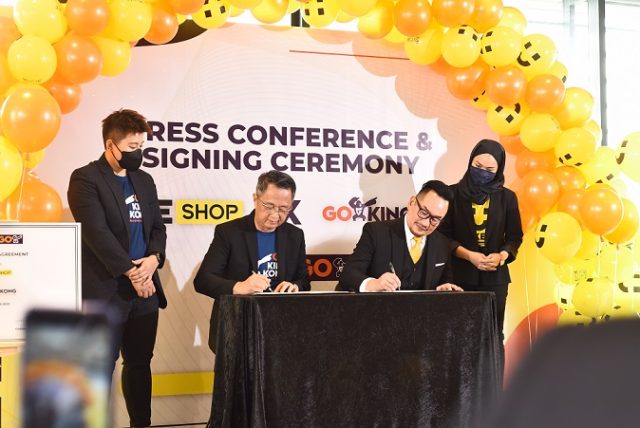 KUALA LUMPUR, 6 September 2022 – SUKE SHOP, the online shopping vertical of homegrown entertainment brand SUKE TV, has launched SUKE GO – a premium delivery service – in partnership with the logistic and e-commerce platform, GOKINGKONG.
The press conference and signing ceremony was graced by Dato' AC Mizal, Founder and Chairman of SUKE TV; Datin Emylia Rosnaida, Director of SUKE TV; Desmond Ng, Founder and CEO of GOKINGKONG; and many others, alongside the presence of various local media and news portals.    
SUKE SHOP now offers next working day and free delivery service to major cities nationwide for over 20,000 products sold within the platform through this exciting partnership. With this, SUKE SHOP shoppers will be able to enjoy a precise, with care and hassle-free delivery service to their doorstep.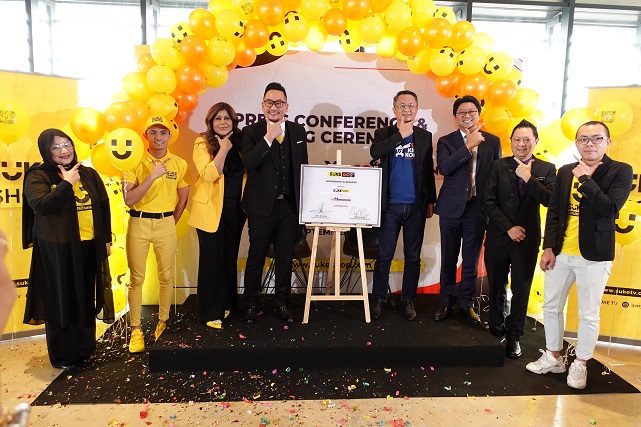 The collaboration also announces the addition of over 20,000 new products in SUKE SHOP that will be entitled for delivery via SUKE GO. These products consist of electronic and household goods, pet essentials, groceries, prominent sports brand such as Puma, phone accessories and many more.
Vouchers worth up to RM10 million will be available upon sign up for new members at sukeshop.com. Apart from that, shoppers will also stand a chance to win a Ferrari or RM1 million with every purchase of a minimum of RM100 in one receipt via the SUKE MENANG contest.
GOKINGKONG is an aggregator platform that connects consumers directly to manufacturers and service providers. The platform provides products under a variety of categories, operating within 4 main core values: better, faster, safer and affordable. GOKINGKONG acts as the consumer's personal sourcing manager to bring the best deals in the market to them.
"SUKE GO will allow us to better understand our audience and customise our services to what works best for them. With SUKE GO, both parties will be able to leverage their respective strength, knowledge, resources, and expertise to further improve services. SUKE SHOP looks forward to working with GOKINGKONG to further expand our horizons in the local e-commerce industry," said Dato' AC Mizal, Founder and Chairman of SUKE TV. 
"The Malaysian e-commerce sector has seen exponential growth since the pandemic. True to this, GOKINGKONG is now in an exciting phase of development; and is thrilled for this opportunity to partner with SUKE Shop" said Desmond Ng, Founder and CEO of GOKINGKONG
SUKE SHOP aspires to become market leader within Malaysia's e-commerce segment by continuously entering partnerships such as this to enhance customer shopping experience.
About SUKE TV 
SUKE TV, a new homegrown broadcast network launched by Dato' AC Mizal brings hope, heart, and value to people, homes and enterprises through world-class entertainment and rewards. With its extensive infrastructure, expertise, and forthcoming industry partnerships, SUKE TV aims to develop and deliver original content of all genres for Malaysian TVs and digital mediums on-the-go. From innovative shopping experiences, heart-wrenching dramas, to amusing comedies and exciting sports, SUKE TV aims to connect over 30 million Malaysians through a unique perspective on entertainment. For more information, please visit https://www.suketv.com/ . 
About SUKE SHOP
SUKE SHOP is the newest e-commerce shopping chain in Malaysia owned by Dato AC Mizal under his entertainment network banner, SUKE TV. The SUKE SHOP network provides space for local entrepreneurs to promote and market their products using SUKE TV's live shopping broadcast and its e-commerce platform. Since its debut, the platform has brought together hundreds of celebrities, public figures, influencers, entrepreneurs as well as micro sellers to showcase their business and expand their audience reach.
About GOKINGKONG
GOKINGKONG is the first of its kind E-Commerce Platform created to address online shoppers' pain-points & bad user experiences, while continue to deliver the convenience, best deals secured & the highest service level in fulfilment received.
GOKINGKONG represents and protects the interest of the consumers community. This bargaining power allows the platform to deal directly with the producers and service providers so that better deals can be offered, product authenticity & safety can be validated, obligation free information & pre-sales services are readily available, reliable after sales service is guaranteed.
This omni channel & multiple touch points approach, both online & offline, truly provides the full liberty to the consumers in whatever, wherever, whenever they need to make a purchase with absolute piece of mind & satisfaction.