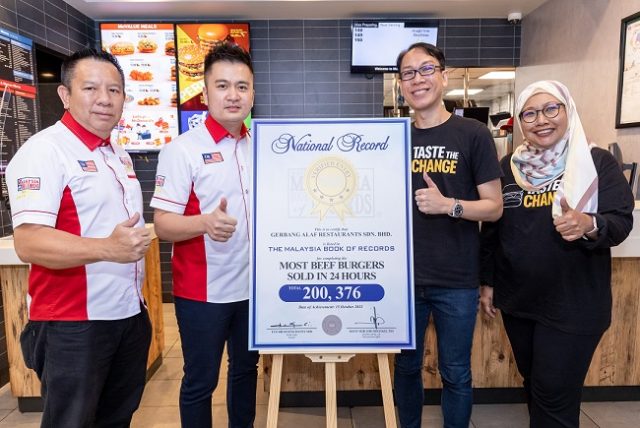 Over 200,000 units were sold on 15 October 2022 in conjunction with McDonald's launch of its elevated and improved line-up of classic beef burgers
KUALA LUMPUR, 25 OCTOBER 2022 – McDonald's Malaysia has achieved yet another milestone by setting a Malaysia Book of Records for 'The Most Beef Burgers Sold In 24 Hours'. This feat was officially recognised when McDonald's Malaysia successfully sold over 200,000 beef burgers on 15 October 2022 in conjunction with the quick service restaurant's unveiling of its elevated and improved line-up of classic beef burgers.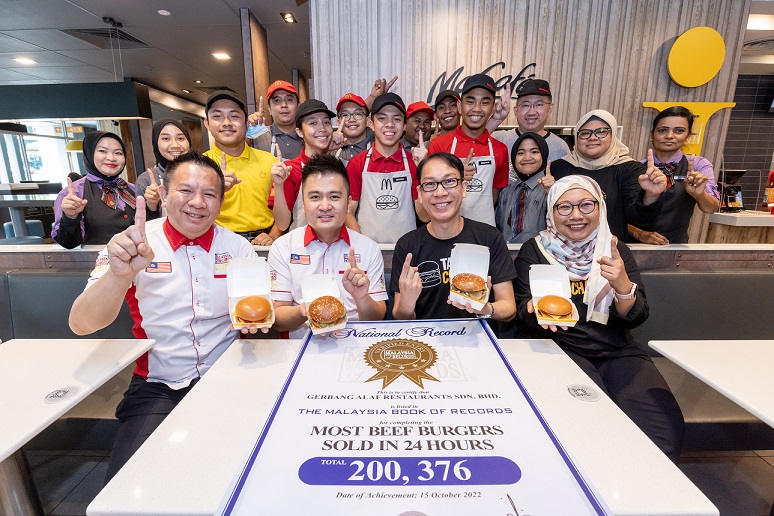 The award presentation was held at McDonald's Mutiara Damansara, where Aaron Bong, Deputy General Manager, Marketing & Events and Edwin Yeoh, Senior Record Consultant from Malaysia Book of Records, presented a Certificate of Achievement to Azman Mohammad, Director of Marketing and Shamsidar Yahya, Director of Corporate Communications from McDonald's Malaysia.
This achievement underscores McDonald's Malaysia's commitment to elevate the preparation and cooking methods of its line-up of classic beef burgers, in order to provide Malaysians with a beef perfection experience that is guaranteed to be hotter, juicier and tastier.
Among the small yet significant changes McDonald's has made to its classic beef burgers include:
Softer, glazed buns that are toasted to a golden brown and for heat retention

Beef patties that are seasoned, grilled, and seared to perfection in smaller batches for mouth-watering juiciness
Adding onions directly to the patties on the grill to intensify flavour
New Zealand imported cheese slices softened to perfection at an average of 17.5°C for a meltier sensation

Using smaller containers to keep vegetables fresher and crispier, and

Adding more legendary Big Mac sauce to Big Mac to boost flavour from the first bite to last
What's more, McDonald's iconic beef burgers are brimming with flavour because the patties are made from 100 percent pure halal beef imported from Australia, New Zealand and Brazil.
The entire initiative to improve McDonald's classic beef burgers took more than a year which included research and testing of the cooking and food storage equipment, blind taste sessions with customers, and improving quality of ingredients in collaboration with suppliers.
The iconic McDonald's beef burgers with an improved and elevated taste profile were initially introduced to customers on 1 October at selected restaurants and have since received overwhelming and positive feedback. With the official introduction on 13 October, beef burger fans can now enjoy the improved burgers at all McDonald's restaurants nationwide, as well as through McDelivery and Drive-Thru.
"Our promise is to always make delicious feel-good moments easy for everyone, and the many small changes we made to our classic beef burgers are intended to achieve a big difference in every bite. We are very honoured to be recognised by the Malaysia Book of Records for 'The Most Beef Burgers Sold In 24 Hours' here today. The achievement today would not have been possible without the support of all our customers. This says a lot about how much Malaysians love McDonald's and we will continue to provide the best experience for them," said Melati Abdul Hai, Vice President and Chief Operating Officer, McDonald's Malaysia. 
For more details on McDonald's iconic beef burgers, please visit www.mcdonalds.com.my