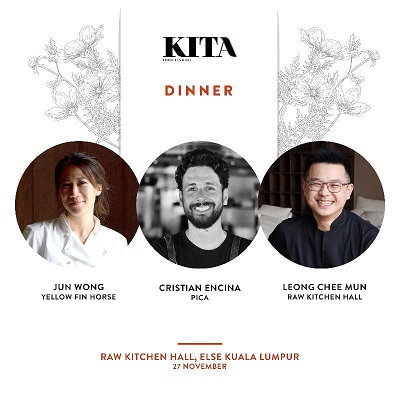 Kuala Lumpur, 1st November 2022 – Malaysia's Kita Food Festival – Asia's first annual industry-led culinary festival – has now released tickets for its Kuala Lumpur dining events. The much-anticipated dining events in Kuala Lumpur kick off on Friday, November 25th with a trifecta of dinners featuring a lineup of award-winning and Michelin-starred Singapore-based chefs.
On Sunday, November 27th, Chilean chef Cristian Encina will bring punchy South American flavours to the freshly minted Raw Kitchen Hall at Else Kuala Lumpur, the city's hottest new small luxury hotel. For one night only, Cristian will put his head together with Raw Kitchen Hall's Head Chef – Chef Leong Chee Mun and Chef Jun Wong (of the soon-to-launch Yellow Fin Horse) to create a series of bold Latin-Asian dishes that are big on personality, dynamic on taste. Think sharing plates featuring seasonal local ingredients and bursting with flavour.
Click here for more information and for reservation.