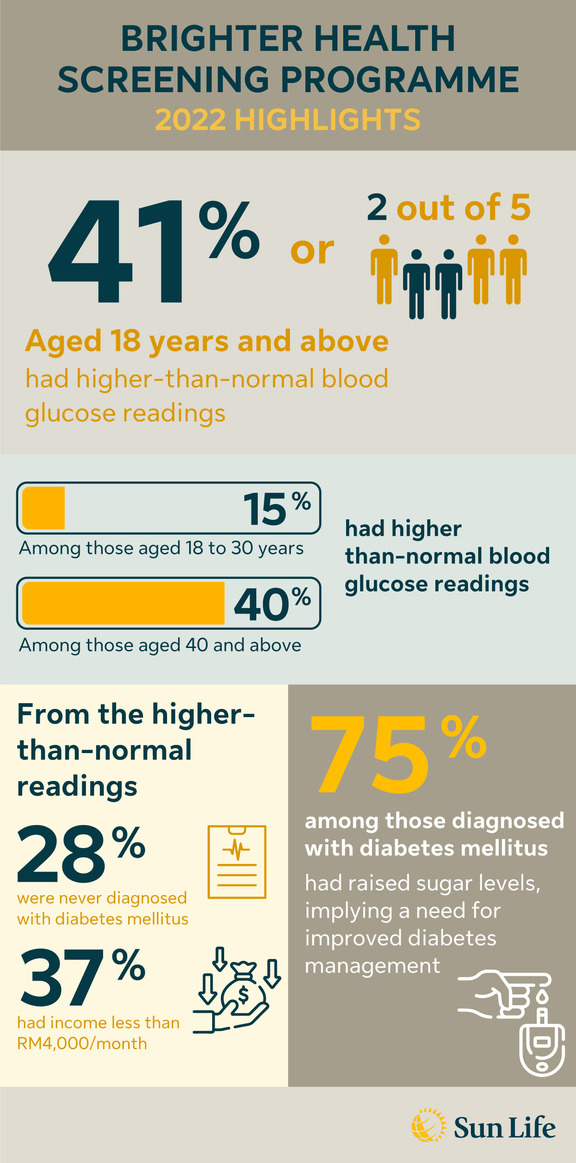 Need For Improved Awareness On Recognising Risk Factors And Early Detection of Diabetes
Kuala Lumpur, Malaysia – 28 February 2023 – Sun Life Malaysia, a life insurance and family takaful company, recently announced the findings from its 2022 nationwide blood glucose screening community outreach initiative – the Brighter Health Screening Programme. The results showed that 41% of the 6,892 screened, equating to 2 in 5 Malaysians aged 18 years and older, had elevated blood glucose readings[1].
The findings also showed that over 40% of adults over age 40 screened had high blood glucose, compared to around 15% for 18 to 30 year olds. Elevated blood glucose levels typically indicate an individual may be at-risk for Type 2 diabetes and these individuals are recommended to conduct further blood glucose tests with the doctor for a diagnosis.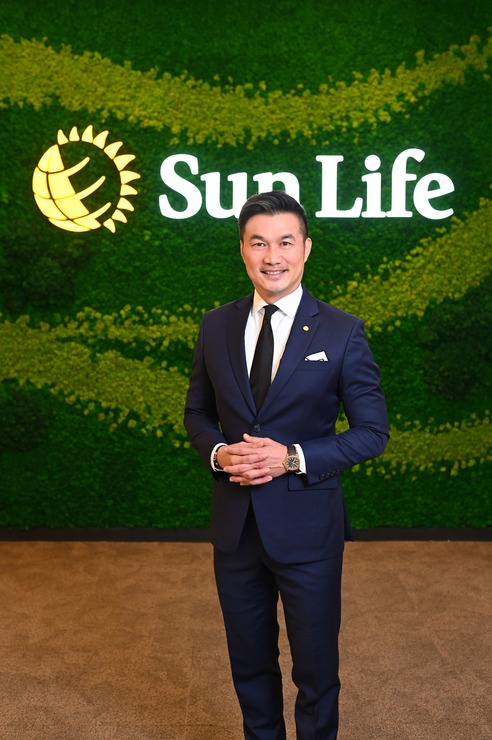 Commenting on the findings, Raymond Lew, CEO and President/Country Manager of Sun Life Malaysia said, "Sun Life Malaysia is committed to empowering Malaysians to lead healthier lives. We believe that prevention is always better than cure and we work collaboratively with our partners and stakeholders to educate and share relevant knowledge, particularly among underserved communities, to bridge the awareness gap."
"2022 marks the fourth year since we embarked on the programme. The findings reaffirm our mission – we have to continue our efforts to raise awareness about diabetes, improve understanding of the risk factors and promote early detection given the high prevalence of prediabetes and diabetes in Malaysia," he added.
Additionally, the findings of 40% of adults aged 40 and above having higher than normal blood glucose readings reveal a hard truth about the relationship between diabetes risk and age. Research has shown that diabetes risk increases with age, and this is partly due to the natural aging process and changes in metabolism that occur with age. This signals a need for individuals aged 40 and above to take preventive measures by regularly monitor their blood glucose levels to detect the risks of developing diabetes and prevent diabetes from the onset.
The findings also saw a higher percentage of younger adults, defined as people from age 18 to 30, had elevated blood glucose levels which could imply a worrying trend that the epidemic is putting more young people at risk. As such, it is important to ramp up efforts to educate the Malaysian youth that the risks of developing diabetes are influenced by lifestyle factors, such by being overweight, not exercising or having high blood pressure.
The screening programme also revealed the following insights:
1 in 5 people (28%) with high blood glucose are undiagnosed for diabetes, indicating a lack of awareness and risk for prediabetes.
75% of diagnosed diabetes patients had elevated blood glucose, indicating poor diabetes management.
2 in 5 people (37%) with high blood glucose had income below RM4000 per month (B40 Household Group).
72% out of the total 6,892 screened reported no diagnosis or doctor confirmation of diabetes.
For 2022 Brighter Health Programme, Sun Life Malaysia partnered with Walnut Wellness, Roche Malaysia, AM PM Pharmacy, Health Lane Family Pharmacy and MOG Eyewear (MOG), to offer complimentary blood glucose screenings across 204 participating pharmacies nationwide. The programme conducted a total of 6,892 screenings for participants aged 18 to 70 across a three-month period (22 August to 30 November 2022).
For more information on Sun Life Malaysia, visit www.sunlifemalaysia.com or follow our social media pages.
[1] Screening conducted using finger-prick tests.