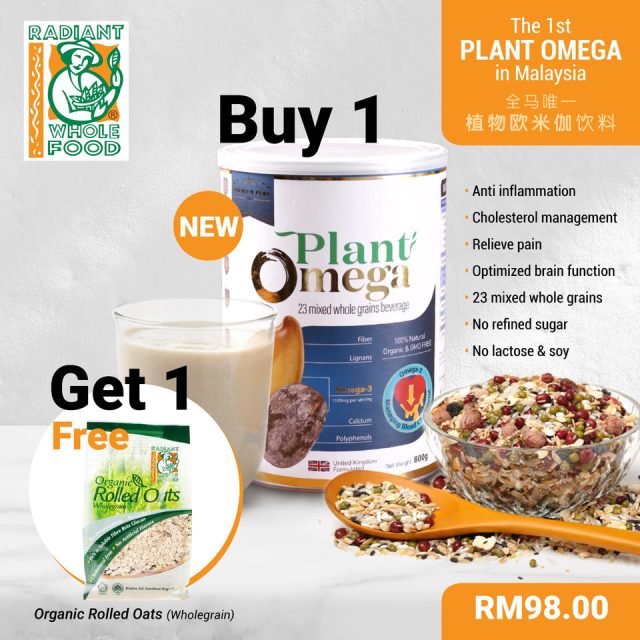 Radiant Whole Food has launched what is known as the first plant omega in Malaysia. Plant Omega is a nutritious plant-based omega-3 curated by clinical nutritionist and consultant dietitians. It sources from 23 types of mixed whole grains formulated for all range of people from toddler to elderly.
Plant Omega is described as helping to optimise brain function, cholesterol management, relieve pain and anti-inflammation.
Ingrediets: Mixed Whole Grains Organic and Non-GMO (Non-GMO Brown Rice, Organic Sorghum, Non-GMO Red Rice, Organic Corn, Organic Millet, Non-GMO Wild Black Rice, Organic Black Bean, Organic Garbanzo Bean, Organic Green Pea, Organic Red Bean, Organic Mung Bean, Organic White Quinoa, Organic Red Quinoa, Organic Black Quinoa, Organic Red Lentil, Organic Black Glutinous Rice, Organic Brown Sesame, Organic Pinto Bean, Organic Pumpkin Kernel, Organic Sunflower Seed, Non-GMO Golden Flaxseed, Non-GMO Pea Protein, Non-GMO Coconut Oil (MCT), Organic Chia Seed, Fructose, Inulin, Fibersol-2, Non-GMO Wheat Germ, Calcium Phosphate Tribasic, Guar Gum, Non-GMO Turmeric.
Click here to buy from Radiant Whole Food official store on Shopee.