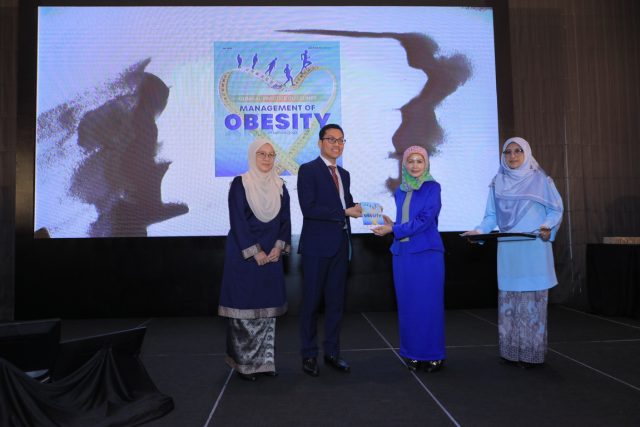 Updated Clinical Guidelines Introduce New Tactics, Therapies and Tools for More
Effective Obesity Management
Kuala Lumpur, June 9, 2023 – With the relentlessly increasing prevalence of overweight and obesity among Malaysian adults, children and adolescents, experts are stressing the adoption of newer and more robust strategies to prevent and manage this disease effectively.
This was the primary motivation for developing the Clinical Practice Guidelines (CPG) for the Management of Obesity (2nd edition), joint-publication by the Ministry of Health (MOH) Malaysian Endocrine & Metabolic Society (MEMS), Malaysian Society for the Study of Obesity (MASO), Malaysian Dietitians' Association (MDA) and Family Medicine Specialists Association of Malaysia (FMSA).
The CPG was launched today in a ceremony officiated by Dr Mohd Ridzwan bin Shahari, Deputy Director of Medical Development Branch of the Medical Development Division, representing Dato' Dr Asmayani binti Khalib, Deputy Director-General of Health (Medical) of the Ministry of Health Malaysia.
According to Dr Nurain Mohd Noor, President of MEMS, the rates of overweight and obesity in Malaysia are continuously rising. The senior consultant endocrinologist said: "Overweight and obesity in Malaysia is growing with every passing year. Based on the National Health and Morbidity Survey, in 2011, the prevalence was already at 44.5%(1)
, and in 2019, it has risen to a staggering 50.1%(2) , whereby half of the population is now classified as overweight or obese.
"We are also witnessing a similar trend among children and adolescents. In 2011, the prevalence of obesity among those aged 5 to 17 years old was 6.1%(1). Shockingly, by 2019, this rate had doubled to reach 14.8%(2). The growing number of young people becoming obese will contribute to future projections. We can expect an explosion of this disease in the nation in the not-so-distant future."
Describing the dangers of obesity, she said: "Excessive body weight is a serious health problem as it increases our high risk of chronic diseases such as hypertension, type 2 diabetes, coronary artery disease, and even certain cancers(3)."
She continued: "The disease burden is significant. Obesity accounts for 19.36% of total healthcare spending, the highest rate among ASEAN countries. Additionally, the estimated productive years lost for males and females with obesity is substantial, standing at approximately 6-11 years and 7-12 years respectively(4).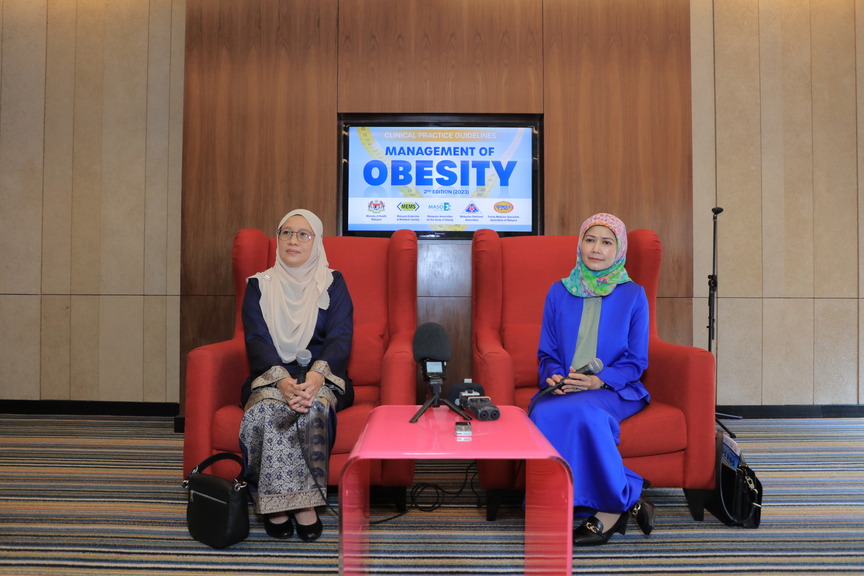 Professor Dr Norlaila Mustafa, Chairperson of the CPG Development Committee emphasised the need to adopt newer, holistic and multidisciplinary approaches to combat overweight and obesity. She remarked: "We drew on experts from diverse fields, such as endocrinology, psychology, dietetics, sports medicine, family medicine, and even paediatric endocrinology. Our combined efforts resulted in a comprehensive CPG incorporating many breakthroughs and advances that offer promising solutions, including psychological interventions, nutrition, types of exercises, pharmacotherapy, and bariatric surgery.
The senior consultant endocrinologist revealed that cognitive behavioural therapy has shown effectiveness in helping individuals with obesity maintain lifestyle changes. Tools include the Binge Eating Scale help identify individuals with binge eating disorder, "SMART" strategy aid in patients' goal setting, and problem-solving techniques like "IDEAL". All these support patients when faced with setbacks in their weight management journey(5).
Regarding medical nutrition therapy, Professor Dr Norlaila gave examples of dietary approaches that effectively reduce calorie intake and promote weight loss which include low carbohydrate, low fat, isocaloric diets with varying carbohydrate levels, low glycaemic index/glycaemic load diets and meal replacement. All these dietary prescriptions should be individualised for example to one's motivation level, age and weight loss goals. In terms of physical activity, she highlighted that different types of exercise yield varying effects on weight loss and there are specific recommendations for the elderly population.
She continued: "As for pharmacotherapy, it can be initiated if a person is morbidly obese or when lifestyle changes fail. Newly introduced drugs in the obesity guidelines such as naltrexonebupropion combination, liraglutide and semaglutide were found to help reduce calorie intake by suppressing appetite." She also explained that if pharmacotherapy fails, bariatric surgery such as the Roux-En-Y gastric bypass, sleeve gastrectomy and abdominal gastric banding procedures are considered.
When it comes to managing weight in children and adolescents, Professor Dr Norlaila highlighted the step or staged approach which takes into consideration factors such as age, degree of obesity, health risks, and patient motivation. Children and adolescents may also benefit more from using mobile apps for tracking exercise and meal intake as well as family-focused lifestyle interventions.
Professor Dr Norlaila stressed: "It is crucial to reduce the rate of obesity in Malaysia. Prevention of obesity entails adopting a healthy lifestyle. Improving physical activity, a well-balanced diet and guiding patients on the implementation of stress management practices should be offered to all. Those who are at risk of developing obesity in normal-weight or overweight adults should also be offered weight management intervention. Making these a routine will help prevent obesity and improve overall health."
All experts of the CPG committee expressed their hope that the newly released guidelines would serve as a framework for implementing innovative strategies to tackle obesity. They emphasised the importance of interdisciplinary collaboration among healthcare providers to effectively reverse the current trajectory of obesity. Together, they envision a future where obesity rates decline, leading to a substantial improvement in the overall health and well-being of the population.
Institute for Public Health (IPH) 2011. National Health and Morbidity Survey 2011 (NHMS 2011). Vol. II: NonCommunicable Diseases; 2011: 188 pages
2. Institute for Public Health (IPH), National Institutes of Health, Ministry of Health Malaysia. 2020. National Health and Morbidity Survey (NHMS) 2019: Vol. I: NCDs – Non-Communicable Diseases: Risk Factors and other Health Problems
3. Blüher M. Obesity: global epidemiology and pathogenesis. Nat Rev Endocrinol. May 2019;15(5):288-298. doi:10.1038/s41574-019-0176-8
4. The Economist Intelligence Unit. Tackling obesity in ASEAN – Prevalence, impact and guidance on interventions. 2017. Available at: https://www.evolveasia.org/wp-content/uploads/2019/11/EIU_TacklingObesity-in-ASEAN_Final-Report.pdf.
5.  Ministry of Health Malaysia. Clinical Practice Guidelines for Obesity Management. 2nd Edition. Putrajaya: MoH; 2023