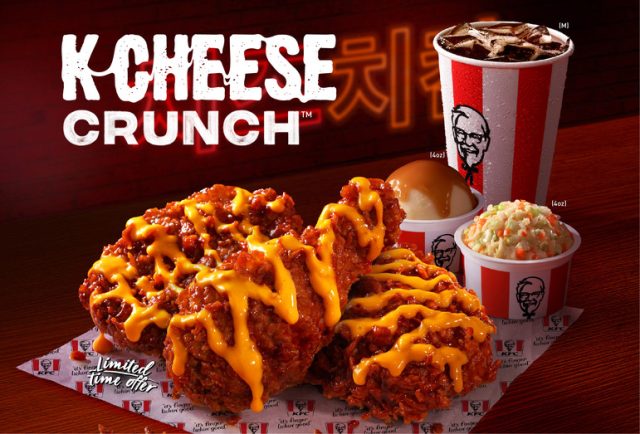 KUALA LUMPUR, 9 JUNE 2023 – The 'K' in KFC takes a new contemporary meaning exclusively for a limited time only as the chicken expert debuts a new and unique Korean-inspired flavour with KFC K-Cheese Crunch!
Fiery hot & spicy, cheesy, and crunchy – the K-Cheese Crunch will make you scream for more with its addictive spicy Korean sauce made from Korean chili peppers, sesame paste, and soybean paste among others, generously glazed over the iconic and crunchy chicken. This daebak-ly flavoursome chicken is then perfected with a lavished drizzle of KFC Jalapeno Cheese sauce, that's sure to leave you craving for more.
"It is undeniable that the Korean culture phenomenon has seeped into the hearts of many Malaysians including its cuisine. Our latest Korean-inspired creation offers a distinct and finger lickin' good Korean essence, taste, and aroma that'll surely entice and charm your tastebuds and promises a truly gratifying Kdining experience," said Premnath Unnikrishnan, Chief Marketing Officer of KFC Malaysia.
Available at KFC restaurants in your area starting tomorrow for a limited time only, the K-Cheese Crunch comes in 3 variations: (1) 2-pc Combo, (2) 3-pc Combo, and (3) Box Meal starting from RM17.99.
Order via http://www.kfc.com.my/ or download the KFC App.