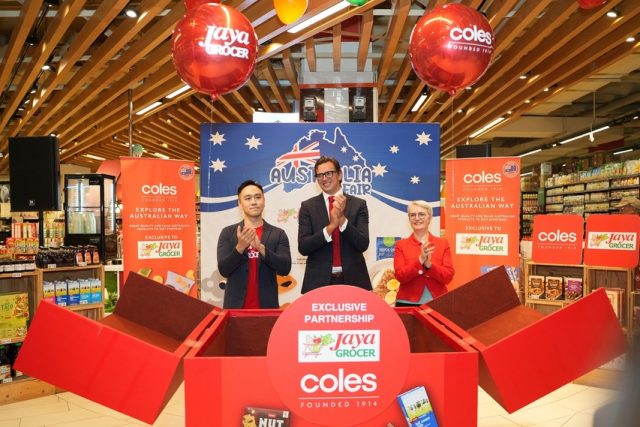 Over 1,000 Australian products are now available at Jaya Grocer, including 200 from Coles
KUALA LUMPUR, Thursday, 6 July 2023 – Australia's leading retailer Coles Supermarkets is entering the Malaysian market with 200 products through an exclusive collaboration with Malaysian supermarket brand Jaya Grocer.
This deal allows Jaya Grocer to expand their Australian product offerings with over 1,000 products from Australian-based brands, including Coles, available at all 43 stores and for GrabMart delivery nationwide. The well-known home-grown supermarket chain is renowned for their diverse range of quality fresh ingredients and imported goods.
Jaya Grocer Deputy CEO, Daniel Teng and Coles General Manager for Exports, Will Mulholland sealed the deal at a symbolic ceremony at Jaya Grocer Starling Mall witnessed by the Australian Deputy High Commissioner to Malaysia, Clare Gatehouse, in conjunction with Jaya Grocer's Australia Fair, supported by the Australian Trade and Investment Commission (Austrade). The fair runs until 9th July at 43 Jaya Grocer outlets nationwide, where Coles is also simultaneously having a "Coles Own Brand Promotion".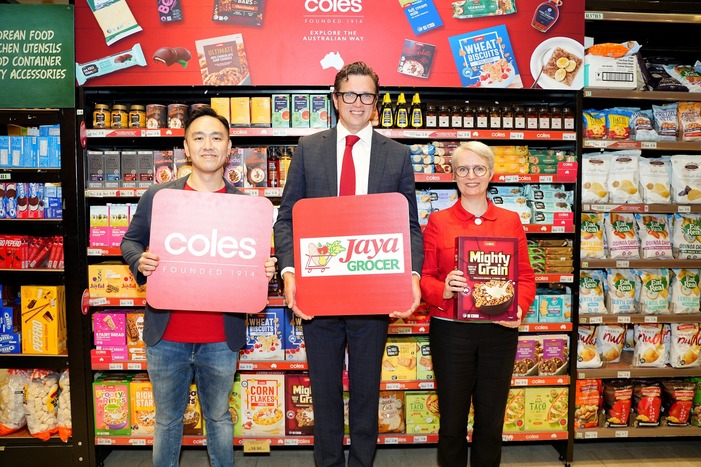 "We are happy to have a great selection of quality Australian products made available to our customers in addition to our already wide range of offerings. This is made possible by the exclusive collaboration with Coles. This partnership is a strategic decision from Jaya Grocer's end to serve the large Australian expat community. We thank our partners for their trust in us, and we're confident Jaya Grocer customers will find great value and quality in the products curated for them," said Daniel Teng, Jaya Grocer Deputy CEO.
Coles General manager for Exports and Fresh Commercial Will Mulholland said the supermarket chain was thrilled to partner with Jaya Grocer to expand its great quality and value range in the Malaysian market.
"Coles has been exporting high-quality Australian food for over 20 years to more than 30 countries. Our mission is to inspire customers and deliver brands and products that we are proud of, and which our customers recommend above all others," he said.
"We are delighted to launch a range of Coles products for sale at Jaya Grocer in Malaysia to showcase the amazing quality, support Australian producers and continue to drive growth in our Own Brand business globally."
Shoppers can enjoy as much as 15% off Coles Own Brand top selling products such as Coles Rice Crackers Seaweed, Coles Chocolate Finger Biscuits, Coles Drinking Chocolate, Coles Hot Chocolate Sachets and much more until 9th July.
Customers get to enjoy even more value deals and discounts every month through the Jaya Grocer Membership program powered by Grab. Access to the membership programme is available directly via the Grab mobile app.