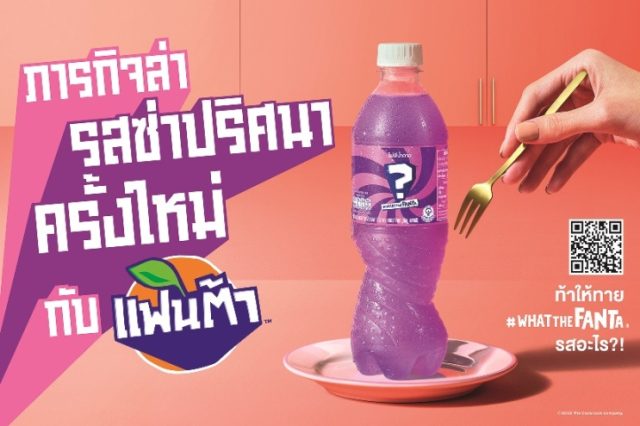 Tuesday 08 August 2023 – 'Fanta' is inviting fans to take part in an electrifying flavor exploration like never before, with the release of its latest #WhatTheFanta mystery drink under the campaign 'Fanta' #WhatTheFanta.
This is the 4th year the whimsically delicious addition is packed with excitement, keeping fans of the #WhatTheFanta line on their toes in a suspenseful guessing game. This innovative campaign aims to enhance the image of 'Fanta' as a brand that embraces fun and playful colors. 'Fanta' is excited to introduce the 'Flavor Hunters', a team of skilled individuals who will lead everyone on an extraordinary journey through the exciting activities led by Off-Jumpol and Gun-Atthaphan, who along with their teams, will engage in exhilarating challenges to figure out what this deliciously mysterious flavor is.
Mrs. Richa Singh, Marketing Director, Coca-Cola Thailand, Myanmar, and Laos said: "The success of creating excitement for consumers continues into the fourth year of the #WhatTheFanta campaign. After receiving many positive responses, 'Fanta's commitment to becoming an iconic brand that adds a playful touch to an otherwise dull and overly serious world has been reinforced. We value our consumers' preferences and actively listen to their feedback. Understanding that many Thais enjoy seeking out new experiences, we have introduced #WhatTheFanta as one of our responses. This decision is in line with our broader business strategy, which emphasizes ongoing innovation and investment in our brands. Ultimately, our aim is to cater to people's boundless and timeless curiosity as well as their longing for delightful and thrilling encounters. We invite consumers to engage in puzzle-solving through social media as to what flavor this purple, mysterious, refreshing, zero sugar, and fruity drink actually is."
Join the thrilling #WhatTheFanta Mystery Flavor Hunt Challenge! Participate in online and offline activities with fellow fun-loving consumers. Simply scan, taste, and guess! Scan the QR code on the 'Fanta' bottle to start the adventure. The first 200 participants who correctly guess the puzzle solution will be rewarded with fantastic prizes, including PlayStation 5 consoles, Off-Gun-designed blankets, and an exclusive #WhatTheFanta Premium Snack Box. 7-Eleven customers can also upload their receipts showing the purchase of two or more bottles of 'Fanta' #WhatTheFanta for a chance to win a Nintendo Switch OLED Model and Fuji Instax Mini 12 film camera. Join us from August 1 to September 30, 2023.
'The Flavor Hunting Show', a one-of-a-kind online series by 'Fanta', takes viewers on an outrageously hilarious, twisted, and immensely entertaining journey to unveil the indulgent new #WhatTheFanta flavor – hosted by Off-Gun and a team of influencers. The mission comprises three episodes via watch, taste and guess the full flavor of the mystery. The episodes will be broadcast on GMM TV, beginning with the premiere on August 15, 2023. Come and join us as we reveal the delightful, fizzy, and sugar-free attributes of this new purple drink on October 1, 2023 – and don't miss the opportunity to discover the secrets of this refreshing beverage with Off-Gun at the Amphitheater Siam Square Soi 7 at 10:00 AM – 5:00 PM.
Get ready! There's a new mystery to be solved by taste buds far and wide. Stay connected to find more information about 'Fanta' #WhatTheFantaby visiting www.facebook.com/FantaThailand, https://wtf.fanta.co.th for 'The Flavour Hunting Show' air dates, teasers, and the big flavor reveal. The latest #WhatTheFanta flavor comes in 500 ml PET bottles in the zero-sugar variant, which is available at convenience stores, supermarkets, department stores, and on e-commerce channels.