Chia seed has attracted a lot of interest from Malaysians lately. This is evidenced from the surge in search activity for chia seeds in recent times as measured by Google Trends.

Health benefits
Malaysians are keen to know the health benefits of chia seeds as well as how to consume it. This is where manufacturers can step in to educate consumers about chia seeds.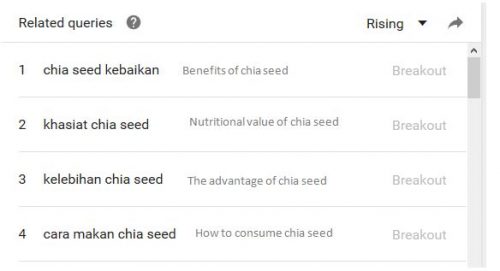 Related queries – Google Trends – Chia Seeds – Malaysia (image above)

New launches – i-Mizu chia seed drink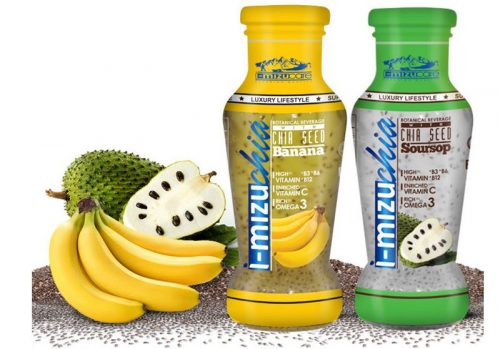 i-Mizucare Sdn Bhd has unveiled i-Mizu chia seed drink comprising banana and soursop. It is available at 7-Eleven and Aeon. The company's name is a combination of two Japanese words "ii" or great and "mizu" or water, which means "great water." The drink is free from preservatives and does not contain added sugar. The i-Mizu chia seed drink is made in Vietnam.
Shweets Chia Tea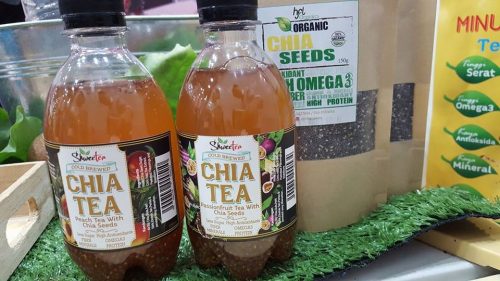 Image above was taken at MIHAS 2017
The Shweet Chia Tea is produced by Shweets Confectioneries. This cold brewed drink is high in antioxidants and contains less sugar. It has fibre, omega 3, minerals and protein.
Juzz Juice Bar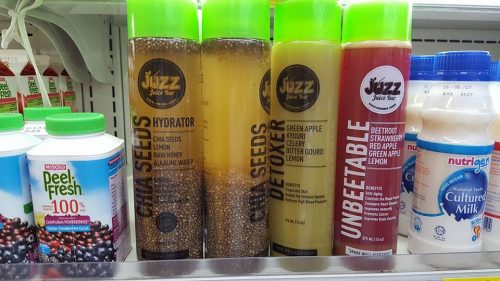 Image above was taken by the author at MyNews.com convenience store.
Juzz Juice Bar is a specialty cold-pressed juice beverage manufacturing company with its own range of juice. Among them is the ready-to-drink Juzz Juice Bar with chia seeds. This beverage is available at MyNews.com.
Organic Care2u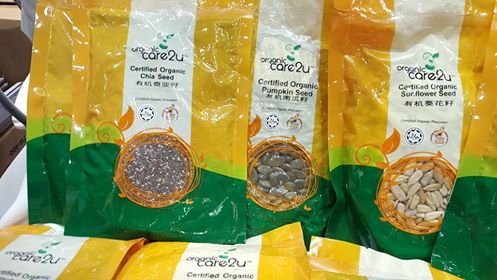 Image above was captured by the author at MIHAS 2017
Syarikat Thong Guan Trading Sdn. Bhd imports and sells organic grains. CK Lee, Thong Guan's sales and marketing manager (organic & noodles), said at MIHAS 2017 that chia seeds are currently popular but he reckoned that it will be overshadowed by millet in the near future.
F&N Fruit Tree Fresh

In Singapore, F&N has introduced the new Fruit Tree Fresh with organic chia seeds. It comes with Zesty Lime and Luscious Berries. No sugar is added and Fruit Tree Fresh is made from 100% juice.