The UK-based meat-free protein brand Quorn has officially entered Thailand on 29 March 2017. The Philippines-based Monde Nissin Corporation bought Quorn in 2015 and has since introduced the meat-free brand to the Philippines in Nov 2016.
Three products for Thailand
During the introductory phase, Monde Nissin Thailand will import 3 Quorn products, with price ranging from 99 baht to 119 baht per packet. This includes ingredient-type formats like Chunks and Grounds, which can be prepared into a variety of favorite local dishes like curry, stew and many more as well as ready-to-cook format like Nuggets for consumers' convenience. More products will then be launched in the succeeding months.
Quorn can be found at Foodland, Gourmet Market, MaxValu, Tops Market and Central Food Hall.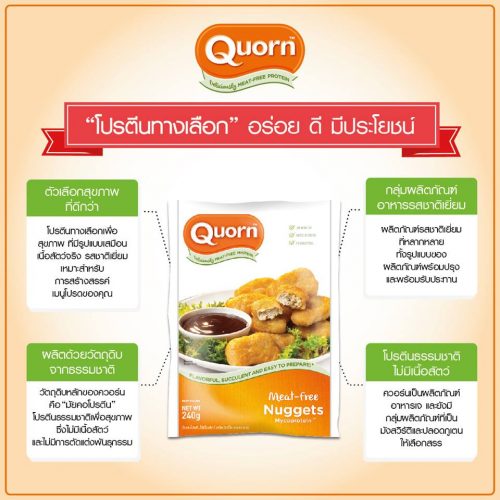 The meat-free product was recently showcased at World Food Expo 2017, which runs until 9 April 2017.
Future plans
Mr. Rufino Tiam-Lee, CEO of Monde Nissin Singapore Pte Ltd., principal owner of Quorn brand in Asia, said, "The company plans to aggressively expand the business of Quorn among the existing markets of Monde Nissin, which comprises the Philippines, Thailand, Australia and the United Kingdom, and also to new markets. This year we will introduce Quorn to various countries in Asia.
Quorn taps foodservice opportunities in the Philippines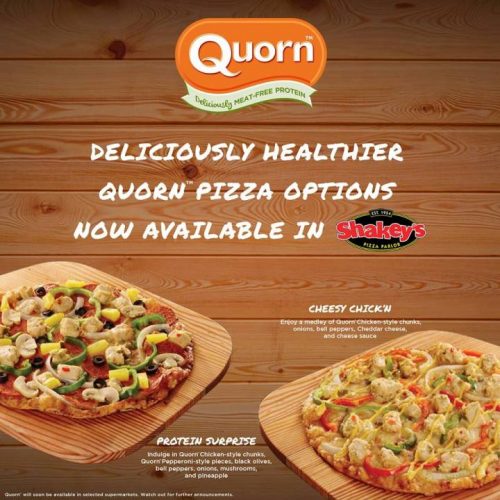 Quorn is active in the foodservice in the UK and the US to provide consumers with a meat-free alternative. In the Philippines, Quorn collaborated with Shakey's Pizza to launch the two Quorn pizza options – Protein Surprise and Cheesy Chick'n in November 2016.
According to Monde Nissin, "Protein Surprise is a delectable medley of Quorn chicken-style chunks, Quorn pepperoni-style slices, black olives, bell peppers, mushrooms, onions, and pineapple. For fans of cheesy pizzas, indulge in Cheesy Chick'n made with Quorn-chicken style chunks, onions, bell peppers, cheddar cheese, and topped with cheese sauce. Both flavors are soy-free and meat-free, giving food enthusiasts who are looking to reduce meat intake an alternative to enjoy the familiar savory taste of pizza with less guilt."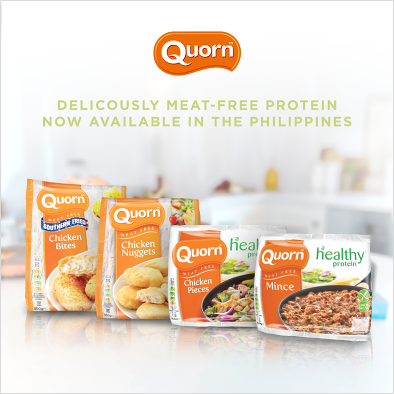 Quorn range in the Philippines (image above)

What Mini Me thinks
Introducing the western-inspired Quorn in Asia particularly in Thailand where vegetarian food is abundant in interesting. Quorn does fit into the broader trend in Asia of going meat-free not only necessitated by religion but more so as an alternative lifestyle.