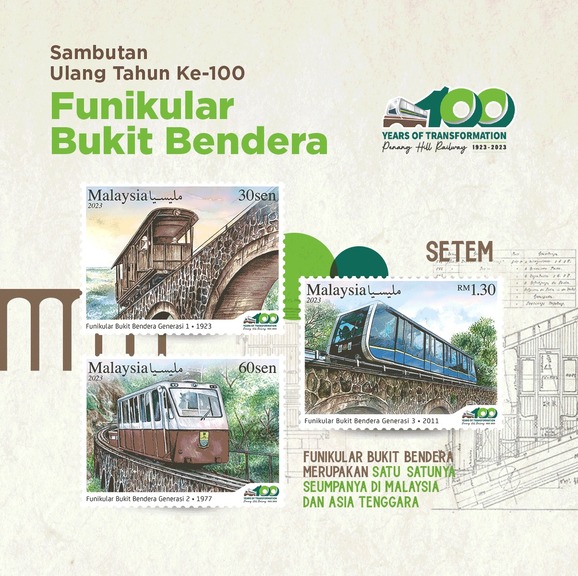 KUALA LUMPUR, 22 August 2023 – Pos Malaysia Berhad ("Pos Malaysia" or the "Group"), Malaysia's postal and parcel service provider in collaboration with Penang Hill Corporation (PHC) launched Commemorative Stamps and First Day Cover to mark the Penang Hill Railway Centenary Celebration.
The celebration signifies a major milestone for the Penang Hill Funicular. Since its inception on 21 October 1923, this unique mode of transportation has welcomed over 47 million visitors, comprising both local and international tourists, as well as residents and nearby communities, to experience the charm of Penang Hill. Distinguished as being the only one of its kind in both Malaysia and Southeast Asia, the Penang Hill Funicular stands as a unique landmark of distinction.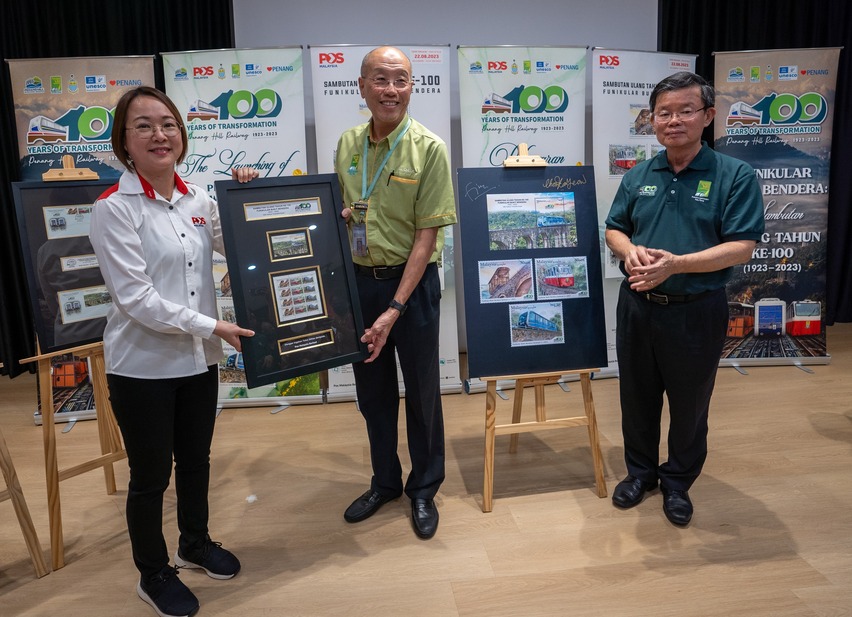 The launch, held at Penang Hill was officiated by YAB Tuan Chow Kon Yeow, the Chief Minister of Penang, and graced by YB Tuan Lim Guang Eng, Former Chief Minister of Penang cum Penang State Assembly for Air Putih along with several VIP guests including YB Dato' Mohd Sayuthi Bin Bakar, State Secretary of Penang, YB Tuan Wong Hon Wai, Penang State EXCO for Tourism and Creative Economy, YBhg Dato' Cheok Lay Leng, General Manager of Penang Hill Corporation, Ms. Fiona Liao, Group Chief Marketing, Communications & Sustainability Officer of Pos Malaysia Berhad, and Ismahari Alwi, State General Manager of Pos Malaysia Penang, among others.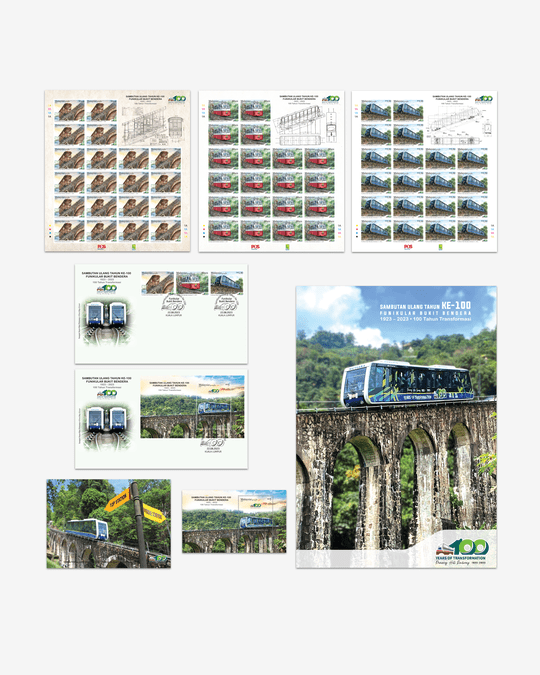 Ms. Fiona Liao, Group Chief Marketing, Communications & Sustainability Officer of Pos
Malaysia Berhad said, "The launch of the special edition commemorative stamps and first day cover of Penang Hill Railway stands as evidence of our collective dedication to preserving our nation's heritage and celebrating its progress. We are extremely delighted to be able to encapsulate the Penang Hill funicular's history and its role in uniting generations in our stamps and first day cover, as they serve as a powerful reminder of our resilience and dedication to progress."
"Just as the Penang Hill funicular has stood the test of time for 100 years, Pos Malaysia, with a heritage spanning over two centuries, continues to evolve, embracing new challenges and opportunities while staying true to our core mission of fulfilling our mandate to the rakyat. In every stamp issued, every parcel delivered, and every community served, Pos Malaysia remains steadfast in its purpose to build trust in connecting lives and businesses for a better tomorrow," she added.
YAB Tuan Chow Kon Yeow, the Chief Minister of Penang remarked, "The celebration has been heightened through a remarkable collaboration between PHC and Pos Malaysia, dedicated to preserving our heritage and sharing the story through the art of philately. The special edition Commemorative Stamps and First Day Cover of Penang Hill Railway, stands as one of the main highlights of this centenary celebration."
"This collection proudly displays a beautiful design and represents a remarkable set of items, including three differently designed funicular stamps, a first-day cover, a miniature sheet, a postcard, and a folder. It captures and symbolises the significant moments of the Penang Hill Railway's century-long journey," he said.
The main artwork of the stamps features the three distinctive generations of the funicular: the firstgeneration wooden funicular, which operated from 1923 to 1977; the red and white secondgeneration funicular operated from 1977 to 2010; and the single-track third-generation funicular, which has been running since 2011 until now.
The limited-edition Commemorative Stamps and First Day Cover are available online and at selected post offices throughout Malaysia from 22 August 2023 onwards at a price of RM64.20 for each complete set. The items available consist of:
First-Generation Stamp Sheet: RM6.00 (RM0.30 x 20 stamps)
• Second-Generation Stamp Sheet: RM12.00 (RM0.60 x 20 stamps)
• Third-Generation Stamp Sheet: RM26.00 (RM1.30 x 20 stamps)
• First Day Cover with Stamp: RM2.70
• First Day Cover with Miniature Sheet: RM5.50
• Miniature Sheet: RM5.00
• Postcard: RM1.00
• Folder: RM6.00
For further information regarding stamps and other philatelic products, the Stamp and Philately Unit of Pos Malaysia can be reached via telephone at 03-2267 2000 or email your queries to [email protected].
Stay up to date with Pos Malaysia's services, activities, and other updates at pos.com.my,
Facebook, Twitter, Instagram, Tik Tok, YouTube and LinkedIn.