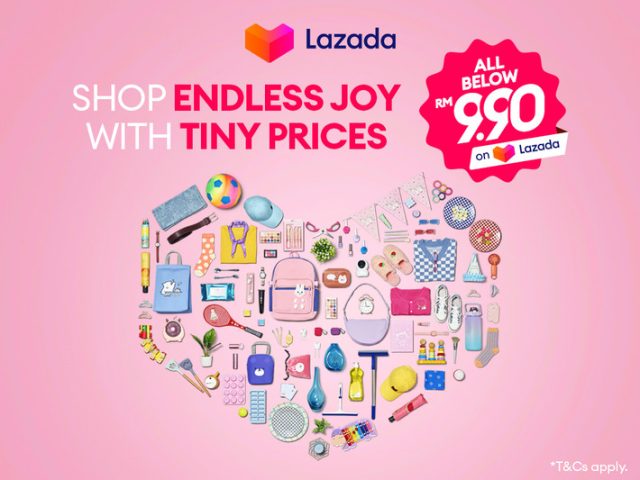 Who says luxury is only attainable with deep pockets? With a keen eye for design, an understanding of colour palettes, and the ability to mix and match, you can turn even the simplest of spaces into a haven of comfort and style.
Buckle up for an exploration into the world of modern interior design and MUJI-esque domestic aesthetics at pocket-friendly prices. Crafting a cosy, visually captivating living space is no longer defined by steep price tags. Whether you're an intrepid newbie embarking on your inaugural home decoration journey or a seasoned dweller seeking to breathe new life into your abode, achieving a stylish home on a budget is entirely possible.
And the best part? You can do it without breaking the bank, thanks to the affordable treasures waiting to be uncovered through Lazada's RM9.90 All In. Prepare to dive into a whirlwind of innovative tips and tricks that will revamp your living space!
The Magic of Decluttering
 Sometimes, a budget-friendly home makeover begins with the enchanting act of decluttering. Prior to the grand symphony of decorating, let decluttering set the stage. A tidy space instantly feels more inviting. Rearranging your furniture and eliminating unnecessary items can instantly open up your surroundings and make it feel more uplifting.
To do so, invest in storage solutions like shelves, baskets, and storage compartments to keep your space neat and visually appealing. Witness how you can miraculously transform your shoe cabinets and save space with the Multi-Layer Floor Shoe Rack Shoe Storage, which lets you pamper your shoe collection without cramping your style! Another charmer that works wonders for your overcrowded wardrobe is the Foldable Storage Bag Box Organiser.
Lighting Plays a Role
 The magic of lighting cannot be underestimated. Believe it or not, lighting can play a big role in not just dramatically altering the ambience of a room but also affecting your mood overall.
A few well-placed lamps can enhance the atmosphere of any room and with many affordable, style-defining options to choose from, there's always something that can dance to the rhythm of your taste. Soft, warm lighting like these Night Lamps are sure to make any space feel warm and welcoming, while brighter lights can lend an air of vibrancy and energy. Be sure to experiment with the placement of lights to create focal points in your rooms.
And for the eco-conscious, check out the marvel that is the Wireless Smart Sensor Light, which ensures both style and sustainability!
Thrift Shopping At Its Best
There is something beautiful to behold in vintage or retro furnishings. Quite often, thrift stores, flea markets, and garage sales are where you can find these rare, handcrafted, designer pieces at incredibly affordable prices. From antique-inspired frames and decorative mirrors to rustic furniture, these unique pieces can lend character to your living space without burning a hole in your pocket.
Combining modern and traditional decor can create a stunningly captivating ambience within one's living space. The fusion of these two styles brings together the best of both worlds – the elegance and functionality of modern design and the timeless charisma of classic aesthetics.
Starting small and gradually integrating pieces like decorative items can initiate the transition. For instance, even introducing something as simple as a Vintage Traditional Ethnic Style Pillow Case can instantly give a room some much-needed colour, transporting you into the good days of old.
Transforming a space doesn't just have to be a visual effort, as you can also engage the other senses such as smell with the Vintage Incense Burner Ceramic. After all, aroma is one of the strongest ways to evoke memories.
DO-IT-YOURSELF!
 Design a space that mirrors your personality using DIY projects. By upcycling furniture, designing personalised artwork, or even crafting self-made decorative pieces, you can infuse a distinct charm into your home's environment.
If you're up to the challenge, elevate the comforts of your living room with these captivating 3D Wall Stickers, and give those plain walls a much-needed facelift that can add some depth and dimension to your room. If mirrors resonate with your taste, explore Lazada's wide collection of Wall Mirrors, each exuding an air of sophistication that can become a feature for your wall, but also enhance and reflect lighting throughout the space.
Embrace Greenery
 Last but not least, incorporating greenery indoors is a fantastic way to bring your living spaces to life with the vibrant hues of nature. Whether by cultivating real plants or placing artificial flowers, the introduction of leafy greens and blooming flowers can impart an element of freshness and vitality to any home.
For those with a green thumb,  consider getting the Japanese Red Maple Tree Seeds for Planting, which can be an incredibly rewarding experience for those who enjoy gardening and enjoy seeing the fruits of their labour. The vivid and striking colours of the Japanese Red Maple tree can instantly become a focal point in any room, bringing the energy of the space to life with its dynamic, fiery presence.
If gardening isn't your cup of tea, artificial greenery like the Artificial Ivy Vine is a great alternative for those natural vibes. The realistic appearance of these vines make them ideal for balconies or high ceilings, and when draped along shelves, hung from the ceiling, or incorporated into a centrepiece can provide an earthy, lively element of nature that brings the room together.
There is no doubt that mastering the art of crafting an exquisite living space within budgetary constraints is a skill that requires you to be creative, resourceful, and discerning with a good eye for sensible, yet impactful design. However, if you learn to thrift shop and take up a DIY project, you can take control of your abode and transform it into a haven of elegance without undue financial strain.
These wallet-friendly suggestions are sure to guide you in crafting a space that authentically mirrors your individuality and taste. Always remember, however, that it's the passion and dedication poured into fashioning your ideal dwelling that matters, and not the monetary value attached.