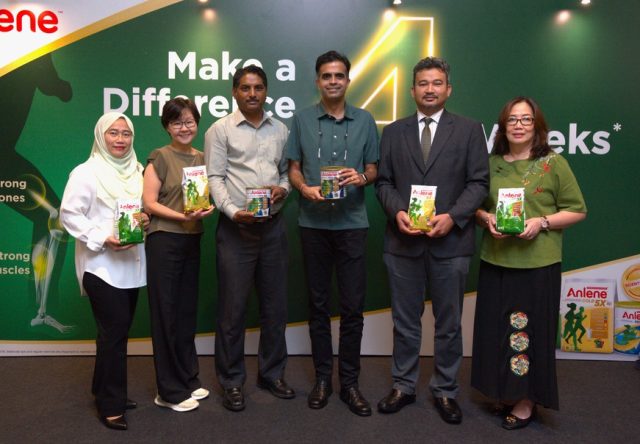 Anlene Malaysia continues its commitment to support bone health and education in conjunction with World Osteoporosis Day
Selangor, 5 October 2023 – Anlene, Malaysia's No.1 Adult Milk Powder*, a pioneering force in advocating bone, joint, and muscle health over the past three decades, has unveiled an eye-opening revelation through its Anlene Mobility Check, an ultrasound bone scan and muscle strength test which started in May 2022 and has assessed over 20,000 Malaysians to date. The screening found 50% of Malaysian adults are at risk of poor bone health[1], which can potentially lead to bone diseases such as osteoporosis that may affect one's mobility.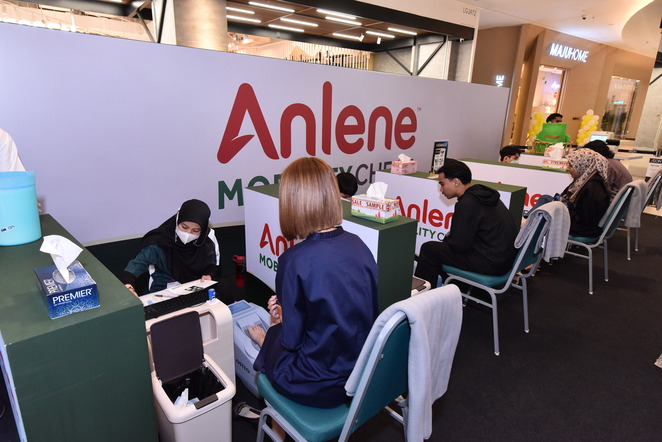 The screening results further revealed that weak muscle strength is prevalent in 1 out of every 3 Malaysian adults1. This free screening was carried out through a series of roadshows starting in May 2022 and is open to adults 19 years old and above, aimed at assessing their bone and muscle.
Ganesh Thiagarajan, General Manager of Fonterra Brands Malaysia & Singapore said: "Result from the mobility check highlights a concerning trend of low awareness among Malaysians towards the significance of bone health, emphasizing the pressing need to tackle mobility-related risks in our nation. At Anlene, we firmly believe that promoting preventive measures against osteoporosis can significantly reduce its prevalence within our population. Our goal is to enable individuals to proactively embrace the vitality of their bones, joints, and muscles and to keep them in good condition to stay active as long as they can."
In conjunction with World Osteoporosis Day 2023, Anlene Malaysia reaffirms its steadfast commitment to promoting robust bone health awareness and education among Malaysians. To empower individuals with a deeper understanding of their bone health and encourage proactive care, Anlene Malaysia joined forces with its retail partner, AEON and its healthcare partner, Columbia Asia Hospital Puchong.
This exclusive partnership will manifest through a far-reaching initiative, which the Anlene Mobility Check roadshow will be carried out at various AEON outlets nationwide & Columbia Asia Hospital Puchong throughout the month of October. This roadshow will offer the public access to complimentary ultrasound bone scan and muscle strength testing services, providing Malaysians valuable insights into the condition of their bone health status[2] and muscle strength.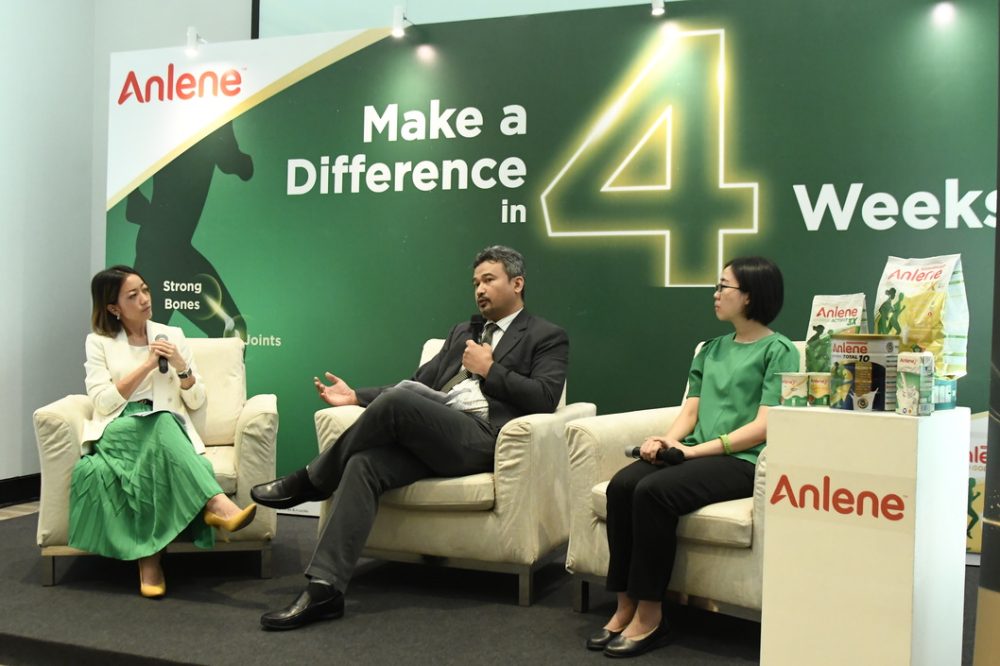 Dr Paisal Bin Hussin, Consultant Orthopaedic Surgeon, Columbia Asia Hospital Puchong, explained that osteoporosis is a widespread health concern, silently affecting a significant portion of our population.
"The prevalence of osteoporosis is projected to be higher in Asia due to its rapidly aging population, and Malaysia is no exception. Alarmingly, Malaysia is projected to have the highest increase in total number of hip fracture by 2050[3]. This is a direct consequence of osteoporosis, a condition caused by weakened bones that are more prone to fractures, particularly in the hip area," said Dr Paisal.
He added: "To maintain strong and healthy bones, the body naturally undergoes a constant process known as bone remodelling, where old bones are replaced with new bone tissues. This process occurs throughout our lives. However, with aging, this process can become less efficient, and bone mays start to deteriorate from as early as 30s.Women in the menopausal transitional period may experience rapid bone loss, where up to 20% of bone density may be lost.
"Fortunately, bone relates diseases such as osteoporosis is preventable. Therefore, starting to care for your bone health from a young age is paramount. By taking proactive steps to strengthen our bones today, we can secure more healthier and resilient future," Dr Paisal advised.
Also present at the campaign launch was Fonterra Brands Malaysia Assistant Nutrition Manager, Liew Yen Lee. She advised: "Taking care of our bones, joints, and muscles begins with lifestyle choices that require both regular exercise as well as a balanced diet. Engaging in regular exercise not only promotes strong bones but also strengthens the muscles that support them. Pairing this with a balanced diet that is rich in calcium, vitamin D, protein, and other crucial nutrients is equally important. Anlene's formulation have been designed to support bone strength when included in a balanced diet and active lifestyle," Yen Lee explained.
Anlene™ GOLD 5X™ is scientifically formulated with key nutrients that are important to support adults' nutritional needs. Each glass comes with 100%** calcium & vitamin D, high protein, collagen, MFGM ActiveTM, 17 vitamins & minerals.
A study[4] indicates that consuming 2 glasses of fortified milk daily containing essential nutrients such as calcium, Vitamin D, magnesium, and zinc can help reduce bone breakdown within 4 weeks. Additionally, another study[5] highlighted that incorporating MFGM into one's diet, with regular exercise, can help improve muscle strength after 4 weeks.
Good nutrition lays the foundation to build and maintain strong bones, joints, and muscles for an active lifestyle. Get your bone health status2 scan and muscle strength test for FREE at the Anlene Mobility Check roadshow, which runs throughout the month of October at various AEON outlets and Columbia Asia Hospital Puchong.
For more information about Anlene Mobility Check roadshow locations and dates, please visit https://www.anlene.com/my/en/anlene-move-check.html
* NielsenIQ report data via Retail Index Service for adult segment for the 52-week period ending 31 October 2022, Peninsular Malaysia market. (Copyright © 2022, NielsenIQ.)​
[1] Based on data collected from Anlene Mobility Check (bone scan result risk category which falls under 'medium' and 'high' risk for poor bone health) from May 2022 to April 2023 for adults aged 45 and above.
[2] Kruger, M.C., Todd, J.M., Schollum, L.M. et al.  (2013) Bone health comparison in seven Asian countries using calcaneal ultrasound. BMC Musculoskelet Disord 14, 81
[3] Cheung et al (2018) Osteoporosis and Sarcopenia, 4, 16-21
[4] Kruger et al. (2010), Bone, 46(3), 759-767
[5] Soga et al. (2015) Nutrition Journal, 14, 85