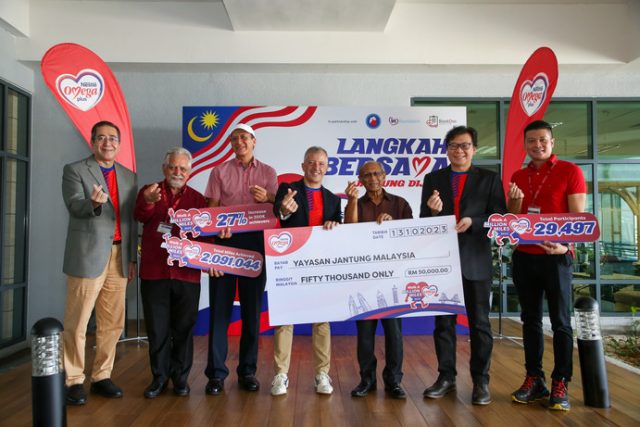 NESTLÉ's Yearly campaign mobilised Malaysians once again for World Heart Day
Kuala Lumpur, October 23 – NESTLÉ OMEGA PLUS recently concluded its fourth edition of Walk A Million Miles (WAMM), with its largest participation ever: 30,000 Malaysians joined the cause to walk together to promote heart health and raise awareness on the risks associated with high cholesterol. This year's theme "Langkah Bersama, Jantung Dijaga", witnessed participants collectively clocking an impressive 2,091,044 miles through September, building up to World Heart Day which was celebrated on September 29th.
The success of WAMM 2023 builds on the growing health consciousness of Malaysians and their desire to support a noble cause: to contribute RM100,000 to the efforts undertaken by Yayasan Jantung Malaysia (YJM) and Institut Jantung Negara (IJN) Foundation to educate and assist Malaysians on heart health topics. In a closing ceremony to celebrate the achievements of this year's walk and fulfilling NESTLÉ's pledge, Juan Aranols, Chief Executive Officer of Nestlé (Malaysia) Berhad, presented cheques to both organisations.
"NESTLÉ OMEGA PLUS has been at the forefront of health and nutrition and this year's massive turnout for our Walk A Million Miles campaign mirrors Malaysians' growing awareness of the risks of high cholesterol and how it can negatively affect their lives. We have been a longstanding advocate of heart health through good nutrition and active lifestyles, and we are again proud to support financially the efforts of YJM and IJN Foundation," said Juan Aranols.
Over the past 4 editions of WAMM, NESTLÉ OMEGA PLUS has provided funding to assist YJM and IJN Foundation, as the two organisations work tirelessly to educate Malaysians about the risks of heart disease, and raise funds to assist poor, needy and deserving heart patients.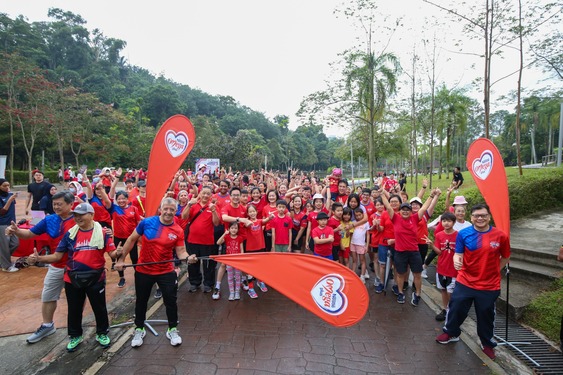 "Walk a Million Miles has encouraged many Malaysians to adopt a healthier lifestyle and take better care of their heart health," said YBhg Tan Sri Dato' Kamaruzzaman bin Shariff, Vice President of YJM. "The number of people suffering from Non-Communicable Diseases (NCDs), particularly heart disease, is alarming. Raising awareness and changing perceptions is an unending process, necessary in building a healthier Malaysia. NESTLÉ's efforts has a significant impact in complementing YJM in our dedication to educate the public on heart and coronary diseases," he added.
Toh Puan Dato' Seri Hajjah Dr. Aishah Ong, Chairman of the IJN Foundation, concurred with this feedback stating that it was reassuring to know that so many concerned Malaysians stepped forward to help raise awareness about heart health.
"The commitment NESTLÉ has is indeed heartening, helping unite Malaysians to Walk a Million Miles, and help us raise funds to assist heart patients in need of financial assistance," she said.  "We would like to thank them for this initiative, as well as the support that Malaysians have provided, as we journey together to become a healthier nation," she added.
In the lead up to World Heart Day, NESTLÉ OMEGA PLUS conducted various public activations across Malaysia, in addition to the main virtual and month-long event. This year's WAMM initiative was again hosted on the BookDoc app platform, allowing participants to log their miles progressively over the month of September from wherever they were.  Not only did the app allow them to track their progress, but it allowed participants to create groups to compete with and motivate each other. This added a fun and competitive dynamic to the walk, encouraging greater participation and the achievement of even more miles.
WAMM 2023's final result of 2,091,044 miles doubled the campaign target of 1 million miles and is the highest result ever. Participation for the cause increased by over 14% as compared to last year, with the campaign reaching 30,000 participants.  NESTLÉ OMEGA PLUS hopes that Walk a Million Miles continues to encourage and inspire Malaysians to maintain an active and healthy lifestyle as every step counts in building a healthier Malaysia.